Celebrate Lunar New Year in Houston
Check out all the ways Houston is celebrating Lunar New Year. Whether it's watching lion dances, listening to traditional music or exploring the culinary offerings of Asiatown, there's something for everyone to enjoy. Families of all backgrounds can share the fun of these exciting cultural festivities and greet the year of the ox in style.

All That and Dim Sum
Great value is placed on the importance of Lunar New Year's Reunion Dinner, and there is no better time to indulge in some of your favorite Asian treats. From spring rolls and hand-pulled noodles to dumplings galore, local chefs will be serving up their finest fare to ensure an auspicious start to 2021 for you and your loved ones. Whatever you do, be sure to grab a piece of nian gao (New Year Cake) for luck, said to bring a better year than the last and even a few extra inches for growing children. For plenty of culinary recommendations, check out our guide to Asiatown.

Join the Cyber Celebration
If you'd love to join in the party but balk at the thought of crowds, we've got the answer. You and your closest crew can grab some take-out and enjoy an online experience from the comfort of home while remaining safely, socially distant:
Asia Society
The Asia Society of Houston will ring in the Year of the Ox with virtual performances and traditional craft activities inspired by Lunar New Year traditions across Asia. Performances will include a charming Chinese zodiac puppet show and music by the world famous folk and children's artists, Elena Moon Park and Friends. 
Chinese Community Center
The Houston Chinese Community Center invites all to join in their 2021 Virtual Lunar New Year Festival, from Thursday, February 11 to Saturday, February 13. Enjoy a broadcast of cultural dances, musical performances, crafts, and cooking demonstrations that showcase the breadth of Lunar New Year traditions across the world.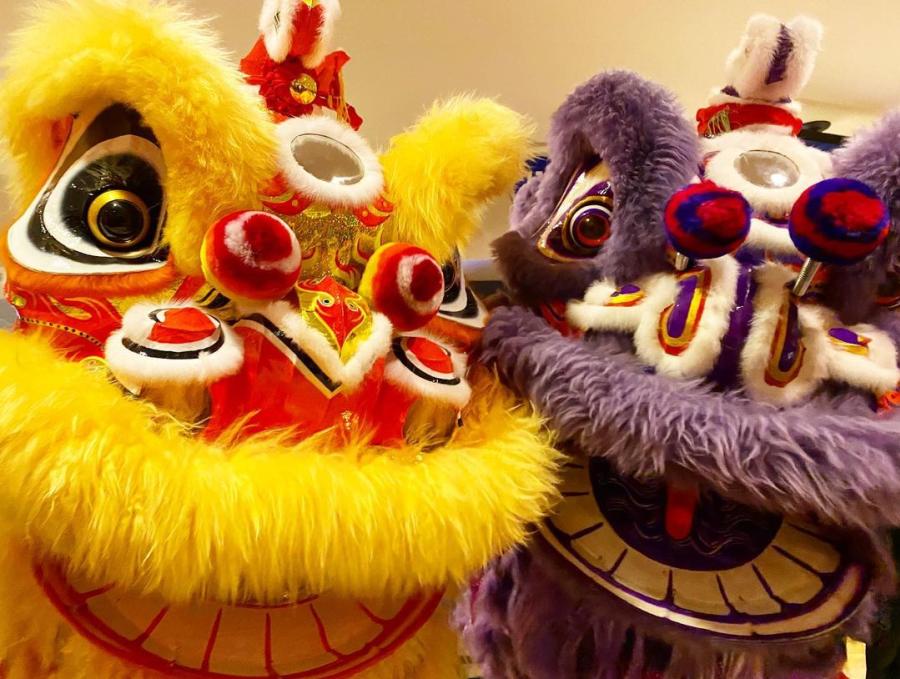 Photo courtesy of @leesgoldendragons
These Lions Get Around
Asiatown isn't the only place you can get into the spirit of Lunar New Year. All over the city, events are popping up where you can catch dance performances and enjoy a delicious family feast. 
Phat Eatery
23119 Colonial Pkwy suite b-2, Katy, TX 77449

This Malaysian street food hot spot will keep the celebration rolling all weekend long with Saturday and Sunday Lion Dance performances accompanied by a six-course tasting feast. The $48 pre fixe menu includes prosperity toss salad, char siu honey pork, lamb rendang, and a lobster and egg tofu.  Seatings for the show are available February 13 and February 14 at 11:30 a.m. and 5:30 p.m. The special menu is also available on Friday, February 12 at 6 p.m. without the accompanying dance performance. 
Ginger Kale at Hermann Park
6104 Hermann Park Dr, Houston, TX 77030

This classy indoor/outdoor cafe will be hosting a free dragon dance performance on February 13 at 2 p.m. As you take in the show, be sure to nosh on their excellent selection of salads and sandwiches accompanied by cold-pressed juices and fresh-baked cookies.
Le Colonial
4444 Westheimer Rd, Houston, TX 77027

Located in the River Oaks District plaza, this upscale purveyor of Vietnamese and French fusion cuisine will be offering two lion dance performances by local nonprofit Soaring Phoenix. An outdoor show begins at 3 p.m. on Saturday, February 13, and the party moves inside the restaurant for an encore performance at 5 p.m. This 45-minute event includes elaborate costumes, lively music and acrobatic choreography.