Step back in time to Victorian-era London, explore a spectacular rainforest made of ice, and celebrate the holidays at the "Official Opera House of Texas." These are just a few of the things you can do during the holidays in Galveston. From November through January, Galveston is transformed from a vibrant beachside getaway into the "Winter Wonder Island" of Texas. With more than 50 days of special holiday events, the island is filled with the kind of festive fun that you won't find anywhere else. Here are just seven of these unique things to see and do.
Click here to see everything else that is happening this holiday season.
Insider Tip: Visit Galveston mid-week and you can save up to 50 percent on your hotel stay. Book with Galveston.com's Expedia partnership and you'll also enjoy Expedia's Best Price Guarantee.
Chill Out in a Rainforest of Ice
Ice Land at Moody Gardens: Nov. 11 – Jan. 7
Admire larger-than-life statues of birds, butterflies, monkeys and more as you explore Ice Land at Moody Gardens, a wintery wonderland carved from two million pounds of ice. Crafted by a team of 25 master ice carvers from Harbin, China, this year's version of Ice Land features a rainforest theme inspired by Moody Gardens' own Rainforest Pyramid. Along with admiring all the intricate sculptures of plants and animals, you can soar down the 36-foot-tall Giant Ruins Ice Slide and stop for a drink at Shivers Ice Bar. Covering 28,000 square feet and kept at a chilly nine degrees, Ice Land is one of the coolest attractions on the Texas Gulf Coast.
Stroll a Trail Illuminated by One Million Lights
Festival of Lights at Moody Gardens: Nov. 11 – Jan. 7
Nothing better represents the festive nature of the holidays than vibrant Christmas lights brightening the dark of night. In true Texas style, where everything has to be bigger, Moody Gardens delivers the largest holiday lighting event on the Gulf Coast. Now in its 16th year, Festival of Lights features a one-mile-long trail with more than 100 sound-enhanced animated light displays and one million lights. In addition to taking in all the lights, show off your balance on the outdoor ice-skating rink or get some thrills snow tubing down the Arctic Ice Slide. You won't find anything quite like the Festival of Lights in the Lone Star State.
Catch a Holiday-Themed Show at The Grand 1894 Opera House
Nov. 12 – Jan. 13
What do Willie Nelson, STOMP and A Christmas Carol have in common? They're all part of the holiday lineup at The Grand 1894 Opera House. This magnificent and historic venue, known as the "Official Opera House of Texas," boasts a full stocking's worth of holiday shows. Watch Santa and his merry helpers treat you to all the festive cheer you can handle in Christmas Wonderland Holiday Spectacular and catch performances of timeless classics like A Christmas Carol and The Nutcracker. For some live music, get your tickets to listen to The Texas Tenors or country music icons Jerry Jeff Walker and Lyle Lovett.
Savor Craft Beer from Texas & Beyond
Brewmasters Craft Beer Festival: Nov. 24 - 26
If the thought of a hoppy IPA or a creamy stout gets your mouth watering, fill your pint glass at the Brewmasters Craft Beer Festival. Named one of the best beer festivals in the country by USA Today and Thrillist, the festival showcases dozens of brewers from Texas and across the country. Be one of the first to try new release and specialty brews made just for the festival, and pair your beer of choice with food from restaurants such as Yard House and local favorite BLVD. Seafood.
Step Inside a Giant Snow Globe
Downtown Lanterns & Lights: Nov. 25 – Jan. 2
A brand new event for this year, Downtown Lanterns & Lights brings all the magic of the holidays to Saengerfest Park. Stroll among the illuminated Christmas trees and artisan pieces and wander inside the giant snow globe for a one-of-a-kind photo. The snow globe will only be available Nov. 25 – 26 and Dec. 9, 16 and 23, so keep that in mind as you're looking for that perfect holiday photo-op.
Looking for more holiday activities in Galveston?  Make sure to browse for unique gifts in the Historic Downtown District's boutiques, tour the island's magnificent Victorian homes bedecked in festive decorations, and treat yourself to delicious dining at local restaurants. Spending your holidays in Galveston may just be the best Christmas gift you can give yourself.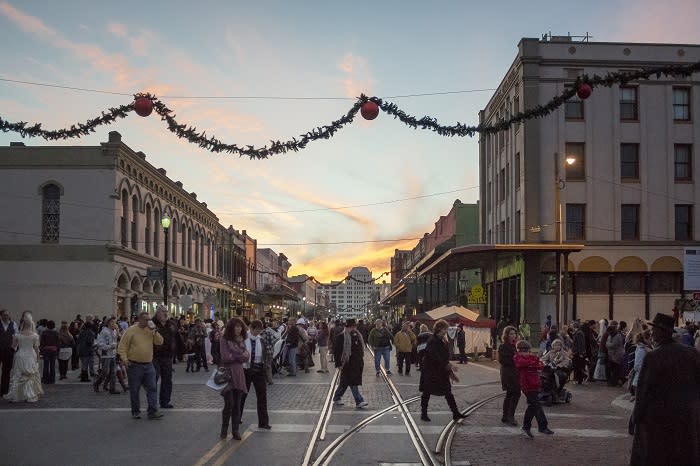 Travel Back in Time
Dickens on the Strand: Dec. 1 - 3
Don your finest frock coat or hoop skirt and join the festivities at the 44th Annual Dickens on the Strand, when downtown Galveston is transformed into the Victorian-era London of Charles Dickens. Take in the Strand Historic District's gorgeous architecture as you listen to roaming carolers, bagpipers and musicians. Relish non-stop entertainment on six stages, delicious food and drink, whimsical parades, and unique shopping for Victorian-inspired clothing, crafts, and holiday decorations. Don't miss any of the fun, family friendly events like the Holiday Handbell Concert (Dec. 1) and the crowd-pleasing Victorian Bed Races (Dec. 3).
Run with Thousands of Santas
Santa Hustle Half Marathon and 5K: Dec. 16 – 17
We all know it's exciting to meet one Santa Claus, but to see thousands at once? If that doesn't warm your cockles, nothing will. Welcome to one of the most unique running events in Texas, the Santa Hustle Half Marathon and 5K. Wear your special Dri-FIT shirt made to look like St. Nick's trademark coat, candy cane socks, Santa hat and jog along to the tunes of holiday music while you're tempted with cookies and candy. Cross that finish line and you'll get the best prize of all: a special finisher's medal that will surely impress the real Santa when he pays you a visit.