Our Favorite Houston Frozen Treats
In the Bayou City, frozen treats are a good idea year round. No matter the weather, Houstonians and visitors are always searching for the best ice cream shops. From ice cream to gelato to frozen yogurt, Space City has a frozen treat near you. Here are our favorite Houston frozen treats to satisfy that sweet tooth.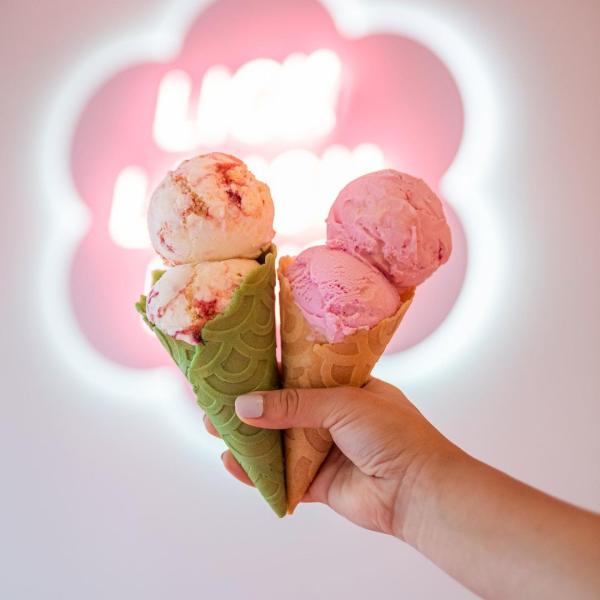 Courtesy of @flowerandcream on Instagram
Lick, laugh and love at Flower & Cream, a small batch artisan ice cream shop in West U that offers incredible ice cream flavors. We recommend ordering the Honey Roasted Strawberry (gluten free), Kahlúa & Cookies with Kahlúa Coffee liqueur and chunks of house-made chocolate chip cookies or their popular Unicorn Tracks with Cotton candy base and lucky charm marshmallows (gluten free). You'll feel like a kid again when you enjoy your ice cream on one of their swings.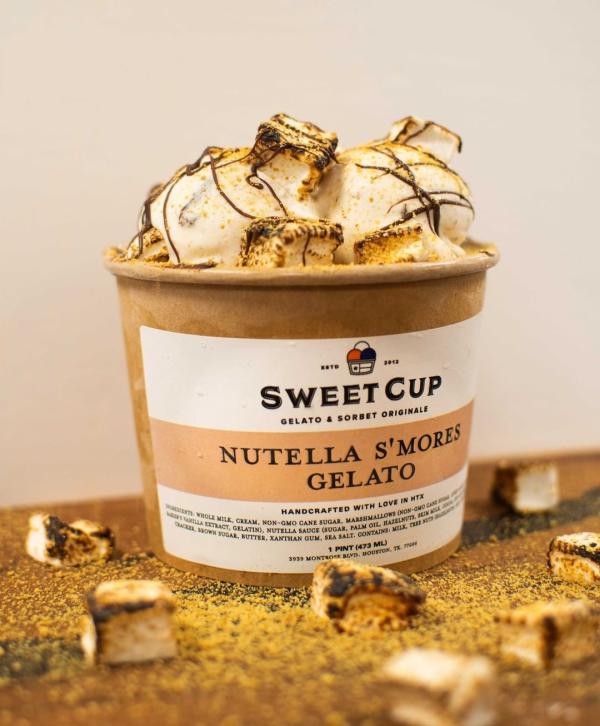 Courtesy of @sweetcupgelato on Instagram
SweetCup Gelato & Sorbet has been proudly serving over 600 rotating gelato and sorbet flavors with a Texas flair on Montrose Boulevard since 2012. The flavors are inspired by owner Jasmine Chida's travels and memories growing up in Texas. You can order a refreshing Pomegranate Rose sorbet, Goat Cheese Dulce De Leche gelato, Texas Sheet Cake gelato and more unique flavors. Their frozen treats can also be found on local restaurant menus and grocery stores.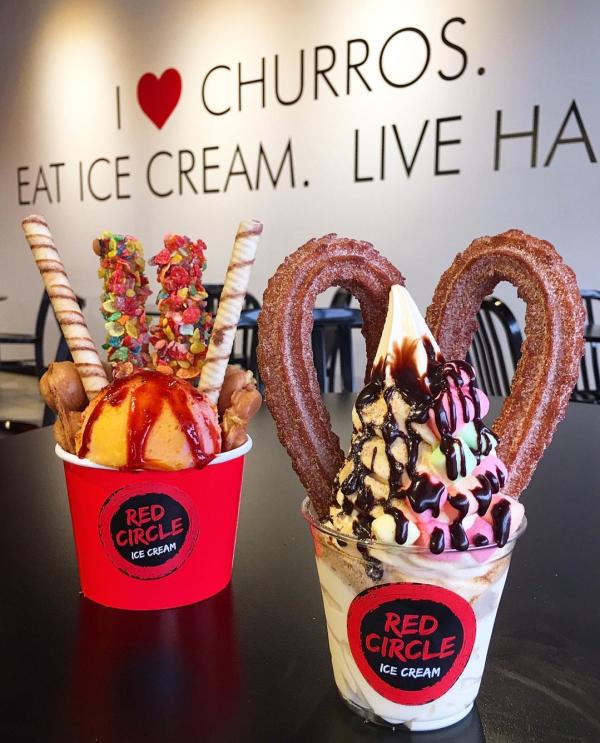 Courtesy of @redcircleicecream on Instagram
At Red Circle Ice Cream "Eat Ice Cream. Live Happy" is their motto and they have an insta-worthy wall to match it. This ice cream shop specializes in handcrafted ice cream paired with authentic Hong Kong style egg waffles and churros - but these aren't your normal churros. You can order their signature Churro Daddy, an arch-shaped churro paired with a delicious scoop of one of their ice cream flavors like horchata, durian, hot cheetos, Thai tea or even crawfish. Be sure to also taste their giant ice cream filled macarons and donuts.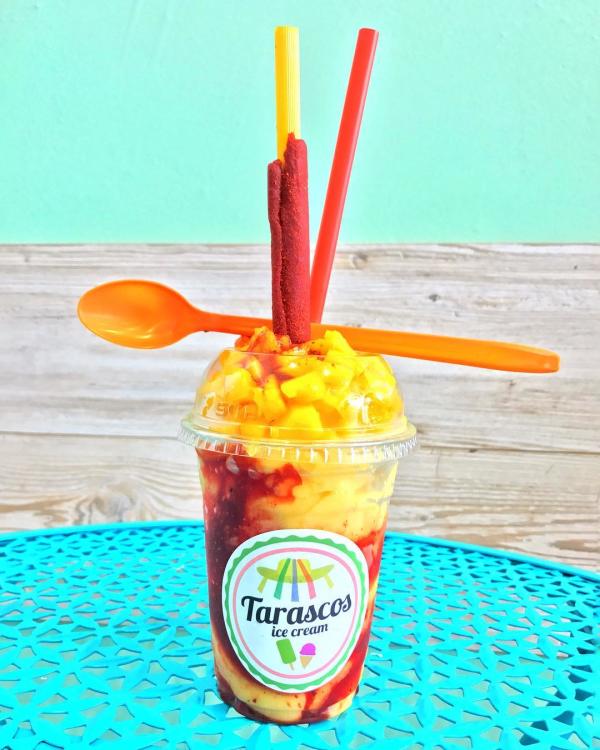 Courtesy of @commonprovisions on Instagram 
If you're looking for a spot with an assortment of Mexican and international ice cream flavors and paletas (popsicles), you must visit Tarascos Ice Cream in the westside of town. Here you'll find some of Space City's best Mangonadas with mango ice cream, fresh squeezed lime, spices and chamoy sauce. In addition to ice cream flavors like pistachio, berries and cheesecake, this shop has over 50 flavors of paletas to choose from like avocado, guayaba, strawberry kiwi and more.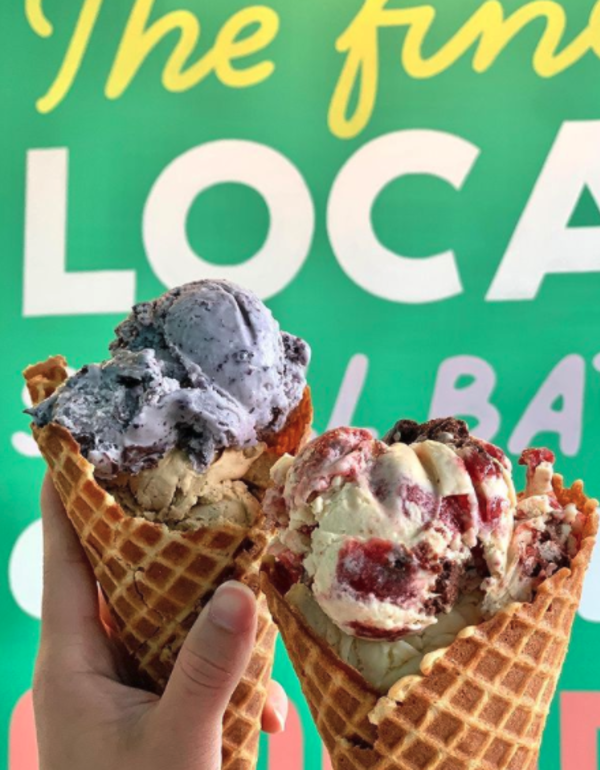 Courtesy of @alvineeatsbasic on Instagram
The ice cream at Fat Cat Creamery is really 'the cat's meow'. You can't go wrong when choosing one of their five signature flavors like Mexican vanilla, milk chocolate stout, Waterloo strawberry buttermilk, Amaya coffee & cream, chai tea coconut (dairy free). Don't miss out on trying their push-pops, ice cream sammies or sundaes either!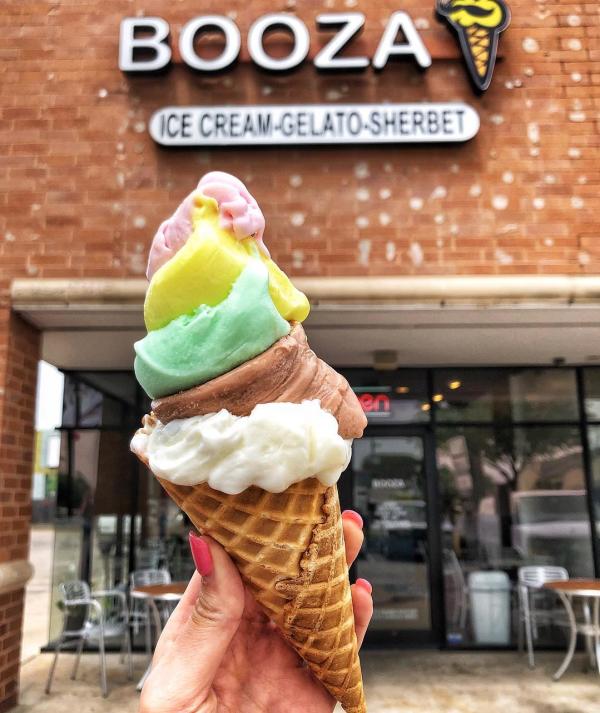 Courtesy of @nomswithnoor on Instagram 
The word booza in Arabic means ice cream. This ice cream shop in the Galleria area named Booza has been serving 'stretchy Mediterranean ice cream' and family recipes since 1941! Taste flavors like Ashta with Pistachio, Hazelnut, Cherry Gelato and Mango Sherbet. We guarantee you'll love it.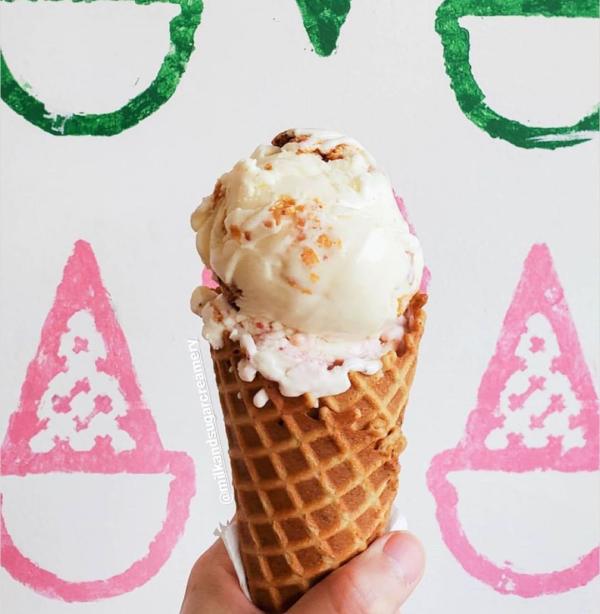 Courtesy of @milkandsugarcreamery on Instagram 
Montrose's popular milk + sugar ice-cream shop is all about the 'mix-ins' and not about traditional flavors like vanilla. Here you'll only find cool flavors like lemon + cream cheese ice cream with blueberry swirl and graham crackers, cereal milk with Frosted Flakes flavor ice cream with toasted flakes and strawberry almond cheesecake with almond and cream cheese ice cream with graham cracker crust and strawberry swirl. Also, make sure to snap a photo of your frozen treats next to their instagrammable wall.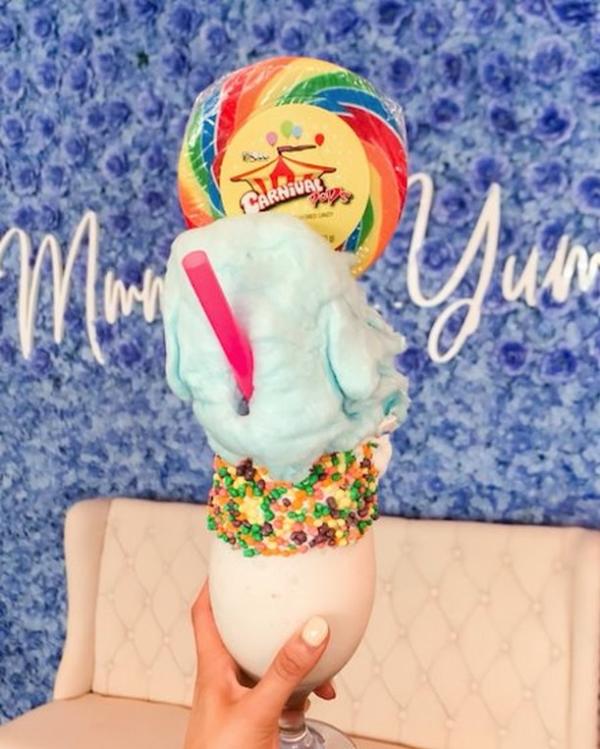 Courtesy of @sweetnboozyicecream on Instagram​ 
Ever had booze-infused ice cream? Look no further than Sweet & Boozy ice cream shop in Katy, TX where they offer an array of rich, creamy and classic ice cream flavors for kids and booze-infused flavors for adults plus instagrammable walls. Kids love the Cotton Candy Explosion Thundershake with Ice Cream, Cotton Candy, Twizzlers, Strawberry Drizzle and the rim covered in vanilla frosting and Nerds. For adults, we recommend the Perfect Pina Colada with Rum-Infused Ice Cream with Coconut Cream and Pineapples in a cup or shake. Frozen fruit bars and popsicles are also on the menu.