Where to Eat in Downtown Houston
One perfect day in downtown Houston wouldn't be complete without taking advantage of some of the great food options the city has to offer. From early morning breakfast to late night drinks, we've got you covered for a tasty 24 hours in downtown Houston.
Breakfast
Start off on the right foot with a distinctly Houstonian breakfast choice at the downtown location of Barnaby's Cafe, a famous H-Town institution for all things breakfast. Try the crowd favorite, green eggs (they're green because of a sneaky and delicious little spinach mixture) or the huevos rancheros while tapping into that bottomless cup of coffee.
Other breakfast options: Local Foods, Quattro or La Calle Tacos
Lunch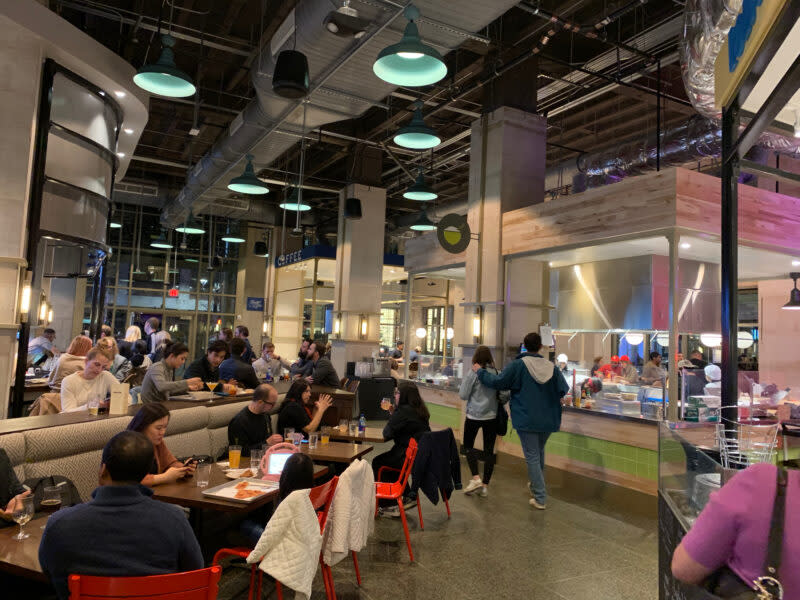 Food courts are so 1990s, but food halls are the newest rage, and when your tummy starts grumbling for lunch, Finn Hall has you covered. Located in the heart of Downtown Houston, this food hall includes nearly a dozen eateries and two full bars, all independently operated. The eating establishments include Craft Burger, Amaya Coffee, Dish Society, Lit Chicken, Papalo Taqueria, Pizza Zquare and Yong. So whether you have a hankering for all-American fare or something more exotic, you'll have a good selection from which to choose for lunch. Let your taste buds go on tour with a visit to Finn Hall.
Other lunch options: The Grove, Bravery Chef Hall, or Conservatory
Happy Hour
When it's time to let your hair down and kick up your heels a bit, head over to The Rustic - Downtown. This hip, casual downtown spot offers as much in atmosphere as it does on its menu. With plenty of open air and live music, The Rustic is a perfect hangout to sit back, relax and enjoy an adult beverage. They even offer Roadies to go if you're in the need to take your beverage to another location. Serving up beer, wine, cocktails, frozen drinks and tequila reserves, this hot spot has a little something for everyone. Their hours vary daily, but they're open late Wednesday - Sunday. Just keep in mind they are closed Monday and Tuesday.
Other happy hour options: Moonshiners or Xochi 
Dinner
You've never had Mexican food like this before. For an experience that's out of this world, take a trip to the award-winning restaurant La Fisheria for dinner. The Mexican and seafood fusion pairs coastal cuisine with various seafood dishes for an extensive offering of soups, salads, entrées and even gluten-free options. Save room for dessert or one of their signature cocktails.
Other dinner options: Irma's or Azuma
Late Night
Not ready to head home? Make a stop at Moonshiner's Southern Table + Bar. Top off your night with an Apple Pie — and not the kind you eat. This downtown bar has a drink made of Ole' Smoky Apple Pie Infused Moonshine, Licor 43 and lemon juice that will satisfy your need for late night dessert and also keep the party alive. With booths, cool decor, and Southern hospitality, it's the perfect spot to end the evening.
Other late night options: El Big Bad or Shay McElroy's