Instagrammable Houston Meals
There are so many places to eat in Houston. However, with the rise of the Instagram food obsession, comes the need to have perfectly presented food for the inevitable food shot. That's right, you've been to dinner with that person who has to take a photo of his or her food before anyone gets to eat it. Maybe you are that person! However, with the way some of these dishes look, we can't blame you. Below we list some of our restaurant picks for Instagram presentation.
In 2017, Austin-based Ramen Tatsu-Ya opened their third location in Montrose and has been serving ramen realness to Houstonians ever since. Each of their dishes is made to show diners exactly why ramen is known as the soul food of Japan. Could their massive Maneki-neko cat statue (believed to be a lucky charm) be the one to thank for their success? Whether you're superstitious or not, both the statue and the ramen are totally Instagram worthy.
Pictured above: Mi-So-Hot with spicy pork bone broth, miso blend, goma pork, ajitama, scallion, napa cabbage, bean sprout, corn
In Spain, tapas is as common at a table as chips and salsa is in Houston. With the idea of small plates to share becoming increasing in popular, BCN is kicking it up a notch with innovative twists on tapas. Chef Luis Roger and owner Ignacio Torras are taking the tastes of Barcelona and offering an upscale dining experience by introducing incredible Spanish tastes and textures set to a Texas backdrop. Each dish is beautifully presented with elements that are sure to surprise even the most seasoned of gourmands.
Pictured: Spanish cod with saffron mousseline gratin, tomato fricasé, "alubias" and garlic chips.
BCK   
From BCN to BCK, don't get them confused, as the two restaurants couldn't be more different. That's right; BCK will knock your socks off with all of the nostalgia it serves up on a daily basis. Known for taking kitchen classics and infusing them with a high-end twist, guests can enjoy a Shake 'N' Bake ® pork chop along with mac n' cheese with a beef patty, bacon and tomato. However, the real fun is in the sides of BCK's "pasghettios" and hamburger helper assistant along with desserts that include Pop Tarts and ice cream or the breakfast bun with Apple Jacks on top. All just like mom used to make, except completely different. So go ahead and eat like you're 10 again.
Pictured: Breakfast bun topped with a cereal milk glaze and Apple Jacks.
Meat, meat and more meat. Who doesn't love an Instagram photo of ribs, brisket, chicken and more, all so perfectly smoked so that anyone looking at the photo can see the time invested in each cut of meat? If you're looking to take that photo in Houston, head to Pinkerton's Barbecue for mouth-watering BBQ flavors and sides. Truly a meat lovers paradise, pack you tray full of proteins like glazed pork ribs, prime brisket, sides like the jalapeño cheese rice, duck jambalaya and make sure you snag a dessert like Aunt Ruby's blueberry cobbler while you're at it. Full disclosure, you may need a nap after you finish your meal.
Pictured: Prime brisket, homemade potato salad and coleslaw, sausage, ribs, turkey, mac n cheese.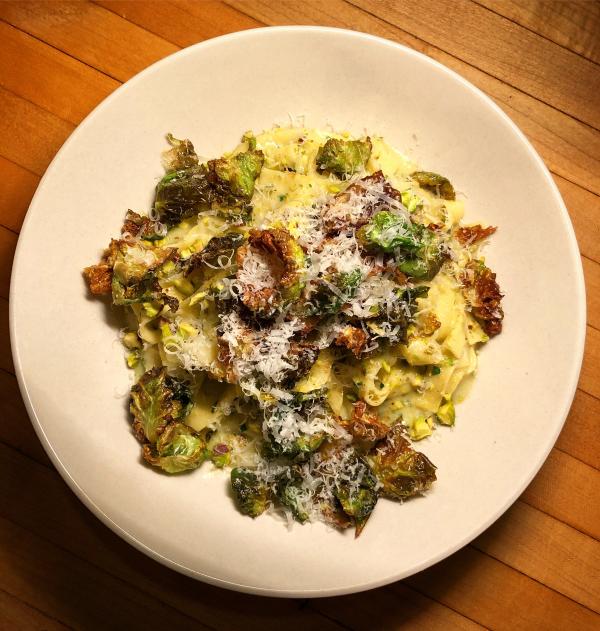 The staff, ambiance, and intriguing menu at Nancy's Hustle are just a few of the many reasons to rave about this spot. Each dish is made from scratch with love to guarantee a clean plate and happy belly. Hurry and take the picture before it's gone!
Pictured above: Sourdough Tagliatelle with burrata, honey, pistachios, and crispy brussels sprouts 
Hugs & Donuts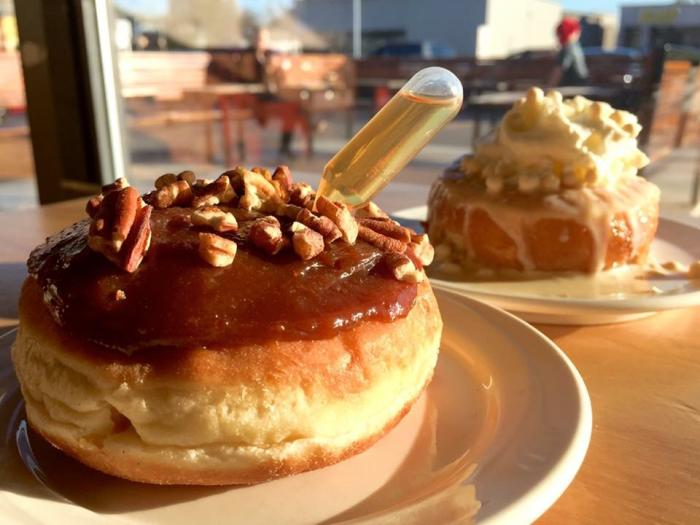 Hugs & Donuts, located in The Heights, gives us gourmet donuts we want to hug and never let go. Indulge in creative donut greats like the Oreo Cookie Crumble or the Mint Chocolate Chip. Even their vegan options are photo-worthy (offered Friday-Sunday).
Pictured above: Specialty filled donut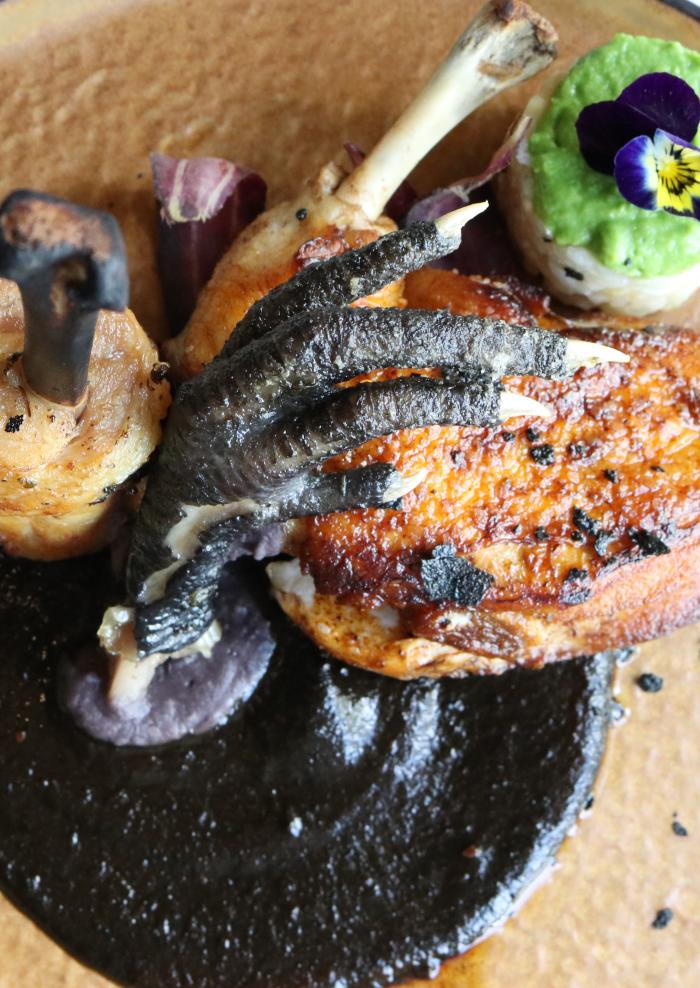 Any dish from a James Beard award-winning chef is Instagram-worthy, but Xochi takes the cake. Chef Hugo Ortega's unique dishes bring the flavors and tradition of Oaxca, Mexico to Houston beautifully. From ant mole and grasshopper garnish, to crispy pork belly and black-footed chicken, each plate surprises us with flavors our pallet and Instagram feed adores.
Pictured above: Negro en Negro - Tejas Heritage Farm black-footed chicken, mole negro, creamy corn meloso​
Les Givral's Kahve
If you come to Houston and don't enjoy our city's delicious Vietnamese cuisine, you're truly missing out.  Bánh mì, pho and vermicelli bowls at Les Givral's Kahve are just some of the popular street food options served at their Washington location. The different broths, meats, and add-on items like cilantro, jalapeños, lemon grass and more make all of the offerings Insta-worthy. So be sure to snag a photo before you dig is, as you won't be able to stop eating once you start. Bonus, you can enjoy Les Givral's excellent Vietnamese with their libations, making your Instagram followers extra jealous.
Pictured: Vermicelli with grilled chicken.
Les Noo'dle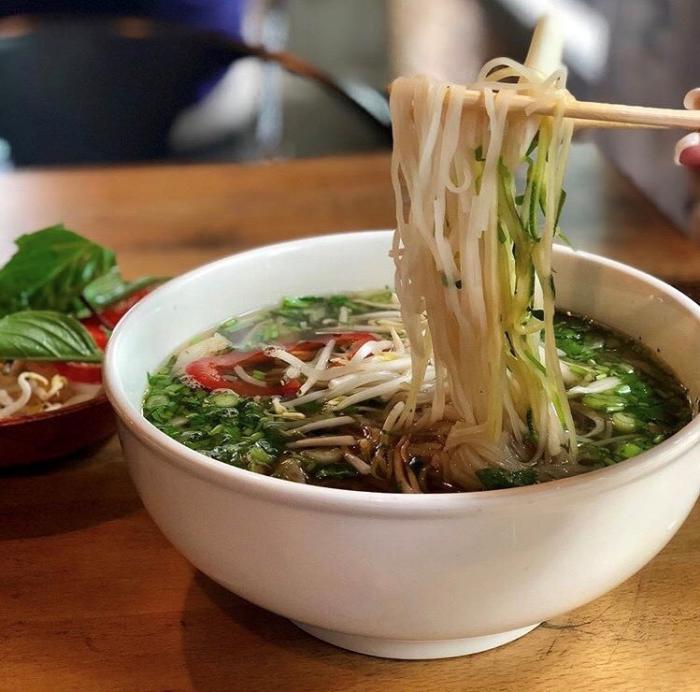 Pho real. Good pho you. Un-pho-gettable. Pho-nomenal. So many puns, so little time! Squeeze in your pho pun with a "pho-to" of arguably some of the best pho in Houston. Les Noo'dle, located in Montrose, takes us back to the streets of Vietnam with this beautiful and delicious soup.
Pictured above: Pho Gà
Uchi
Everyone knows sushi is easily one of the most Insta-appropriate food genres. The clean plate, the perfect slices, the beautiful colors of interesting fish. However, nigiri, sashimi and sushi don't always have to mean raw fish when you're dining at Uchi in Houston. With plenty of tuna, salmon belly, yellowtail, and roe options, there are also other interesting interpretations of presentation and flavor without raw fish. So not matter the picky palette, everyone will be pleased with the menu options. Try the Japanese eggplant, foie gras or short rib sushi and sashimi offerings. You can't go wrong and every plate is bound to come out ready for its Instagram debut.
Pictured: Sheepish pig's pork belly nigiri finished with beer mustard and goma.
State of Grace
Sometimes Mother Nature produces the prettiest foods. Diners may not always think of oysters as a one of those beautiful foods, but when dining at State of Grace's oyster bar, all of your seafood Instagram needs are covered. Plus, the entire State of Grace restaurant is seemingly Instagrammable with its rich interior and fun artwork. Guests can enjoy cold and briny oysters from sourced from Canada to Texas. The mother of pearl shell cradles the oyster, only to be complemented by the bright yellow lemon, delicious sauces and of course, colorful libations. Not into oysters? No problem. There are tons of other non-seafood options on the menu from appetizers to entrees and sides.
Pictured: Raw oysters and rosé.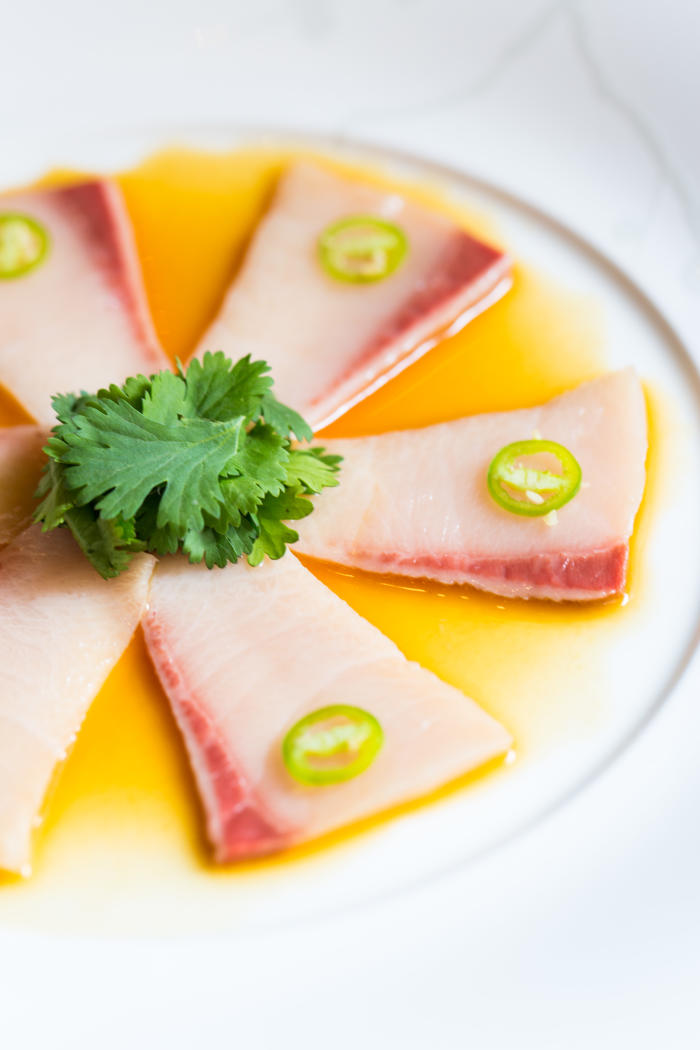 Sushi has never looked and tasted so good. Nobu, connected to The Galleria, has finally graced Houston with one of their restaurants. It's hard to snag a reservation less than a month out, but that shouldn't stop you. Their Bar Lounge is first come, first serve and has a food + drink happy hour menu from 5:00 – 6:00pm.
Pictured above: Yellowtail sashimi with jalapeño​