Houston's Top Engagement Shoot Locations
Looking for the perfect backdrop for your engagement photos? Houston is brimming with iconic settings and eye-catching public art that are prime for unforgettable pictures. Wondering where to go? Here are some of our favorite H-Town destinations.
Discovery Green park offers lovebirds postcard views of Downtown and a tranquil spot to snap scenic e-sessions. From tree-shaded walks and a tranquil pond to grassy slopes and fountains, there are any number of vignettes that will do your photo album justice. For a distinctly Discovery Green shot, make sure to get a picture in front of artist Margo Sawyer's 'Synchronicity of Color' installation.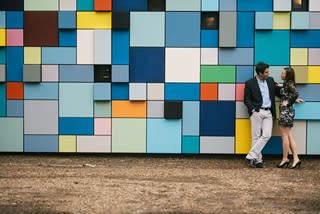 If it's a forest setting you're after, venture to Memorial Park. The 1,500-acre expanse is criss-crossed by trails, a golf course and the Houston Arboretum and Nature Center. The arboretum and botanical garden offers backdrops aplenty. There, forest, ponds and wetland mix, along with specialty gardens. Stop by the ravine overlook deck, along the Alice Brown Loop, for a bird's eye view of the stream below.
Houston's most historically significant green space, Hermann Park, has endless appeal for the soon-to-be-wed. Take a pedal boat ride in McGovern Lake, snuggle up beneath cherry blossom trees in the Japanese gardens or relax by the Jesse H. Jones reflection pool. In honor of the park's 100th birthday in 2014, the Hermann Park Conservancy launched Art in the Park-a series of contemporary art installations to be installed throughout 2014 and beyond. Don't miss Patrick Doughterty's 'Boogie Woogie' sculpture and Orly Genger's 'Boys Cry Too' knotted rope piece.
In spring 2013, acclaimed graffiti artist GONZO247 was asked to create the Houston is... mural in Downtown Houston's Market Square District. The vibrant artwork celebrates the city's most iconic characteristics and quickly became a popular backdrop for engagement photos. Snap a shot in front of the wall, before walking across the street for an extended photo session at Market Square Park.
Houston's most photographed site, the Galleria-area Water Wall is dramatic and timeless. The 64-foot, u-shaped fountain has water rushing down its inside and outside walls, offering visitors a spectacular view for sunset engagement sessions. More than 180 live oaks shade the three-acre area that unfolds before the Water Wall, hosting families and couples out for a stroll or picnic.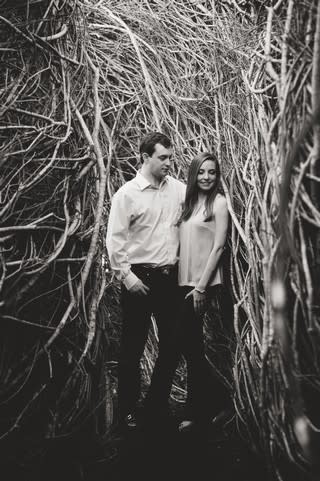 Located along the banks of Buffalo Bayou, Eleanor Tinsley Park is a great place to unwind and snap a shot or two. The sloping hills, lush trees and the ArtPark add to the spot's appeal, as does Downtown's stunning skyline, hanging in the background. The new $15 million Sabine to Bagby Waterfront Park contributes to the allure, adding dramatic lighting, native landscaping and a dozen street-to-bayou access points.
Houston's first public park, Sam Houston Park, was acquired by the City of Houston Parks & Recreation Department in 1899. Today, it's home to the Heritage Society, which aims to preserve Houston's history by restoring and interpreting early historic structures. In addition to being a popular location for wedding ceremonies, the area is a charming destination for photos, too.
Tranquility Park, named for the Sea of Tranquility, is filled with grassy embankments and serene pools, all next to City Hall in Downtown Houston. The cool oasis of fountains and walkways was built to commemorate the first landing on the moon by the Apollo 11 mission and today it provides unique architecture for one-of-a-kind photos.