Whiskey Bars in Houston
It's an age old drink that is popular for celebrations, special occasions or just chilling with friends at a local bar. You could also say whiskey is the go-to "man" drink and a time honored way to bond with the men in your life. Lucky for you, there are a lot of great places to go for a nice whiskey drink or even a tasting class. Cheers to dads!
Anvil is known for its top-shelf sips made with hand-pressed juices, house-made bitters, simple syrups and herbal infusions. For your Whiskey fix, try the Buffalo Bill, which features Old Grand-Dad Bonded Bourbon, lemon, strawberry, maple, and balsamic vinegar. The bartenders know everything about the whiskeys and can even come up with a special drink based on exactly what you are craving. Anvil was included in GQ Magazine's list of "25 Best Cocktail Bars in America" and was nominated for a James Beard Award in 2018.
Gather in acclaimed Chef Richard Sandoval's bourbon-centric restaurant and bar as Houston's southern-inspired roots come alive in delicious snacks and entrees. Located in the Four Seasons Hotel, Bayou and Bottle has a relaxing living room-like feel where they serve up more than 200 varieties of bourbons and whiskeys. The Kingsman drink is a smoky mix of bourbon, aperol and apricot liqueur. Don't forget to check out the Topgolf Swing Suite, an immersive golf simulation experience right off the main bar area.
Reserve 101
Located in Downtown Houston, Reserve 101 is the go-to hotspot for whiskey lovers. Boasting more than 340+ whiskeys from 14 different countries, they are known as the "best whiskey bar in Texas." Reserve prides itself on the best "classic cocktails" like the "Old Fashion" with Wild Turkey Bourbon, simple syrup and bitters… or try the Manhattan with Knob Creek Bourbon.
Moving Sidewalk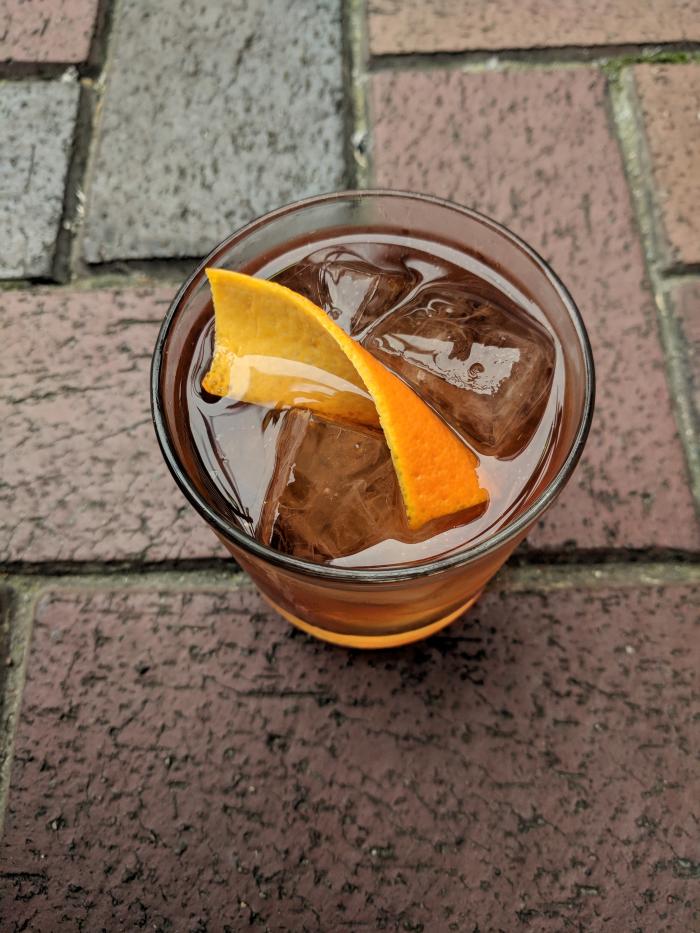 Moving Sidewalk is a cool bar in Downtown Houston that frequently changes up their drink menu to incorporate a theme. Right now it's "A Tribute to Rock 10." They pride themselves on being approachable and passionate about drinks and say, "Real fans of the dram can enjoy studying our highly curated back bar while getting down to an eclectic soundtrack." The "House Old Fashioned" is a blend of both bourbon and rye to create a more complex finish than most others.
Whiskey Tastings Too!
Bosscat Kitchen and Libations
Come check out the city's largest selections from Texas whiskey distilleries and other producers around the world. Bosscat has a glass-enclosed Whiskey Room packed with 300 bottles of whiskey, private whiskey lockers and seating for up to 16 guests. They also offer whiskey tastings for groups. Try Bosscat's signature cocktail named The Bosscat. It's a creative take on a whiskey sour made with Basil Hayden's bourbon, citrus, bitters and rosemary. Very approachable and easy to drink!
Public Services Wine and Whisky
Public Services is a wine and whisky bar located in the historic Houston Cotton Exchange Building in downtown Houston and is a landmark listed on the National Register of Historic Places. They specialize in an international selection of hard to find wines and whiskies. Check out Whiskey tasting classes held several times a year where you can expect at least 6 beverages, tasting notes loaded with information, snacks, and plenty of grandiose, rambling analogies from Justin Vann.
Yellow Rose Distilling is the oldest legal distillery inside Houston city limits. They produce 14 different products on-site, including the award winning Outlaw Bourbon and a Single Malt Whiskey, as well as three vodkas only available at the distillery. The production team is currently making whiskey in greater volume than ever before, but they still find time to clean up for tours and tastings every Friday and Saturday. No advance reservation needed and tour/tasting tickets are $10 per person.
Happy drinking!