The Experience: Tongue Cut Sparrow
Through a door in the back part of The Pastry War, Bobby Heugel's downtown mezcaleria, a staircase leads up to Heugel and chef Peter Jahnke's newest venture: a small and intimate cocktail bar inspired by their travels and focused on excellent service. Tongue-Cut Sparrow has 25 seats (eight of them at the bar), a menu of classic cocktails, wine and beer, and unique touches — from ice cold glassware to well-dressed servers — that aim to give guests a memorable experience that goes beyond what's in their glass.
The small space is dark and elegant but don't let that scare you away. "Houston has a tendency sometimes to think of formality as pomposity and I think that that's 180 degrees away from what we're trying to do," said Jahnke, who's the bar's general manager. "We are definitely wearing starched shirts and bowties and slacks but in no way do we want Houston to dress up for us. We love when casual parties come in for a couple of drinks before heading to a ballgame but we also want to be comfortable for those that wish to have a drink before or after the theater."
We caught up with Jahnke to talk about the bar and Houston's cocktail scene.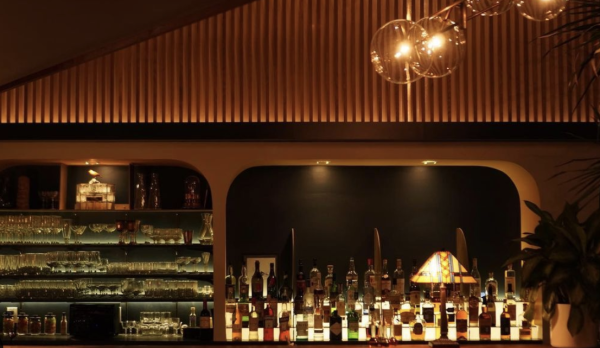 Courtesy of @tonguecutsparrow on Instagram
How did the idea for the bar come about?
Ever since Pastry War existed, which is the bar beneath us and the bar through which visitors have to go to get to Tongue-Cut Sparrow, the space existed. It's been a combined space and it had sat somewhat unused as storage and some other things sort of waiting for the right time and the right people. There was a point toward the end of last year when I stopped working on some previous projects and Bobby mentioned to me that he had the space and that he was interested in doing an interesting cocktail bar and if I wanted to talk about it. I thought about it for a little while and by the time I said yes it was seven weeks before opening. There was a lot of forethought put into it but the actual opening of the bar was fairly quick.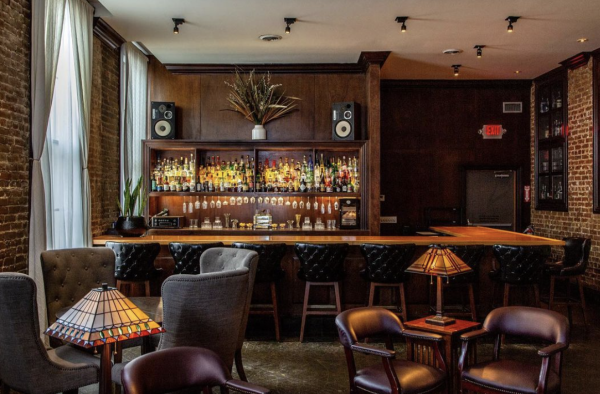 Courtesy of @tonguecutsparrow on Instagram
The bar was inspired by your travels ...
It was. Bobby and I have traveled pretty extensively. We've been very lucky in that we've gotten to see some of the world's better bars in some neat areas. Sometimes we've gotten to travel together, sometimes not, but when we came together about this concept we had recently come back from Japan and Vietnam and Taiwan and were very excited about bars and about doing service in a different way. We talked about what was available in Houston and whether we wanted to do something a little more formal that Houston wasn't as used to in this sort of cocktail way.
There are some things from Japan — a lot of the cocktail making techniques, the fact that we use three-piece shakers, our stirring techniques and some of the aspects of the bar that we work behind are somewhat Japanese. The aesthetic itself isn't anything like what you would find specifically in Japan. A lot of the furniture choices came from our stays at places like Nomad in New York, The Savoy in London, but we've also been to Oaxaca and we've talked about the warmth and friendliness of bar owners and patrons there. So it's a conglomeration of our travels and some of the concepts that we've been most impressed with though not always with the cocktails specifically. Often when we're talking about that we're talking about service style, warmth, grace, technique, all these things behind the scenes that we were super impressed with.

Tell me about the menu.
There is a time in the future where we will be doing original cocktails but at a lot of the places that we had seen around the world and were impressed by, the idea of being impressed by service was so adamant that the best places with the greatest service often times were not serving super conceptual cocktails. We wanted to do classic cocktails and dial in a lot of the classics that maybe have been forgotten about or pushed by the wayside or have been made so many times with less enthusiasm that we wanted to reapproach them in interesting ways. So for the menu we went full classic. Right now I believe we have 16 classic on the menu, along with some beer and wine, but I think that we've really opened up this great conversation where classics can be reapproached. While we hold to a lot of the proportions, a lot of the ingredients are not specifically where they would have been when the cocktails were invented so we actually get to approach them in an interesting way.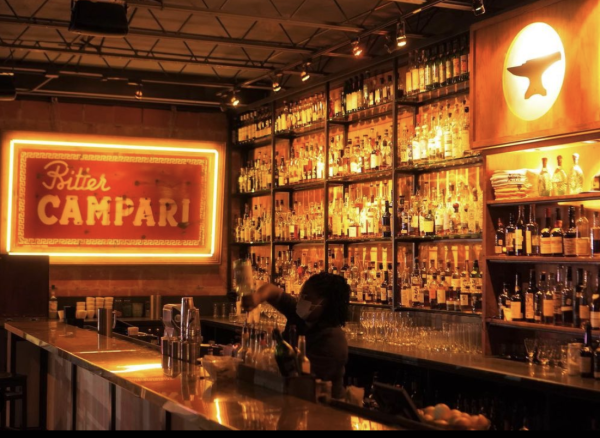 Courtesy of @anvilhouston on Instagram

What are some places you would take out-of-towners to get a cocktail?
On the cocktail game I think you can't miss Anvil. I worked there for a little while years ago and I think the crew is top notch. I think that out-of-towners maybe haven't seen some of the other places downtown that I think are incredible. I think Nightingale does a great job. Even though it's a very boisterous atmosphere and there's live music there often, I think the cocktails are phenomenal. Also downtown I think that Houston Watch Company does a great job and they are a similarly intimate space to us. They're a little bit bigger than we are but it's a great space if you want to sit at a bar and talk to a bartender. Moving Sidewalk does a great job as well. There's so much dedication on their crew to making the best tasting cocktails and taking care of people.
It's so strange, you know, I've always found this dichotomy in my life where I very very much enjoy working at a certain type of place but it isn't always the place I go after work.
So where do you go after work?
I go to La Carafe, Alice's Tall Texan, I go to West Alabama Ice House. You know definitely more casual places but places that I'm able to turn off a little bit.
How would you describe Houston's cocktail scene now?
The cocktail scene has grown by leaps and bounds. I think that it's wonderful that bartenders and bar owners that previously would never have had considered having a cocktail list do or that their bartenders are now more familiar with classics and other cocktails that just come up fairly often. It's great, you know. Downtown itself has grown by leaps and bounds, which is awesome. You don't open a restaurant in Houston unless you have a decent bar that can make cocktails and that was not always the case.
Visit Tongue-Cut Sparrow's website here.