Five miles of natural beach meet marsh at Sea Rim State Park. Located on the Gulf of Mexico, south of Port Arthur, the park allows visitors to swim and stroll the Gambusia Nature Trail on the park's Gulf side, then paddle marsh unit trails just across the way. It's the perfect summer destination for birders, families and campers who want to enjoy the beauty of the coast.

Visitors will hear the tempting waves of the Gulf of Mexico before they view it. The first glimpses come from the high West Dune Boardwalk — your entry to walking the beach and finding your spot for shelling, sunning and shore fishing.

The Gambusia Trail is a winding boardwalk over water and through cane that looks different every season you visit. Shorebirds such as heron, coots and roseate spoonbill are regulars along the path. Crabs and gambusia fish are often seen darting in the shallow waters, and there's almost always a gator nestled in the sea grass.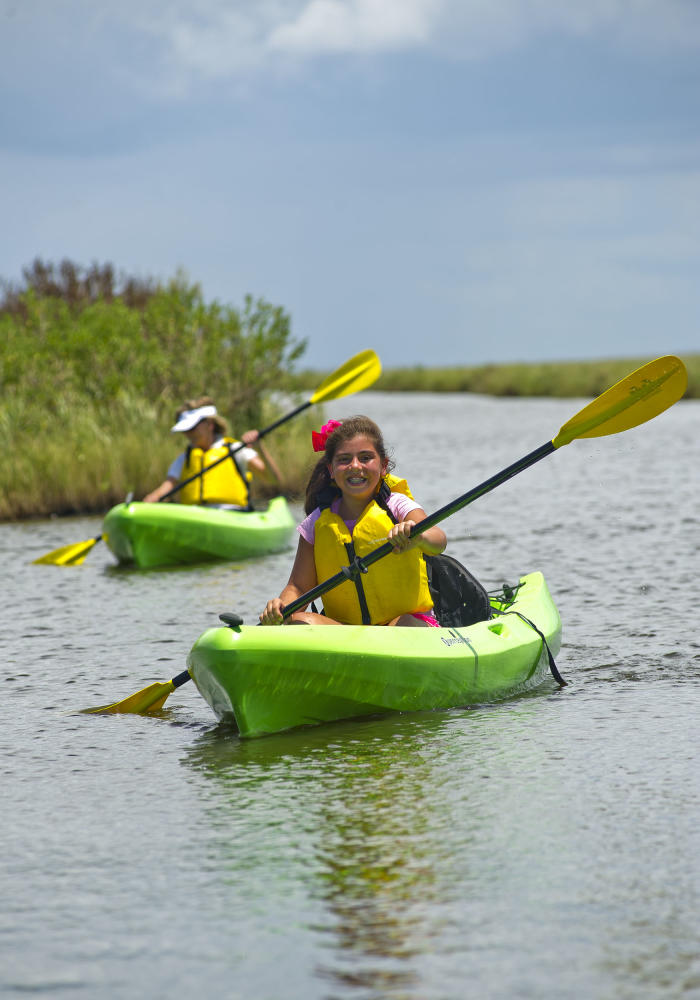 If you're looking to learn about the critters that live in the park, check out Sea Rim's social calendar, which includes activities such as shore fishing and crabbing clinics, and other events where rangers entertain and educate visitors to optimize their beach adventure. You can also rent a kayak or bring your own to explore three levels of paddle trails. A leisurely paddle to Fence Lake gets you up close to views of vegetation and birds. A bit more paddling will lead to the even bigger Salt Lake, a vital breeding ground and nursery for many game and shellfish.
Down the street from Sea RIm, birders will also enjoy the J.D. Murphree Wildlife Refuge and Sabine Woods, a bird sanctuary with a chenier ridge alluring to birds making their spring and fall migrations.
Sabine Lake is also part of Port Arthur's outdoor experience. Cross the soaring Martin Luther King Bridge to Pleasure Island and cast a line in Sabine Lake to reel in one of the incredible redfish that make the lake home. Scan the horizon as colorful sailboats emerge from Pleasure Island Marina.

On November 4, run the Pleasure Island Bridge Half Marathon, 10K and Kinsel Ford 2-Mile.
Looking for more things to do in Port Arthur?
The Museum of the Gulf Coast is your Jurassic-to-Joplin stop to learn about the area's history from dinosaurs to oil discovery to music and sports legends. A replica of Janis Joplin's psychedelic Porsche, Tex Ritter's jacket and The Big Bopper's story make up music hall of fame exhibits. Jimmy Johnson, Jamaal Charles and Bum Phillips are honored in the sports hall of fame as local greats.
Visit Buu Mon Buddhist Temple to enjoy peaceful gardens with towering bamboo, lotus and rose gardens and koi ponds. Or you may also want to see the Shrine of Our Lady of Guadalupe, featuring a 17-foot statue of Our Lady and Juan Diego. Visit the courtyard and chapel at Our Lady of Guadalupe Catholic Church.
Other attractions include Pompeiian Villa, Port Arthur's little pink house, modeled after a 79 A.D. Pompeiian home with a Roman peristyle, or three-sided courtyard. (Call 409-983-5977 for your appointment.) And if you're into art, the Texas Artists Museum's New Concept Gallery features rotating works of 30 regional artists.