The strength of the human spirit comes through during times of need. In the wake of Hurricane Harvey, heroes from all walks of life became pillars of strength and resiliency for their neighbors and community. Such was the case in Sugar Land, where everyone from restaurant employees to neighbors with high-water trucks came together to help those in need. We emerged from this historic natural event Texas Strong, Houston Strong, and Sugar Land Strong. Now that the waters have receded, Sugar Land welcomes visitors to experience its community pride and all that makes the Sweetest City in Texas a special place to visit.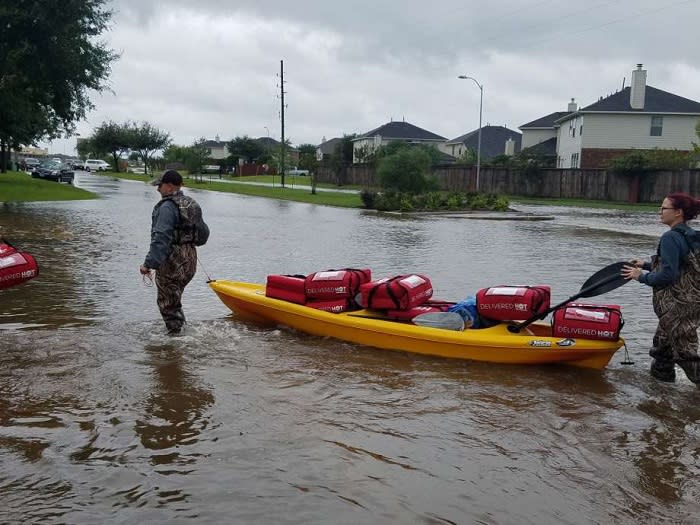 In Sugar Land, there was no shortage of compassion, elbow grease and creative ingenuity during the story. Pictured above is a Sugar Land Pizza Hut manager who took it upon herself to aid her community by distributing hot food to those trapped in their homes. In another case, neighbors with high-water trucks volunteered to transport an evacuated neighbor's respiratory machine.
The city of Sugar Land also did its part. On Friday, August 25, it activated its Emergency Operations Center working around-the-clock to serve Sugar Land's residents and visitors. The service encouraged residents to monitor local newscasts for the latest weather information and created a dedicated website for Harvey-related news and real-time road conditions, including flooded intersections. The city's social media channels kept residents and followers updated about Harvey and its effects during and after it hit the area. Information included general storm and flood information, street closures, business closures and live video feeds with the mayor and city staff. While the vast majority of Sugar Land stayed dry during this historic rain event, the full force of the city sprung to action to help those in need.
After Harvey
Soon after flood waters drained in Sugar Land, all area businesses were open and ready to serve the public. They also began to collect donations and raise funds to continue the extensive recovery efforts in the Houston region.
Sugar Land Town Square joined forces with American country singer, Coffey Anderson, on September 4 for a Hurricane Harvey benefit concert on the Plaza. Attendees gathered donations such as toiletry items, baby food, diapers, cleaning supplies, nonperishable food, and new towels and blankets to deliver to nearby shelters.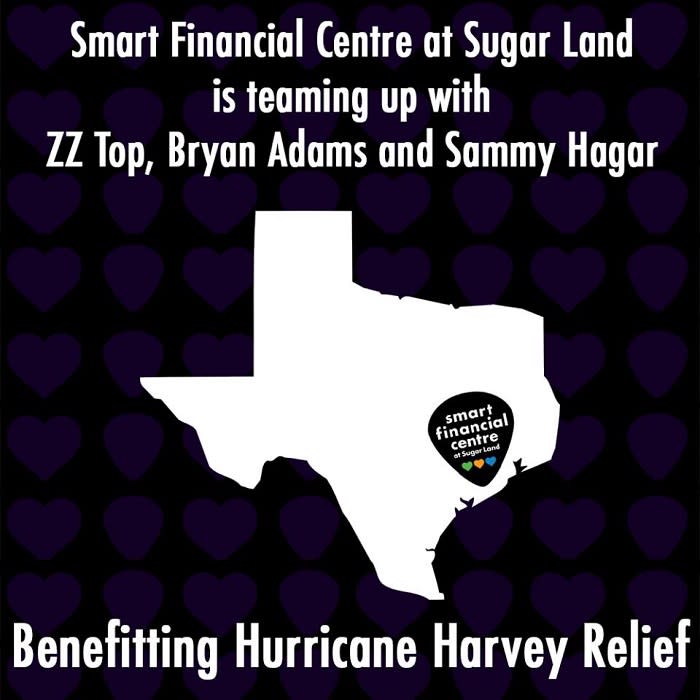 The Smart Financial Centre teamed up with Rock and Roll Hall of Famers and Houston natives, ZZ Top, during their September 10 concert to host a food and cleaning supplies drive and donate $100,000 to local relief agencies. The new performance venue also partnered with Sammy Hagar and Bryan Adams to set up similar drives during their respective concerts.
Several Sugar Land businesses, such as Bacon Bros. Public House and Turquoise Grill & Bar, also contributed by offering to donate a portion of their proceeds, accepting donations or participating in Houston Restaurant Weeks, which benefits the Houston Food Bank. The Sugar Refinery Grub & Grogs as well as Songkran Thai Grill both gave 10 percent of their proceeds to the JJ Watt Foundation Houston Flood Relief Fund. The Sugar Refinery also hosted a benefit concert on September 9.
In late September, the city recognized the residents, local businesses, community organizations, employees and others in the community who supported hurricane response and recovery efforts. They were a true example of the Sugar Land spirit.