Founded in 1974, The Woodlands was created to give residents and those visiting an escape from the hustle and bustle of the city. The tall, lush forests that run throughout The Woodlands create just that, a relaxing experience. From the outside, it may seem like that's all The Woodlands consists of: trees and more trees. Considering the master-planned community is fairly young, it can be easy to underestimate the development, amenities and even the history lying beyond the trees.  
The Cynthia Woods Mitchell Pavilion, ranked a top ten outdoor amphitheater, sits nestled beyond the trees and has hosted a variety of performers such as Frank Sinatra, Clint Black, Jimmy Buffet, Luke Bryan, The Houston Ballet and The Houston Symphony to name a few. The amphitheater consists of an iconic big, white tent and a huge, grassy hill to experience concerts under the stars, but holds much more than flashy concerts.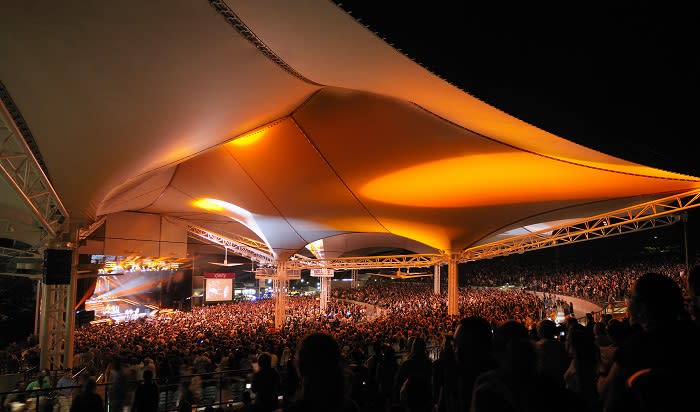 George P. Mitchell, the founder of The Woodlands, and his wife, Cynthia Woods Mitchell, were passionate about the performing arts. Once The Woodlands was established, the two dreamed about creating a first-class performing arts facility in the community. Their dream consisted of not only a facility for popular music, but also for classical performances and educational events. In 1990, The Cynthia Woods Mitchell Pavilion, in honor of George Mitchell's wife, became a reality in The Woodlands.  
Today, The Pavilion continues to carry on the Mitchell's vision by hosting not only popular, current concerts, but also classical and performing arts as well as educational events. In fact, The Pavilion is the home of the Houston Symphony each summer. Next time you're looking for a live music or a performing arts event, consider The Cynthia Woods Mitchell Pavilion.