Only minutes from Space Center Houston, Butler Longhorn Museum and Heritage Park offers a look at Texas and the American West through its history, art, and science. The museum sits on a ten-acre waterfront park in the Historic District with shaded picnic sites, a fishing pond, playground and a walking path. The museum features a vintage movie theater with popcorn and refreshments, gift shop, art gallery and research center. The facilities are available for school groups, weddings, meetings and other events including private tours. Heritage Park is open every day, and the museum is open on Mondays. 
Think of Texas and you think of Longhorns: ponderous cattle with horns as wide as a man is tall. From the western art of Charles M. Russell to the University of Texas mascot, the Longhorn is synonymous with Texas and its long ranching history. Yet few Texans or visitors to this state realize that at the beginning of the 20th century, Longhorns were on the verge of extinction.  
By the mid-1920s, in fact, buffalo outnumbered Longhorns - an especially remarkable statistic given that just 40 years previous, the North American Longhorn population was estimated at 40,000 head. Today, the Longhorn is alive and well thanks to the efforts of six pioneer breeders and a few far-sighted federal employees, who refused to allow these animals to become extinct. The Butler Longhorn Museum tells the story of this amazing comeback, and in doing so, shares a compelling chapter in the story of the American West.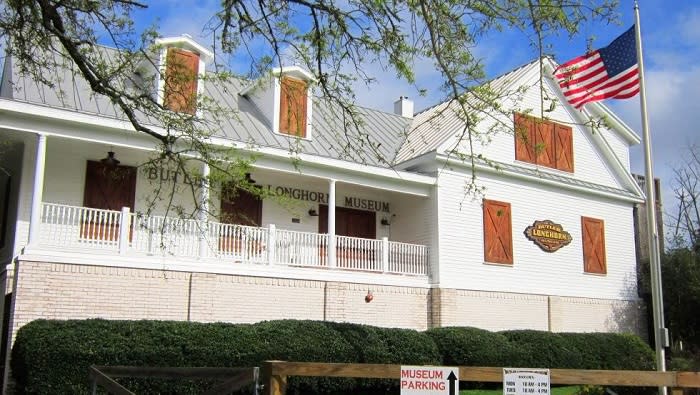 Opened to the public in May 2009, the Butler Longhorn Museum is a unique cultural heritage destination in League City, Texas, just 20 miles southeast of Houston and minutes from Space Center Houston. Previously the home of local banker Walter Hall, the building and its surrounding land was purchased by the City of League City in 2002 with a $400,000 grant from Texas Parks and Wildlife Department, and transformed into a museum dedicated to telling the story of local resident Milby Butler and his role in saving the iconic Texas Longhorn from extinction.  
Sitting on ten acres at the northern edge of the city's historic district in Heritage Park, the museum is an 8,000 square foot, three-story, ADA-compliant structure that houses unique artifacts, local art, history and science exhibits, multiple rentable spaces, and a gift shop. It documents not only the Longhorn bloodline but also the history of League City itself, which developed around the Butler Ranch and Cattle Station and whose history stretches all the way back to before the Civil War. 
The Museum is open Tuesday, Wednesday, Friday & Saturday 10am – 4pm and on Thursday 10am – 7pm.  They are open Sunday & Monday for scheduled tours or Special Events. Ticket prices are $10 for Adults and $9 for Children (6-12), Seniors & Military.  Children under 6 are FREE.