Being torn between the desire to travel and the love for your dog can be difficult. Luckily, there's Houston: a city that provides ample opportunities for both dogs and their owners to relax, sight-see, eat, drink, exercise, sleep, and anything else a traveler might wish for- together. Organizations like Paws on Patios and Dog-Friendly Houston have worked for years to expand the list of businesses, events, and parks that allow dogs, making for happier people and happier pooches. Man's best friend deserves a vacation, too! 
Bars
Since 2011, advocacy groups have been meeting with City Council members and the Health Department to allow dogs on patios of bars and restaurants. Dozens of bars led the charge to become dog-friendly favorites, including Front Porch Pub, Cottonwood, Big Star Bar, Cecil's Pub, and Beer Market Co. Visit Paws on Patios and Dog-Friendly Houston for updates on the newest dog friendly bars and restaurants in Houston.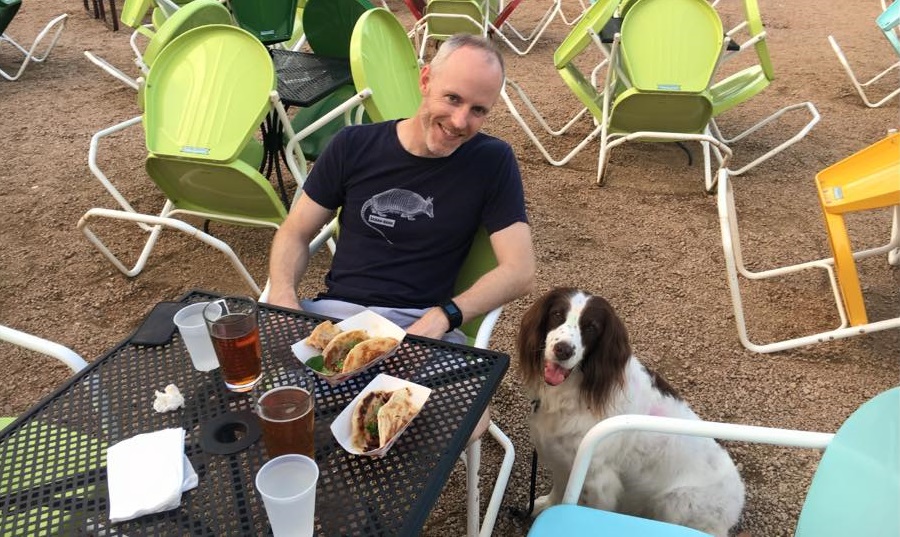 Restaurants
Barnaby's Cafe, named after the founder's childhood sheepdog, has multiple locations all over Houston which all welcome dogs on leashes on their patios. You can even order grain-free, high protein dog food and a dog treat for your friend on a leash. Good Dog Houston's menu may be covered in different options of "dogs," but don't let that stop you from enjoying a historic hot dog with your furry friend. Backstreet Cafe and Hugo's, both owned by Hugo Ortega (five time James Beard Award nominee for Best Chef Southwest), are dog-friendly as well. For the full list of Houston restaurants that welcome your pup, see this list.
Pet Salons
We pamper ourselves when we're out. Why not pamper man's best friend? Houston has many quality pet salons dedicated to keeping your dog looking and feeling its best. For the times you feel like sightseeing without your sidekick, rest assured knowing you can leave your dog in good hands. The Dog House Pet Salon is only found in elite cities like Houston, LA, Chicago, and New York, and features a pet cam which allows you to check in whenever you like. Haute Pets Salon travels to YOU for pet massage, nail care, dental health, etc. Hometown heroes like A Dog's Dream and John Andrews Pet Spa also provide the getaway and care your dog deserves.
Parks
Houston is home to beautiful weather, even when most of the country is limited by snow and ice. Parks are the perfect way to take advantage of the great outdoors with someone who never gets tired of that fresh air. There are thriving dog parks all over the city, as well as many public parks that are dog-friendly. The Johnny Steele Dog Park opened last year, and was welcomed by more than 3,000 dog owners and their dogs. The Bay Area Dog Park, Millie Bush Dog Park, and TC Jester Dog Park all provide spaces within the city for dogs to socialize and run without a leash. Discovery Green, Hermann Park, and Tranquility Park all welcome dog owners and dogs on leashes.


Dog Day at Minute Maid Park
"Dog Day" is a chance once a year to enjoy America's favorite pastime with man's best friend. On September 17th, catch the Pooch Parade, the Bark at the Park Vendor Alley, and the Houston PetTalk Magazine Costume Contest all while watching the Astros. Tickets must be bought at least two days in advance. 
Beach Trip
The beach can make even the worst problems seem far away. Enjoying the beach is even better when you can do it with your dog! Many beaches around Houston allow dogs. All public beaches in Galveston and Freeport allow dogs on leashes. If the beach isn't for you, try Rummy's Beach Club: a private swimming pool for dogs and their owners. Rummy's Beach Club is heated in the winter months, and can be visited all year long.
Dog Show
The Houston World Series of Dog Shows, which happens annually in July, is the perfect occasion for all dog owners and enthusiasts. Peruse vendors, admire thousands of beautiful dogs, and attend unique events like "Canine Musical Freestyle." Enter your canine companion into a competition ahead of time, or simply enjoy some of the activities together. 
Hotels
Dog owners who travel frequently may be aware of hotel chains that are pet friendly, but there are also hotels unique to Houston that welcome pets. For more luxurious tastes, Hotel Derek is adjacent to Houston Galleria shopping and Uptown entertainment district, central to the city's commercial and cultural districts. The stylish 312-room boutique hotel recently completed a multi-million dollar renovation of its guestrooms and suites, meeting and public spaces. Aloft Houston by the Galleria offers a pet program with a bed, bowl, treats, and toys. The urban-inspired and budget-friendly concept blends modern furniture and state-of-the-art technology with luxury amenities. For those on a leaner budget, hotels like the newly renovated Champions Lodge and Carefree Inn are both offer low fees of $15 per pet, per night.