Ready to catch them all? Well hold your horses because we asked local experts about the best places to catch Pokémon around Houston.
Rothko Chapel/Menil Collection
The Rothko Chapel and Menil Collection are two of the most beloved Houston landmarks among visitors and locals, so it makes sense that they also host a wide array of features for Pokémon Go players.
Listed on Travel + Leisure's list of 101 Places Every Traveler Should Know, the Rothko Chapel has become a pilgrimage stop for thousands of visitors who are drawn by its importance both as an artistic masterpiece and as an ecumenical gathering place for people of all religious beliefs. The Menil Collection is one of the most significant of the twentieth century with nearly 15,000 works dating from the Paleolithic era to the present day.
The whole area is rife with highly sought after Pokémon like Squirtles, Wartortles, Dodrio, Geodudes, Golems, and even an Onyx. The area has around 2 gyms and 10 Pokéstops.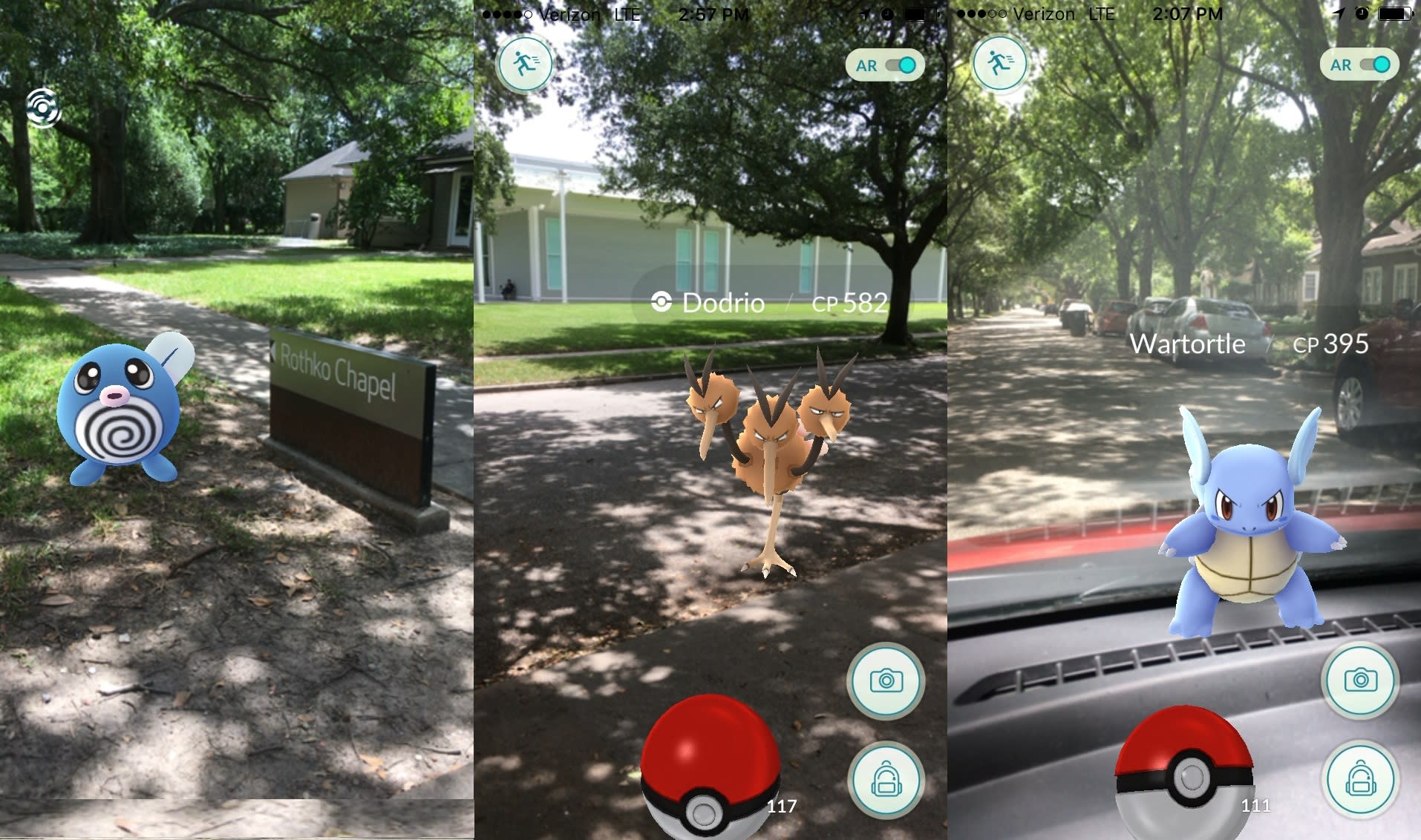 Downtown
Head downtown for the epicenter of Pokémon Go activity in Houston. Since the games release, the masses have flocked to the area's 7+ gyms and 40+ Pokéstops. Head out at just about any hour of the day and you'll find countless groups of teens, families, and even business professionals on lunch breaks catching and battling Pokémon. You're destined to make friends with other Pokémon trainers as you frequent downtown's many landmarks. Be aware that some designated areas of downtown close in the evening - check park hours before attending. 
Downtown offers a mixed bag of everything from ghost Pokémon, Charmanders, and Ivysaurs to water types like Psyduck, Starme, Goldeen, and Lapras. Because of the sheer number of gamers, there also tends to be more random appearances by rare breeds like Raichu, Magmar and Dragonite. 
Taking a cue from the Waugh Bridge bat colony, downtown is full of pesky Zubats. But you can also find a large selection of Golbats, Paras, and Tauros.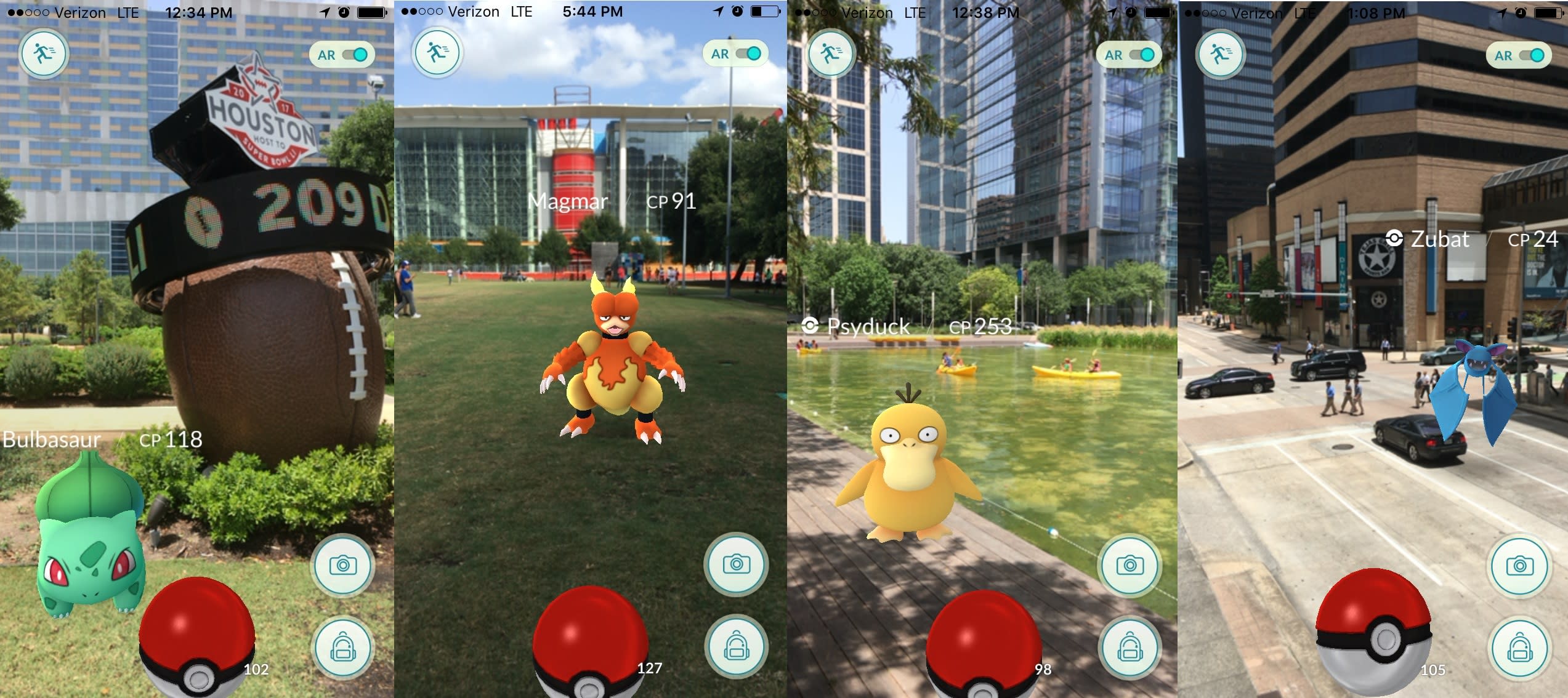 NASA/Space Center
Get in touch with your inner Team Rocket at Space Center Houston, the Official Visitor Center of NASA Johnson Space Center, and Houston's No. 1 attraction for international visitors. With more than 400 space artifacts including flown spacecraft, the largest collection of moon rocks on public display and an open to the public space shuttle replica mounted on a shuttle carrier aircraft, Space Center is a must. 
The area features 2 gyms and 18 Pokéstops. Look out for a great selection of psychic and fire Pokémon like Abra, Kadabra, Jynx, Ninetails, and Growlithe. Could the legendary Mew or Mewtwo also make an appearance at the space capital of the U.S.?
Kemah Boardwalk
After NASA, be sure to stop by the bay area Pokémon Go headquarters at Kemah Boardwalk. With 4 gyms and 20+ Pokéstops, this 35-acre carnival-like atmosphere also has a 36-foot carousel, a 65-foot Ferris wheel and rides like the Aviator and the adrenaline-fueled Boardwalk Beast. The boardwalk also boasts a large selection of iconic restaurants like Landry's Seafood, Aquarium Restaurant, Bubba Gump Shrimp Co. and Saltgrass Steakhouse.
The boardwalk is chock full of Magikarp, Goldeen, Staryu, Squirtle, Tentacools, and all manner of water-based Pokémon. The area also has rumor of the occasional Gyrados sighting as well as other rare breeds like Machops and Horseas. Can your team control all 4 boardwalk gyms?
Bonus: While in the area, head over to Seabrook's Evelyn Meador Library for a Hitmonchan nest as well as a gym and Pokéstops. Also check out La Porte along the way for Magnmite and Magnetons. A Porygon has also been sighted.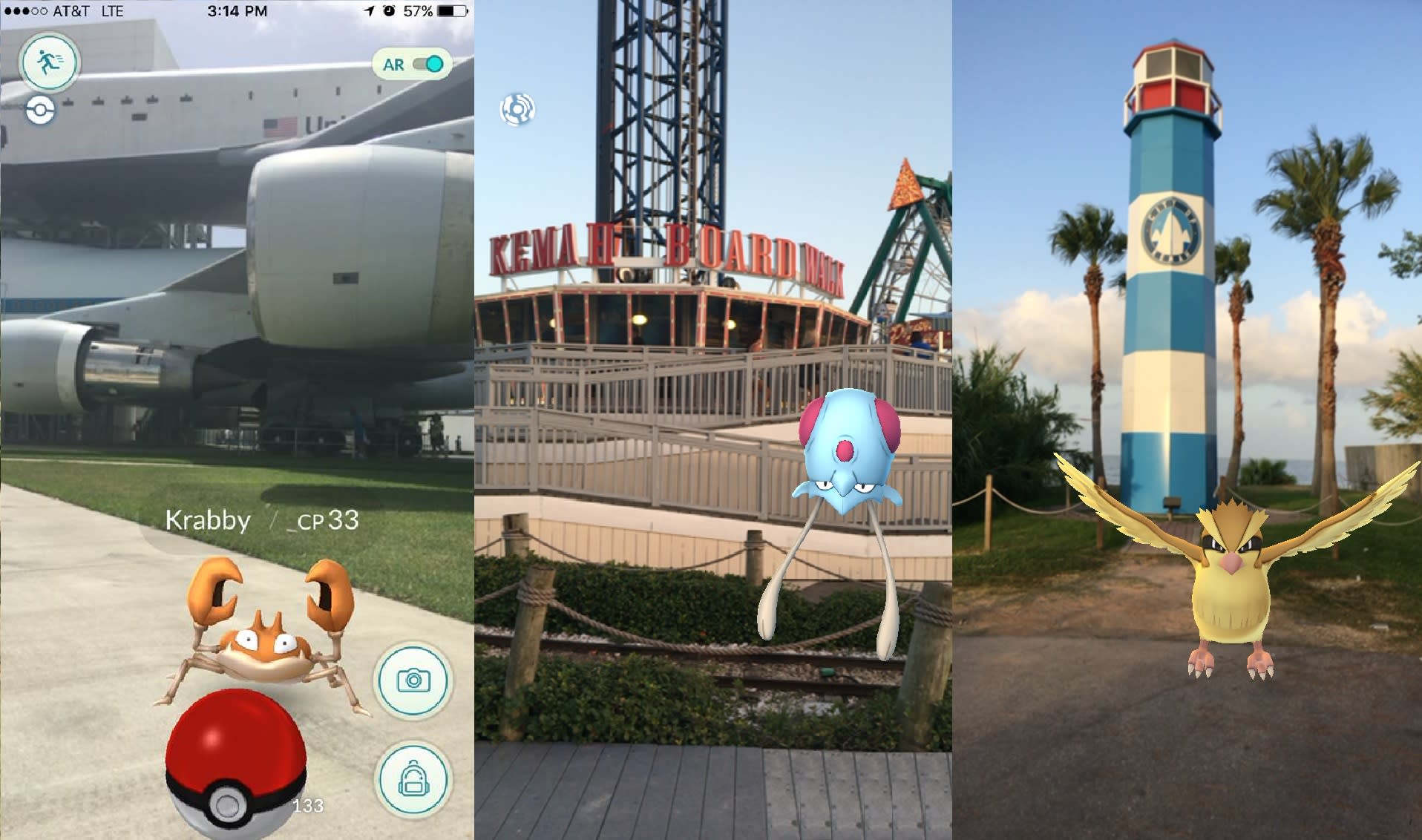 The Galleria
The Galleria, an international shopping destination that hosts more than 24 million visitors annually, offers world-class shopping with more than 375 stores, 30 restaurants, two hotels, and a full-sized ice rink. The mall also offers 2 Pokémon gyms and 10+ Pokéstops. Check out a who's who list of designers, including Louis Vuitton, Cartier, Chanel, Jimmy Choo, and Ralph Lauren while hunting for your next big catch.
Haunters, Fearows, Eggecuters, and Porygons have all been reported in the Galleria neighborhood. 
Houston Arboretum
The Houston Arboretum, located on the western edge of Memorial Drive just near the 610 Loop, is also an excellent place to catch Pokémon. The 155-acre non-profit urban nature sanctuary features 5 miles of trails, gardens, and other nature experiences. The Arboretum has 2 gyms, one located at the entrance off Woodway Dr. and another south of the meadow, and over 20 Pokestops. Players are welcome to walk the Arboretum's free scenic trails to catch Pokémon daily from 7 a.m. until gates close at 6:30 p.m. Gyarados, Lickitung, Voltorb and Pickachu have been sighted at the Arboretum.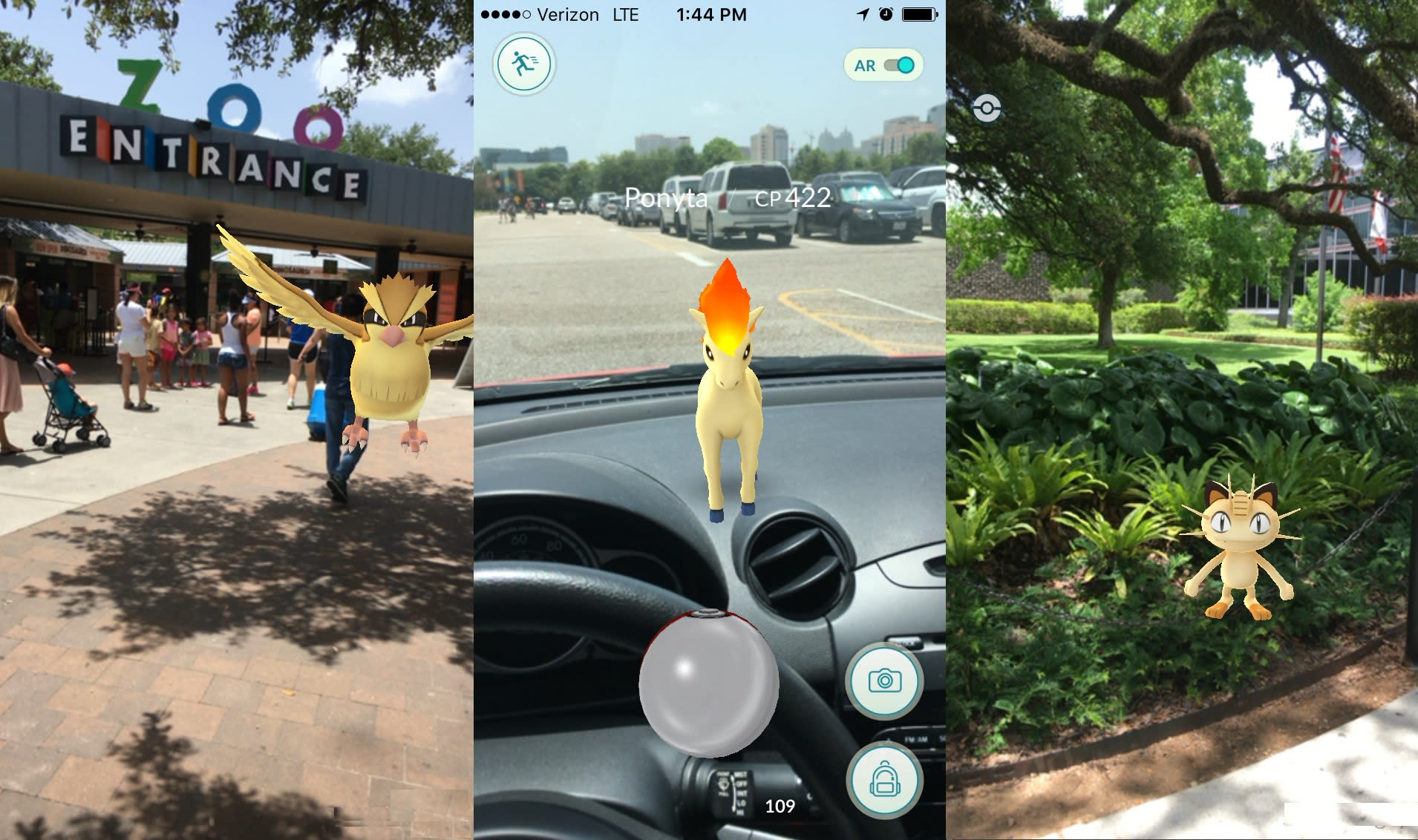 Museum District
Houston's robust museum district is home to over 20 internationally acclaimed cultural and historic institutions. The expansive area features over 5 gyms and countless Pokéstops. Just weeks after the launch of the game, trainers have found rare Pokémon like Gyrados and wild Vaporeon.
Founded in 1922, the Houston Zoo is an exciting live animal adventure that provides a unique educational and conservation resource serving more than 1.9 million guests annually. Set in a 55-acre lush tropical landscape, the zoo is home to more than 6,000 exotic animals representing more than 800 species. The Zoo also features a wide selection of Pokémon to catch. The front entrance and parking lot have been reported as Ponyta nests with numerous available to catch at different times of day. Also be on the lookout for Tangelas, Koffings, and Vulpix – all reported.
The Houston Museum of Natural Science, one of the most heavily attended museums in the U.S., features the Wortham Giant Screen Theatre, Burke Baker Planetarium, Cockrell Butterfly Center, permanent exhibit halls and traveling exhibitions. It is also home to the Sam Houston Statue gym and Pokéstops. Rare Pokémon like as well as frequent sightings by Meowth, Eevee, Dratini, Growlithe, Clafairy, and Jigglypuff.

Have any additional sightings or recommendations? Comment on our Pokémon Facebook post and we will add it to the guide!