July 4th Celebrations in Houston
Your guide to family-friendly activities Independence Day 2023
While you are planning your visit check out these unique Houston experiences and deals.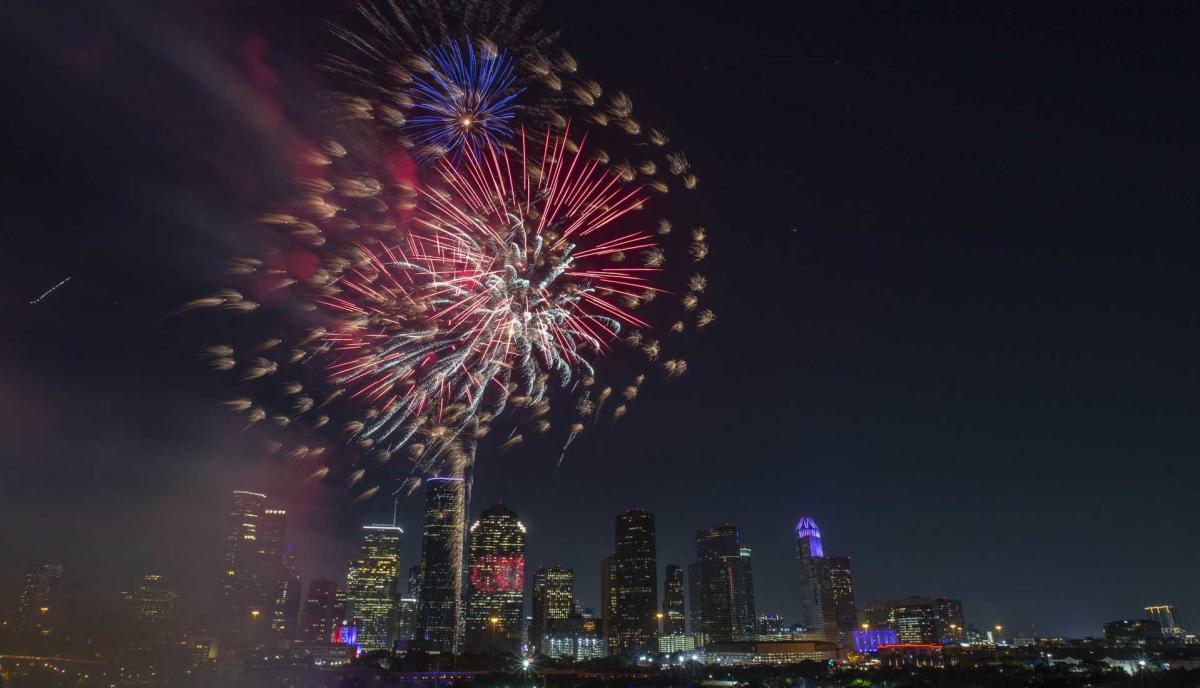 Shell Freedom Over Texas
July 4
This year's Freedom Over Texas event offers a multitude of festivities and concerts, culminating in a grand finale of musically choreographed fireworks, truly embodying the spirit of Texas.
Taking the spotlight on the Shell Main Stage is the country sensation Chris Young, known for his chart-topping hits. Joining him are esteemed guests, including Yola, a 6-time Grammy Nominee and American Music Award winner, as well as the Soul/R&B/Funk band TMF Formerly of Maze Featuring Frankie Beverly, with their new lead singer, Houston's own Chris Walker. The live performances will be followed by a breathtaking fireworks display, bringing the celebration to a magnificent close.
The festivities this year, held at Eleanor Tinsley and Sam Houston Parks on Buffalo Bayou (along Allen Parkway), offer a range of exciting experiences:
Bud Light Bayou Bash: A sun-filled gathering with enjoyable lawn games, providing an ideal vantage point to witness the main stage performances and the spectacular fireworks finale.
Dr. Pepper Flavor Zone: Showcasing Houston's professional sports teams, this area features a stage with live music and dancing, while visitors indulge in refreshing Dr. Pepper floats.
DICK's Sporting Goods All-American Kids Zone: In an exciting new partnership, DICK's Sporting Goods sponsors the children's entertainment area, offering activities, performances, games, rides, and more for families to enjoy.
Liberty Park: This section pays tribute to all five branches of the military, presenting "Symbols of Freedom" with an impressive array of military vehicles from past conflicts, as well as honoring first responders. Additionally, visitors can experience the exclusive Space City Experience provided by NASA, offering a unique glimpse into the wonders of space exploration.
Optik
July 4 - Labor Day Weekend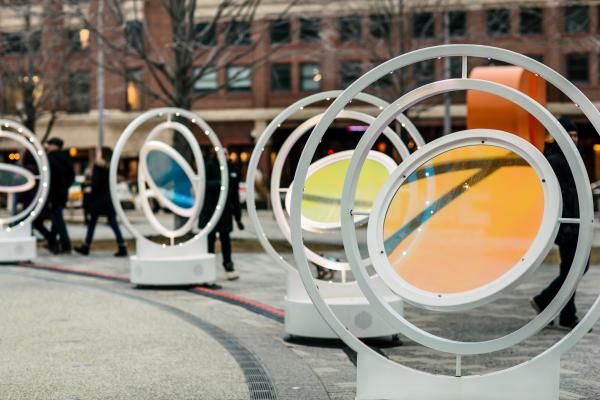 This summer Houston First Corporation (HFC) welcomes an exciting new feature to its entertainment and convention district with the installation of Optik, which debuts Tuesday, July 4 at Avenida Houston. Optik is an interactive installation that reflects on our ability to play with our surroundings while giving the opportunity for brand new points of view on our daily environment. It provides a unique platform for users to manipulate at free will how they want to see the world. The ten 6-foot gyroscope-like forms with, at the center, a dichroic film, offer new ever-changing opportunities that reflect any ray of light during the day while refracting the inner rings lighting at dusk. As the audience rotates each unit, they create their own endless cascade of colors. The experience is raised to another level as sound joins the rhythmical effort, turning each unit into a different musical instrument Through movement and reflection of light, each of these colorful units encourages the public to engage with another unit and other people within the space, sparking spontaneous conversations, dance parties, jam sessions, light shows, and to finally see each and everyone's true color. Optik is free to the public and will be available onsite through Labor Day weekend from 7 a.m. to 11 p.m. daily.
Independence Day Spectacular at City Centre
City Centre - Free
July 4 | 7 - 10 p.m.
Celebrate Independence Day with an enchanting evening of live music and an unforgettable 10-minute fireworks display that is not to be missed!
Join us on Tuesday, July 4 from 7 to 10 p.m. for The After Party, featuring a fantastic blend of country and pop music. The highlight of the evening will be the mesmerizing 10-minute fireworks spectacular, scheduled for 9:30 p.m., filling the night sky with vibrant colors and breathtaking displays.
To ensure a seamless experience for all attendees, we kindly request that no outside food or beverages be brought to the event. Don't worry though, as our restaurants offer a delectable selection of menu items that you can conveniently take with you.
For parking, we have designated CITYCENTRE garages available at a fee of $10 starting from 4 PM. Due to the expected high attendance, we recommend allowing extra time for parking before and after the event. Consider carpooling or utilizing ride-sharing services like Uber to make your journey more convenient and efficient.
City of Bellaire Fourth of July Parade
See Parade Route
July 4, 9 a.m. - 12 p.m.
Watch the parade in Bellaire and then stay to enjoy food, music from a live band, and more! The festival will take place starting around 10 a.m. on the Great Lawn and in Loftin Park.
2023 Red, Hot, & Blue Festival & Fireworks Extravaganza
July 4
Come and celebrate freedom in The Woodlands, where you can indulge in delicious food, revel in live entertainment, partake in exciting children's activities, and enjoy delightful family fun across multiple locations! The highlight of the event is an awe-inspiring fireworks display, one of the largest in the Greater Houston area.
Throughout The Woodlands, you'll find a plethora of activities to engage in. Live music will set the stage starting at 6 p.m. at all sites, with bands playing until the grand Fireworks Extravaganza commences around 9:30 p.m. In order to ensure the comfort and safety of all attendees, please note that oversized beach umbrellas and pop-up tents are not permitted at the Festival.
The Fireworks Extravaganza, spanning a magnificent 18 minutes, will take place at approximately 9:30 p.m. The primary fireworks display will be situated in Lake Woodlands, adjacent to Northshore Park. Additionally, a secondary close-proximity (special effects) display will illuminate Town Green Park. Furthermore, the Waterway Square District near Timberloch Place and Waterway Avenue, as well as Rob Fleming Park in the Village of Creekside Park, will also feature stunning fireworks displays in the 2023 event.
To enhance spectators' viewing experience, teaser shots of fireworks will be launched from all the designated locations at 9, 9:10, and 9:20 p.m. Tune in to KSTAR Country 99.7 FM to enjoy the accompanying fireworks soundtrack.
Immerse yourself in the festivities at The Woodlands, with a variety of activities to explore across the Festival's different locations. Indulge in the captivating fireworks, encounter strolling entertainment, get your face painted, marvel at balloon art, engage in children's arts and crafts, savor delectable concessions, and delight in live music on two stages.
July 4, 8:30 p.m.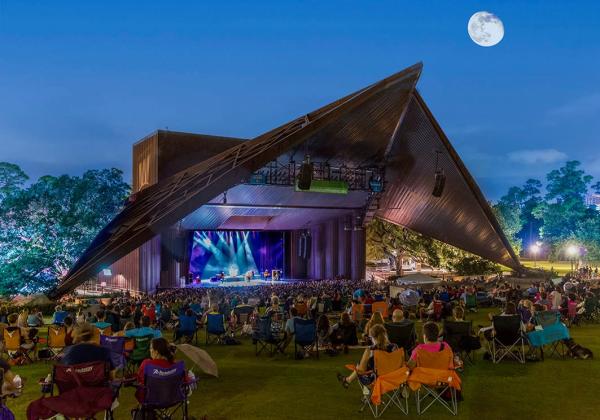 Fourth of July at Miller Outdoor Theatre is back! Celebrate America's birthday featuring patriotic favorites followed by a firework's grand finale at 10 p.m.
Where to Eat on Independence Day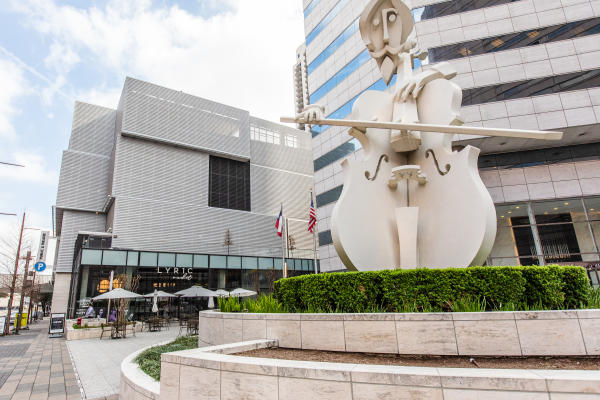 Credit: Becca Wright
Swing by Lyric Market on your way to Freedom Over Texas this Fourth of July. Located less than a mile away and a short 10-15 minute walk, guests can grab some American Flags and popsicles on their way to see the fireworks show at Eleanor Tinsley Park.
Heights & Co. 
Heights & Co. will be celebrating early with specials starting Saturday and running through Tuesday. These specials include an all-american hotdog topped with queso for just $6 as well as a Bomb Popsicle Slush - a red, white and blue popsicle served with frosé for $12 - that will have you feeling like a firework. 
All Local Table locations will be featuring a Red White and Blueberry Mimosa flight for just $15, and all locations will close at 4 p.m. with the exception of the Cinco Ranch location. The flagship location will be hosting a Patio Party with festive decorations, a play area for children as well as flags, face painters and balloon artists for kids. Families can enjoy live music from 6-9 p.m. Local Table has four locations. The Patio Party will take place at the flagship location in Cinco Ranch: 24033 Cinco Ranch Blvd, Katy, TX 77494
Christian's Tailgate
What's July 4th without a hotdog? Christian's Tailgate agrees, which is why all locations will offer $2 hotdogs (toppings available at an additional cost) as well as $3 draft pints of Bud Light. Christian's Tailgate will also be offering $2 tacos available with beef, chicken, pork, grilled fish and grilled shrimp. 
Hungry's 
The Hungry's menu has something for everyone, and this July 4th, they'll be offering their delicious Belgian Waffle with blueberries and strawberries for a festive red and blue touch and served with maple syrup and powdered sugar.
The Rustic
The Rustic, a destination for those seeking delicious food and live music, will host an event on July 4th called Drink The Flag! With two locations in Downtown Houston and Post Oak, The Rustic will offer restaurant-goers the opportunity to contribute to the iconic "beer flag" by making a $5 cash donation. In return, guests can enjoy a beer in a colored can from local breweries. 
Downtown Houston location: Choose from Karbach Clutch City Lager (red), 8th Wonder TEX Blonde (white), Saint Arnold Banger IPA (blue). 
Post Oak location: Choose from 8th Wonder Cougar Paw (red), Spindle Tap Proper Pils (white), Saint Arnold Art Car IPA (blue).
All proceeds will go to Operation Red Wings Foundation, in addition to a generous donation from Tito's.