Take me out to the ballgame, but show me where to eat and stay to make the experience a grand slam. That's our game plan! Take a swing at these baller dining establishments, hotels and ways to get around Downtown.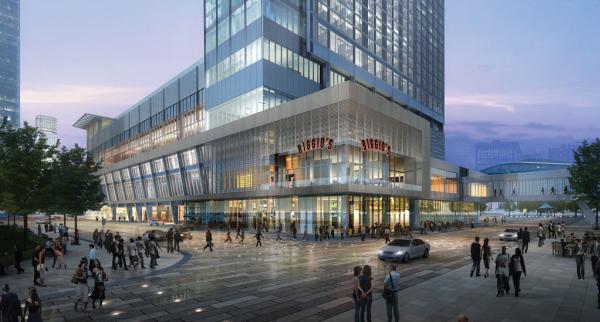 Osso & Kristalla
1515 Texas Ave
Osso & Kristalla, a stylish trattoria and lounge, unites contemporary rustic-chic and delectable modern Italian cuisine. If you're looking for a bit more upscale dinner before a game, this is the spot.
Indianola
1201 Saint Emmanuel St.
Another more upscale option, Indianola, offers diners fabulous and creatively crafted American dishes.
Phoenicia
1001 Austin St.
This Mediterranean grocery store offers fresh shawarmas, salads and sandwiches to grab a quick bite to eat before the game. Shawarmas also make great to-go food for walking around Downtown Hou.
Rodeo Goat
2105 Dallas St.
Serving up burgers galore, Rodeo Goat offers menu items named after famous local personalities, a dedication to craft beer, a spacious dining area and a huge outdoor patio. Stop in for a burger or salad.
Biggio's
1777 Walker Street
This multi-level bar is the place to be before, during and after the game, even when the Astros are out of town. Every seat comes with great views of all the games on flat-screen TVs and local craft beer and other beverages. Upscale bar food rounds out a winning lineup.
Xochi
1777 Walker St.
Houston Chef Hugo Ortega knocks it out of the park with Xochi, offering fans a dining experience that celebrates the culinary and indigenous richness of Oaxaca, Mexico and its varied geographic regions.
Ballpark Cafe
1520 Texas St
Experience this laid-back self-serve snack shop with alfresco tables and savor mouthwatering hot dogs and burgers, perfectly paired with refreshing beer options.
Make a Night of It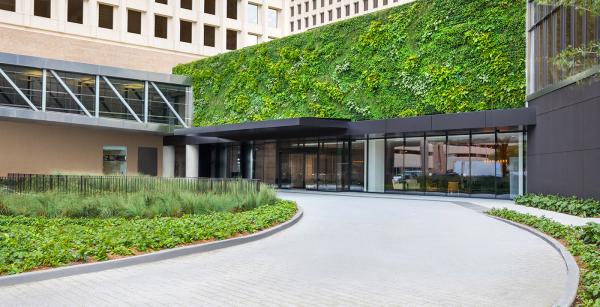 C. Baldwin Hotel
400 Dallas Street | Houston, Texas 77002
An anchor for The Allen Center at the gateway to Downtown, C. Baldwin honors the brash and fiercely independent Charlotte Baldwin Allen, The Mother of Houston. Convenient sky-bridges connect the hotel to the Allen Center buildings and Heritage Plaza. Also, the C.Baldwin Hotel is connected to downtown Houston's underground tunnel system.
The Whitehall Hotel
1700 Smith Street | Houston, TX 77002
Located in the heart of the Central Business District, The Whitehall Hotel is a classic revival hotel, designed by Welton Becket and Associates, having first opened its doors in 1963.
 
JW Marriott Houston Downtown
806 Main Street
Houston, TX 77002                
Downtown's 102-year-old Samuel F. Carter Building was transformed into the 328-room JW Marriott Houston Downtown in summer 2014.
 
Get Around
There are plenty of ways to get around Downtown via public transportation if needed. 
METRO prides itself on providing a range of safe, clean, reliable, and friendly public transportation services that are easily accessible to all. With thousands of bus stops scattered throughout the city, local trips are made effortless. The expansive network of 35+ light rail stations in and around Houston ensures seamless travel within the city limits.
Houston's efficient and convenient light-rail network provides seamless access to numerous popular destinations in and around downtown Houston. METRORail connects you to the city's most sought-after attractions, including Lynn Wyatt Square. With trains running frequently, you'll hop on board and be on track to your desired destination in no time. Say goodbye to traffic and parking woes and embrace the ease and efficiency of METRORail for a smooth and enjoyable journey throughout Houston.
Houston BCycle offers the perfect solution with its extensive network of 150+ stations and 1100+ bikes spread throughout the city. With easy access to bike stations, you can effortlessly hop on a bike and reach your desired destination with ease. Embrace the joy of cycling and let Houston BCycle take you where you want to be.
Parking
Check out our Houston Astros Parking Guide.