If you want to learn about the energy industry that drives Houston, head to the Houston Museum of Natural Science for an immersive experience at the Wiess Energy Hall. The recently renovated exhibit hall – now in its third iteration – features interactive, cutting-edge exhibits about the science and technology of energy.
Once you step off the elevator on the fourth floor of the museum, you'll be greeted by a realistic depiction of the floor of an offshore drilling rig populated by machinery, including an iron roughneck, pipe racker and top-drive.
As you make way into the futuristic 30,000-square-foot hall, you'll find plenty to see and do. Pull the slot machine lever on the Wildcatter's Gusher Gamble to learn the process of finding and striking oil in the early days of oil production. You won't get a prize or coins, but if you're lucky, you can say you struck oil. A vast island in the center of the hall invites you to explore renewable energy sources, such as wind and solar, in which Texas is a national leader.
Then hop aboard the Eagle Ford Shale Experience, a.k.a. the EFX 3000, for a 10-minute simulated ride to shale oil and gas drilling country piloted by DAR-C, a rebellious robot. There, the craft is reduced to microscopic size before it heads into the borehole of an oil well and into the narrow spaces of a hydraulic microfracture. It's a bumpy ride!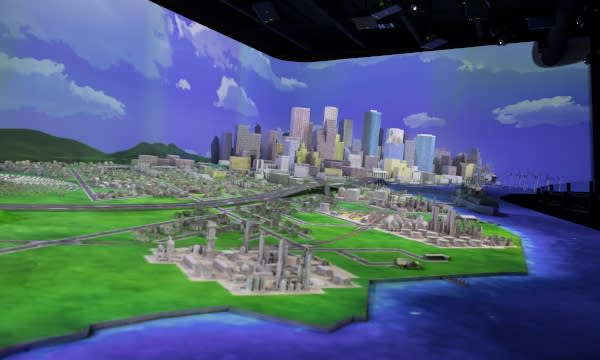 When you return, take a break to enjoy the landscape of "Energy City," a 2-500-square-foot 3D representation of Houston, the surrounding Gulf coastal waters, and the terrain of southeast and central Texas. The 1/150th-scale white model of H-Town features depictions of 12 actual Houston buildings and uses projection mapping technology to show visitors the energy value chain as the entire city cycles from day to night.
Before you head out, take a journey on the Geovator, which takes you for a plunge through the museum floors, into the earth and back in time to the Cretaceous Period. There, you'll experience an attack by hungry pteranodons and a meteor strike before a tumultuous ride back to the surface.
You won't find an exhibit quite like this one and it's only one of the Houston Museum of Natural Science's fascinating exhibits. Make sure to visit our Houston Experience Marketplace for discounted admission to this and other museums.
Looking for more to do with your family? Check out our 3-day and 5-day family itineraries.