You only have to drive a few miles from Houston to experience the best Mardi Gras west of New Orleans. From King Cake to parades with Cajun flair, your celebration is only a daytrip away. Whether you're looking for a rowdy celebration with friends or a friendly parade for your rowdy kids, here are three events you should check out. 
Yachty Gras
Jan. 27-Feb. 3, 2018
The Mardi Gras season in Bay Area Houston is filled with plenty of parties, balls and parades but Yachty Gras is the most anticipated event in Houston's Bay Area. Help kick off the annual Yachty Gras Party, now in its 19th year,  on Saturday, January 27 from 7pm – 11pm at the Sundance Grill in Waterford Harbour.  
Or take your kids to experience the 2018 Yachty Gras Grand Night Parade on Saturday, February 3 with almost 100 festively decorated boats of all sizes parading in front of the Kemah Boardwalk. For more information click here.
The Krewe du Lac Kemah Mardi Gras Street parade steps off at 10:30am on Saturday, February 3rd from Harris and 7th Street in Kemah. Stop at T-Bone Tom's for lunch beforehand; the parade begins right behind the restaurant.
Mardi Gras! Galveston
Feb. 2-3, 2018
For a unique experience that lasts a full two weeks drive south to Galveston for the third largest Mardi Gras celebration in the United States. Grab your beads and head to the beach for sunset views and lavish parades including Mystic Krewe of Aquarius, Krewe Gambrinus and Knights of Momus Grand Night Parade.
The island's 107th Mardi Gras celebration is expected to draw more than 350,000 attendees for 30+ concert at the Saengerfest and Electric Mardi Gras stages. Plus parades, balcony parties, and several elegant balls. Check out a full list of the events here.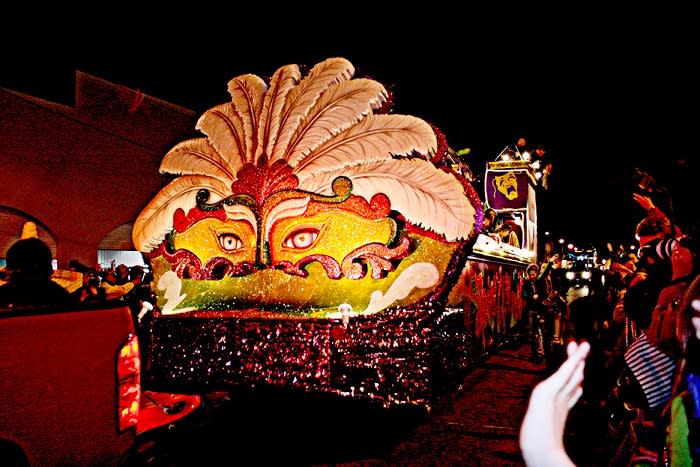 Mardi Gras of Southeast Texas
Feb. 8-11, 2018
Port Arthur lets the good times roll with Mardi Gras of Southeast Texas, Feb. 8-11. Catch loads of beads from lighted parades at this family-friendly celebration with concerts, a carnival, street entertainment, and an interactive kid zone. The Boogie Kings, Honky Tonk Jones, Roger Creager, William Clark Green and Kevin Fowler will bring their best performances while you satisfy your appetite for Cajun flavors and revelry. Grab your advance tickets here and get ready to roll.