You only have to drive a few miles from Houston to experience the best Mardi Gras west of New Orleans. From King Cake to parades with Cajun flair, your celebration is only a daytrip away. Whether you're looking for a rowdy celebration with friends or a friendly parade for your rowdy kids, here are three events you should check out. 
Mardi Gras! Galveston
Feb. 22- March 5, 2019
Take part in the third largest Mardi Gras celebration in the United States with the unique chance to get some sand between your toes and enjoy the beach sunset at the same time. Galveston's celebration takes place at multiple locations from February 22 – March 5.
Enjoy headliners like Pat Green and Duelo February 22nd, 23rd and 24th with DJ Villa, SPRUNG, and Drew Womack taking the stage March 1st, 2nd and 3rd. With multiple parades each weekend of the celebration, it's no surprise more than 3 million beads will be thrown. With tons of family friendly activities and crazy parties too, you're sure to find an event that matches your vibe. Check out the full list of events in Galveston here!
Yachty Gras
Feb. 23, 2019
The Mardi Gras season in Bay Area Houston is filled with plenty of parties, balls and parades but Yachty Gras is the most anticipated event in Houston's Bay Area.Take your kids to experience the 2019 Yachty Gras Grand Night Parade on Saturday, February 23 with almost 100 festively decorated boats of all sizes parading in front of the Kemah Boardwalk. The parade begins at 7 p.m. in the Clear Lake Channel and will continue past the boardwalk. Onlookers, be prepared to catch beads from the boats in front of you! For more information click here.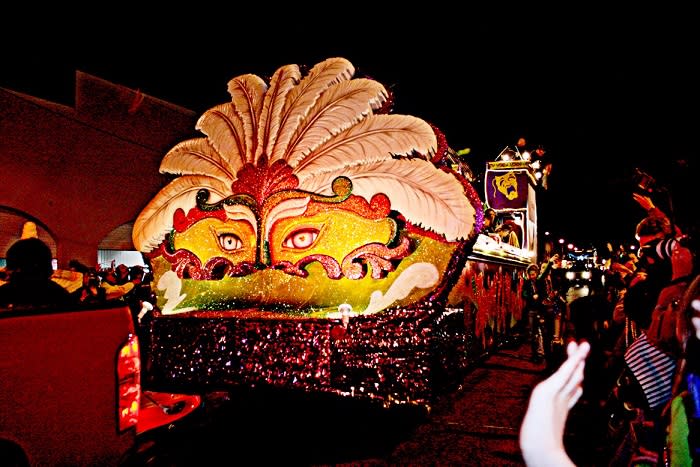 Mardi Gras of Southeast Texas
Feb. 29 - March 3, 2019
Color Me Carnival will splash purple, gold and green into your life at Mardi Gras of Southeast Texas in Port Arthur.
Family-friendly lighted parades, concerts and Cajun flavors will draw bead-catching revelers to downtown Port Arthur Feb. 29-March 3, 2019. Royalty in elaborate costumes, a carnival, KidZone, music and more music are on the schedule. Color Me Carnival is this season's theme that fits in with the brightly colored replica of Janis Joplin's psychedelic Porsche at Museum of the Gulf Coast, one of the Mardi Gras points of entry. Visit arts and crafts booths and let the good times roll. Learn more here!