Just in time to help out with your New Year's Resolutions, January 15th is National Fresh Squeezed Juice Day. Fresh Juices are a great way to get vitamins and nutrients into your diet without much effort. There are many places around Houston where you can grab fresh squeezed juices in various flavors. The good news is you don't have to worry about cutting up and juicing fruits and veggies at home. (Trust us, it's a big mess and the machine is not easy to clean.) From the Heights to Downtown, there are plenty of fresh juice stops all over town. 
Beet Box Blend Bar off West Gray started as a mission for health. Founder Denise Manley was dealing with Stage 3 breast cancer and doctors recommended blending to increase her daily fruit and veggies. She couldn't find what she was looking for so she created Beet Box Blend Bar! She strives to have the highest quality ingredients in each juice. Denise recommends the Kale Shake, which includes kale, banana, dates, cashews, organic vanilla extract, ginger, sea salt and organic unsweetened vanilla coconut milk. One glass of Beet Box Juice counts for 1.5 veggies and two fruits!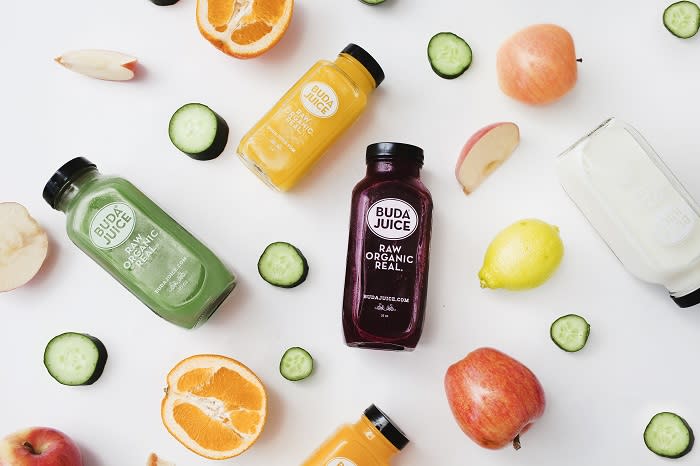 Buda Juice
Buda Juice has two area locations, one in Rice Village and another in The Woodlands. They stand apart from the crowd with the cool way they make their juices. Buda keeps the kitchen at 35 degrees at all times so the fruits and veggies are not subjected to temperature changes before being juiced. This method, called the "cold chain," minimizes oxidation and keeps enzymes and nutrients living and intact. The most popular menu item is the Original Number 01 Green which includes leafy greens, spicy ginger, tangy lemon and a hint of sweet apple. They offer free samples, so stop in to check it out for yourself!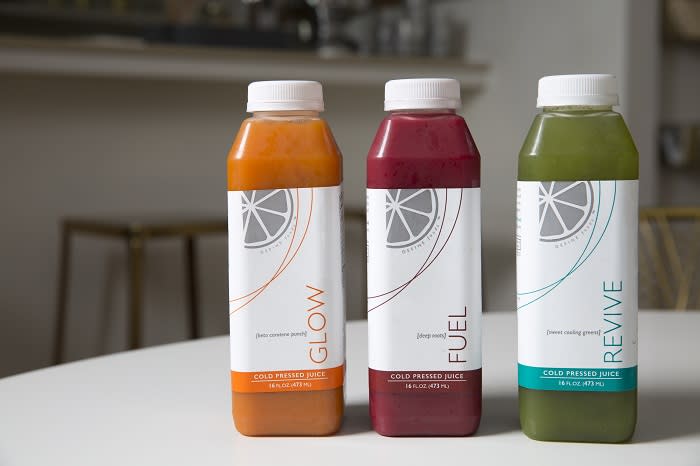 Photo by Jenny Antill
Define
Define Body and Mind is a popular workout studio with locations all around the Houston area. DEFINE foods focuses on a whole-food, plant-rich diet that includes signature fresh, nutrient-dense and delicious cold-pressed juices. Define offers seven unique juice blends high in antioxidants, vitamins and other great stuff. The Revive juice blend peaked our interest. It includes pineapple, cucumber, granny smith apples, spinach, cilantro and lime. (You also get 10% off your first order! Score!)
JuiceLand's juice game is on point! JuiceLand has three locations in the Houston area and offers more than 21 different varieties of bottled cold-pressed juice. The juice we recommend is the Tigerlilly. It's a refreshing organic green juice made of cucumber, celery, kale, parsley and spinach. They also have hot beverages made with nut milks.
JuiceWell in the Greenway Plaza area of Houston has a bar scene atmosphere with "juicetenders" who mix drinks… healthy style, of course. They offer a variety of cold pressed juices in a place where you and friends can gather for a great time. They adjust their menu to use the ripest fruits and vegetables in season at the time. JuiceWell also offers a free consultation with a nutritionist to help you identify the types of juices that may work best for you. Learn more here.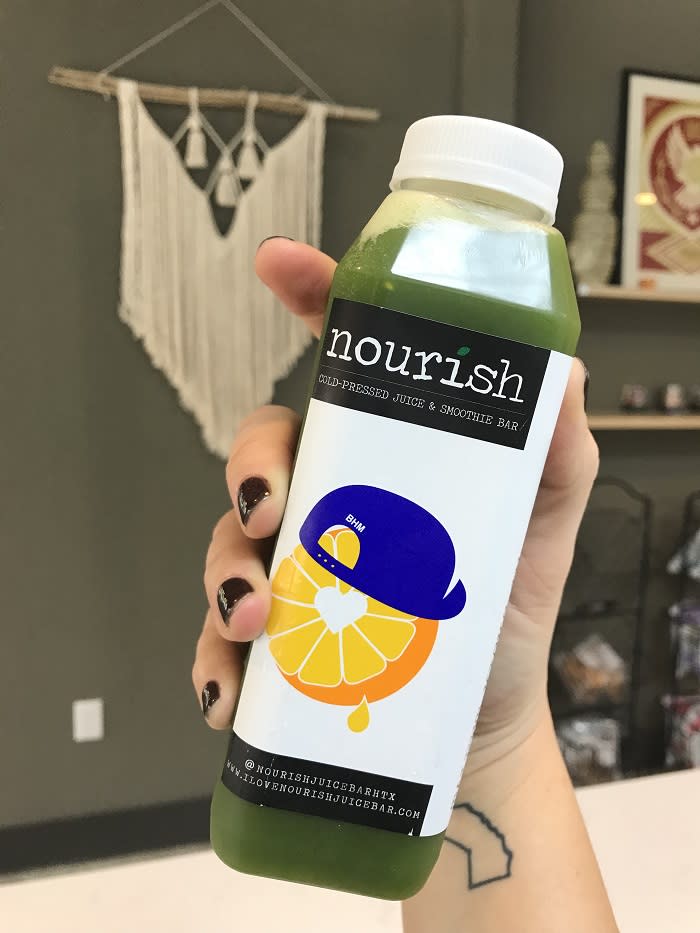 This popular juice and smoothie bar just opened a new location in the Rice Village area. They sell individual juices and juice cleanse packages. The "Talent Kicks In" juice mix could count as a meal! It includes triple spinach, apple, a touch of pineapple and grapefruit, lemon, cinnamon and chia seeds. Yum! Nourish also makes fresh nut milks in house.
Sustain is the sister store to JuiceWell. Just like many of the other juice bars around town, Sustain offers a staff supported juice cleanse. They swear by using juices to dramatically increase your overall health by adding more essential vitamins and minerals to your diet. While you are visiting, check out the popular Acai bowls. Choose your own blends and toppings for a fruit loaded bowl of your own creation.
Other places in Houston to find fresh squeezed juices include: Daily Juice Cafe | One Love Juice Bar | Just Juice | Juice Girl