Whether you drink it hot or cold or enjoy the flavor in a cupcake or other treat, eggnog is the unofficial flavor of the holiday season! Eggnog is a traditional drink typically made with a mixture of eggs, cream or milk, seasonings like cinnamon or nutmeg and sometimes with alcohol. We've found a few eggnog sweet treats and drinks around Houston to try out and also have tips for creating your own special drink at home!
Eggnog Sweets & Sips
At Bosscat Kitchen & Libations check out the Bear Nog. It even comes in a super cute holiday bear container that we can't resist. The drink is made up from bacon washed bourbon, maple syrup, and egg nog.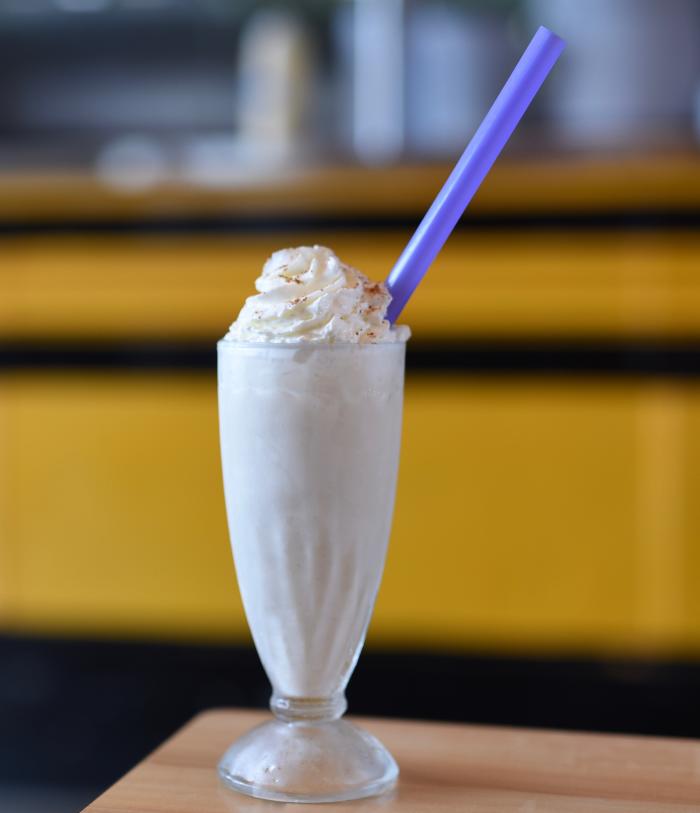 Photo by Kimberly Park
Burgers and Eggnog! Yep! Bernie's Burger Bus is serving up the Eggnog Boozy Milkshake. It's a frozen blended version of our favorite holiday sipper! This one's only for grownups and available at the Heights location.
At State of Grace restaurant make the holiday eggnog a new family tradition. Mixed with Rye, Rum, Madeira, Cream and Spiced Demerara, it's eggnog like you've never had before.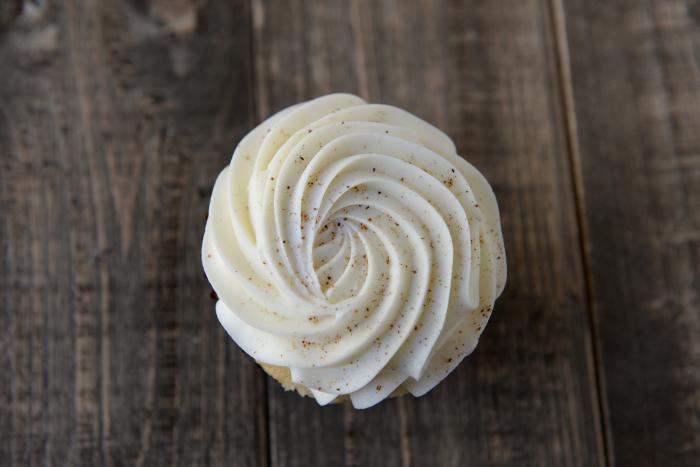 Photo by Dragana Harris
At Ooh La La, you get a choice of Eggnog Cheesecake or Eggnog Cupcakes! The cheesecake is delicious, rich and creamy with full Eggnog flavor. The cupcakes are made with fluffy eggnog cake and topped with brandy buttercream with a dusting of nutmeg.
Perfect Recipe and Tips for Creative Ways to Serve Eggnog
For many, eggnog is a tradition that is made at home to serve to family and friends. Tiffany Kirk, Manager of Houston CityPlace Marriott at Springwoods Village (Switchouse Restaurant) has the "perfect" eggnog recipe along with a few tips for creative ways to serve it up special.
Perfect Eggnog Recipe
To make a batch that will serve 6:
4 eggs
2 cup cereal milk
1 cup heavy cream
1/2 cup holiday simple syrup (a sugar syrup mixture with; nutmeg, molasses, refined sugar, brown sugar, cinnamon, allspice, clove, fresh ginger)
1/2 cup cognac
1/2 cup spiced rum
1/2 cup amaretto
Directions: Whisk yolks with all ingredients at the lowest speed, increase to second speed until blended. Whip egg whites until peaks are stiff, fold in the amount you prefer for thickness of eggnog. Kirk sometimes tops her eggnog with frosted flakes cereal or orange zest. Serve chilled and enjoy!
Eggnog Serving Tips:
·         As a punch, in a large bowl - when serving "batch" recipes, go for frozen cubes off eggnog with no alcohol.
·         Serve in small mason jars with whipped cream and fresh nutmeg and cinnamon.
·         Make a cookie crumble with graham cracker, cinnamon, brown sugar, nutmeg, & allspice for an easy and festive garnish or rim for glasses.
·         Not everyone likes extremely thick eggnog; folding in egg whites is entirely optional.