Parents, go ahead and take a break from the kitchen for National Kids Take Over the Kitchen Day! September 13th is a day for kids and teens to make a meal for the family. What better way to celebrate than to introduce you to a few celebrity kid chefs from our area? Houston is a foodie hotspot, so it's no surprise we have TWO kids taking part in the current Top Chef Junior competition.
13 year old Kate Daniel and 10 year old Eric Martinez both made it to the competition that is now being shown on TV.
Meet Kate!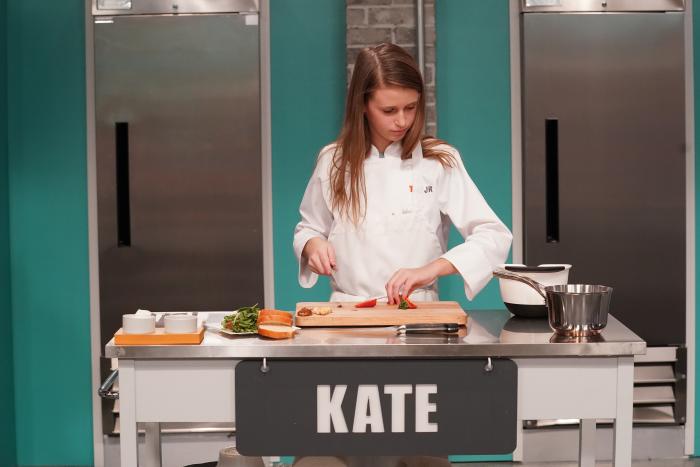 Kate Daniel is all too familiar with being in the kitchen. Figlia Kitchen, a culinary school geared toward children, was inspired by Kate and her passion for all things cooking. Daniel already competed on one TV cooking show and recently won a spot to be on Top Chef Junior!
"Competing on Top Chef Junior was a dream for me," said Daniel. "The best kid chefs from around the country are on that show and they were the best part of being on the show! We all were fast friends and remain friends today."
While Daniel is a semi-pro in the kitchen, she knows it's hard for other parents to let their kids experiment. (Can you say messy?) But, she suggests having parents and kids work together.
"I recommend that parents set aside special time with their kids when they can feel not rushed and have more patience to help their kids learn," said Daniel. "Start with kitchen safety first and build up to knife skills. Once those two things are learned, kids can start making their parents dinner! The investment is worth it, parents!"
Daniel is excited to use her skills on Top Chef Junior. In her spare time, she mentors some of the younger contestants, like 10 year old Eric Martinez, who is also from Houston.
Meet Eric!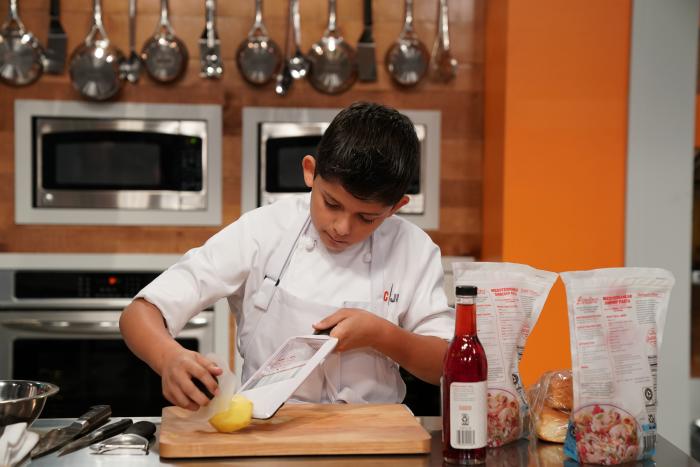 Martinez tells us being on Top Chef Junior feels like he's part of a new family.
"All of us Junior Chefs supported each other because we were together so much that we became really close friends," said Martinez.
He admits it's also been fun to do things his mom wouldn't let him try.
"I really like getting to meet a lot of other chefs, including celebrity chefs, who share my passion," said Martinez. "I also got to try some techniques that my mom wouldn't let me do at home, like sous vide, using a pressure cooker, and flambéing. We used really nice professional equipment that now I think I need, like a heavy duty juicer."
For Martinez, gaining the experience in the kitchen has also taught him a few life lessons.
"I tell other kids to believe in yourself and go for it! Don't be afraid to make a mistake. The first time I made a cake, I filled the batter to the top of the pan. Of course it spilled over the sides and dripped into the oven when the cake started to rise. But I learned from it and now I can make a cake, no problem."
One way to help get kids involved in the kitchen is to get them to help with meal prep and with simple mixes. Martinez has a favorite pork chop rub recipe he suggests kids try mixing together and spreading over the pork.
Eric Martinez's Pork Chop Rub Recipe
Ingredients: salt, pepper, oregano, thyme, rosemary, paprika and cayenne pepper. 
Directions: Depending on the amount of meat you are preparing, simply mix together equal parts of the ingredients above and add a dash of cayenne pepper. Rub over the thawed pork and it will be ready for cooking!
You can watch Eric and Kate compete in Top Chef Junior Season Two at 6:00 pm / 5:00 pm Central on Universal Kids TV. Episodes will also be available online and on social media. Learn more here!