Photo Credit: George Ranch Historical Park

Forty-five minutes southwest of downtown Houston sits George Ranch Historical Park. The historical site lets visitors peer into what life was like in Texas between the 1830s and 1930s. And life, of course, included food.

Chef Nick Castelberg started the George Ranch food program 15 years ago, treating visitors to meals rooted in the different historical eras represented at the park.

"We put you in a setting that's dripping with historical relevance and give you a short lecture on the food and then you get to eat that food. Not many places where you can do that, so it's very unique," he said.

Chuckwagon breakfasts held the first Saturday of every month start early at 8 a.m. Castelberg prepares a menu of cowboy beans, biscuits, fatback and bacon, gravy, eggs and cowboy fry bread cooked over an open fire. Lunches, held every Saturday, rotate through the park's seven historic venues. One Saturday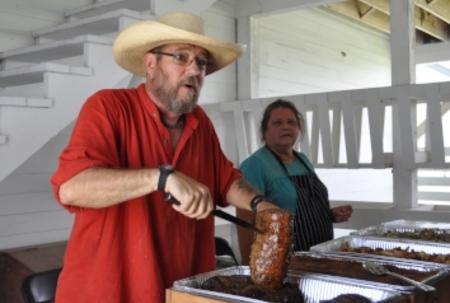 you could be eating country ham at the Ryon Prairie House and another you may be treated to fried catfish and gizzards at the sharecroppers' farm. The park also hosts six-course dinners.

We visited the park on a recent Saturday for a 1890s Victorian lunch. The lunch is usually set in the front lawn of the Davis House, a Victorian mansion. On this Saturday, we sat in the carriage house behind the home due to expected rain.

Castelberg enthusiastically explained the meal and its historical background to the group before inviting us to eat. On the menu was pepper—crusted roast beef, colcannon, roasted root vegetables, green beans and mushrooms, Yorkshire pudding and English gravy. It's a meal the Davises may have served in the 1890s on a special occasion or to entertain potential cattle buyers, said Castelberg. For dessert, he served his version of English treacle cake and gelatin.

We left, bellies full, with that warm feeling you get when you have a great homemade meal with family. For Castelberg, that's what most people love about his food at George Ranch.

"It's just like what I would make at my house for you if you came to my house on a Sunday," he said. "That seems to turn people on."

For upcoming food events at the park, check out George Ranch's food program calendar.