From celebrating cultures to sampling the best food trucks or margaritas in town, Houston has a festival for that! There are many exciting festivals coming up in the Houston area. Some are great for families, others make for a great date night spot or even a girls night out meet-up. Mark your calendars for these memorable festivals coming to the Houston area!
The Whisky Extravaganza
May 4th
The Whisky Extravaganza offers tasting sessions, masterclasses curated by industry experts and the perfect culinary pairings. Each year, The Whisky Extravaganza offers the opportunity to explore some of the most prestigious single malt, premium Scotch whiskies and other unique whiskies from around the world. This is great for the novice or expert!
Margarita Tequila Taco Festival
May 6th
The Margarita, Tequila, Taco Festival will take place at the Pasadena Fairgrounds in Pasadena. There will be 45 food vendors, including food trucks, a variety of tequila for tasting and all kinds of margaritas to try. The kids will love the "Kid Zone" complete with games, jumpers, face painting and a mechanical bull. To learn more and purchase your tickets, click here. 
Houston Crawfish, Crab & Grill Festival
May 12th
The Houston Crawfish, Crab & Grill Festival is a family event that celebrates the tastes and cultures of southern cooking, featuring scrumptious crawfish, crab, grilled foods, and more from local restaurants, caterers and food trucks. There will be live zydeco, R&B and reggae bands along with an action packed kids area with games and more! Purchase tickets here. 
Houston Greek Fest 
May 17 - 20
The Houston Greek Fest brings a touch of Greece to the Bayou City! OPA, y'all! The Houston Greek Fest has been a family favorite in Houston for 20 years and brings three days of Greek music, authentic Greek cuisine, live dancers, an outdoor marketplace and more right to your back door.
Vegandale Fest
June 2nd
Celebrate the Vegan lifestyle or learn more about it at Vegandale Fest in Houston. Veganism is celebrated through food, drinks, music and art with hundreds of vendors. Hot and cold food stations will bring favorite southern, fried & comfort food classics from fried chicken, to burgers, to wings, ice cream, and more!
June 2nd
Rioja Fest is a casual, four-hour, indoor tasting event celebrating RIOJA, Spain's most prominent wine region. You can try Spanish wine spotlighting 50+ wineries and winemakers from the area and tapas from celebrated chefs in the Houston area. There will also be dancing and live music for your enjoyment!
Sips, Suds and Tacos
June 8th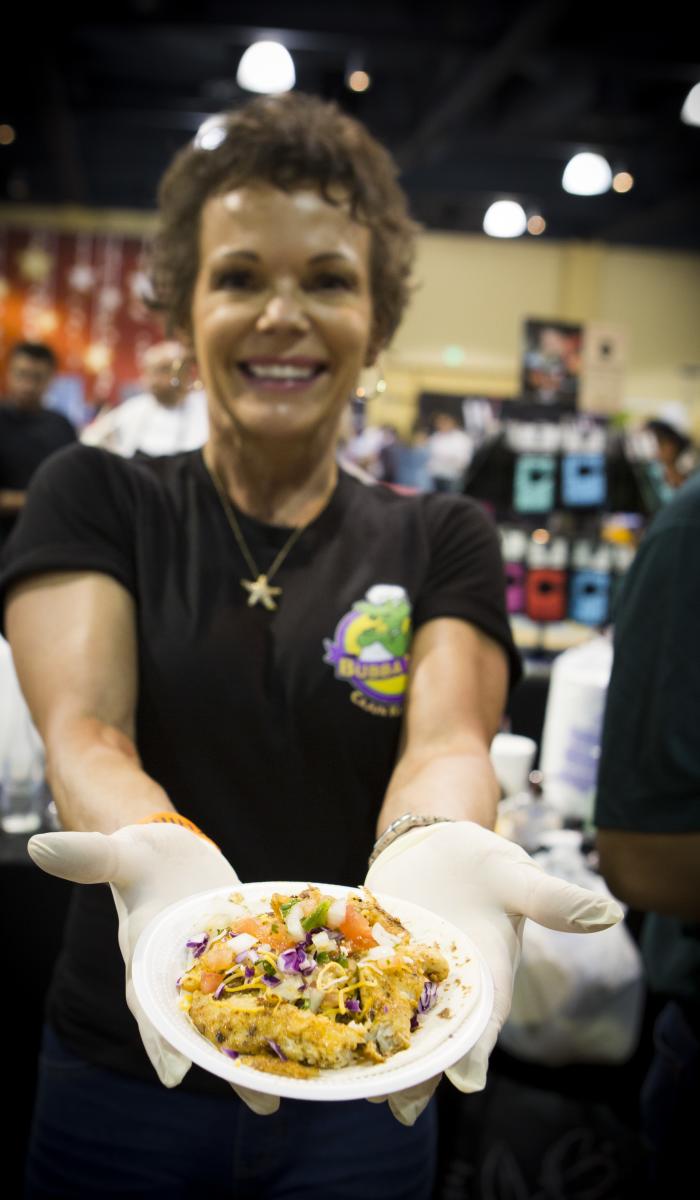 Sips, Suds and Tacos Festival is just one event from Wine and Food Week in The Woodlands. (To see a full event list, click here.) Guests will choose their favorite taco while also enjoying wine and craft beer sampling. Chefs will be competing for the coveted Taco Takedown Trophy! There will also be live music and other interactive activities.
June 23rd
Die-hard foodies, wear your stretchy pants for this one! From tacos to donuts, just about every food truck you can think of will be at the Space City Food Truck Festival in Downtown Houston. Enjoy your food options with energetic live music and entertainment.
July 3-8
The Houston Caribbean Festival captures the vibrance of Caribbean culture with lively music performances, vivid arts and crafts and authentic cuisine all at Tom Bass Regional Park. The cool, tropical sounds of calypso, steel pan and reggae pulse may inspire you to dance! An assortment of Caribbean dishes will be prepared on-site with bold flavors like jerk chicken, seafood, pepper pot and other mouth-watering recipes. 
The Greater Houston Food Truck Festival
July 7th
This is one for the entire family! Bring your kids to enjoy the water slides, bouncy house, face painting, snow cones, ice cream & great kids food in a variety of food trucks. The Greater Houston Food Truck Festival is designed to showcase the diversity in Houston's culinary community along with various musical talent. Buy your tickets here. 
As always, check our calendar for a complete list of festivals and other happenings in the Houston area.