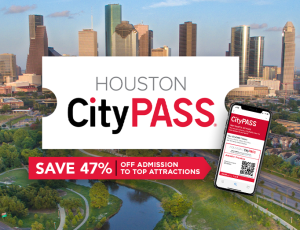 New & Notable
A:
POST Houston – Now Open
Houston's newest must-see venue is now open. Located at 401 Franklin Street in downtown Houston, POST Houston features a multi-story food hall, large concert venue, and expansive five-acre rooftop park that offers some of the best skyline views. Housed in the iconic building formerly known as the Barbara Jordan Post Office, visitors can now explore the transformed space every day from 11am-9pm.
Orange Show Center for Visionary Arts – Expansion Announced
Recognized for experiential art installations such as The Orange Show Monument, Beer Can House, and the now 35-year-old Houston Art Car Parade, Houston's Orange Show Center for Visionary Arts announced it is building an eight-acre central campus complete with a three-story performance, exhibition space, and a dedicated gallery for significant Houston Art Car Parade vehicles. Upon completion, the new campus will connect Orange Show Monument to Smither Park, a collaboratively created mosaic park with more than 300 local and regional artists, and also connect to the Bayou Greenways trail near Fonde Park. The project is scheduled to be completed by 2026.
Lynn Wyatt Square for the Performing Arts – Completion set for Summer 2022
The former Jones Plaza, considered the "center stage" for the Theater District downtown, will undergo a major transformation and remerge as Lynn Wyatt Square for The Performing Arts. The $29 million capital campaign will include a performance lawn with flexible infrastructure for concerts and other free programs, a cascading water feature, trees and gardens for aesthetics and shade, a street theater, and a restaurant. Programming will reflect the Theater District's indoor performance spaces, providing an accessible new place to engage the public.
Bagby Street Improvement Project - Expected completion, early 2022
The corridor's $28.8 million rebuild will change the look and feel of the west side of Downtown. Once complete, the thoughtfully designed Bagby Street Corridor will provide a common thread and platform to tie together all the projects. The project, funded and led by the Downtown Redevelopment Authority, began construction on January 11, 2020.
Q:
RECENTLY COMPLETED PROJECTS
A:
The Museum of Fine Arts, Houston, Campus Expansion – Expansion completed November 2020
Encompassing 14 acres in the heart of Houston's Museum District, the MFAH campus-redevelopment project is a major contribution to the city's efforts to improve the pedestrian experience of Houston. The expansion, which is the largest cultural project in North America, includes an array of public plazas, reflecting pools, and gardens, as well as improved sidewalks, street lighting, and way-finding. In 2018, the MFAH opened the Glassell School of Art, The Brown Foundation, Inc. Plaza, and The Sarah Campbell Blaffer Foundation Center for Conservation. The entire project, underway since 2012, was completed with the opening of the Nancy and Rich Kinder Building on November 21, 2020.
Memorial Park Golf Course - Renovation Completed October 2020
A $13.5 Million renovation was recently completed at Memorial Park Golf Course, funded by the Astros Golf Foundation and supported by the Memorial Park Conservancy. Following its reopening, the City of Houston welcomed the Houston Open back within city limits to the newly renovated Memorial course November 2-8, 2020.
Space Center Houston - Restoration Completed July 2019
The visitors center has restored the historic Mission Control Center, also known as the Mission Operations Control Room or MOCR, to reflect the authentic look and feel of the Apollo 11 mission. The $5 million project began in July 2017 and among the many improvements, Space Center Houston and its partners are even working with NASA historians to collect furnishings, books, notes, and coffee mugs to replicate the atmosphere in 1969.
Holocaust Museum Houston Expansion - Completed May 2019
In October 2017, construction began on a $33.8 million project that will more than double the size of Holocaust Museum Houston. The new Lester and Sue Smith Campus of the museum spans 57,000 square feet and make HMH the fourth-largest Holocaust museum in the nation. The remodeled space also includes a new 200-seat theater that can accommodate professional performances, an expansion of the "Bearing Witness" permanent exhibit that includes testimony and artifacts from Houston-area survivors, new exhibit space for the German World War II railcar and Danish rescue boat, and a new library and classroom space among other improvements.
The Menil Drawing Institute - Completed November 2018
The Menil Drawing Institute is the first freestanding facility dedicated entirely to the acquisition, study, exhibition, conservation, and storage of modern and contemporary drawings. The 30,000-square-foot, $40-million building opened in November 2018, joining four other art buildings on the Menil Collection's 30-acre campus in the heart of Houston.
A:
Trembly Park  - Completion Expected March 2022
Bordering Bell and Leeland just two blocks from The Palms restaurant in downtown Houston, this new green space will provide a nearby residents and downtown professionals with a relaxing escape. The park features amenities such as a dog run, tranquil seating areas, and convenient BCycle stations for the urban explorer.
Houston Botanic Garden – Phase 1 complete
The transformation of a former golf course in Houston's East End is well underway, with the first phase of the 132-acre Houston Botanic Garden now welcoming visitors. More than 350 different plant varieties from around the world combine to create the attraction's Global Collection Garden, which includes everything from a tropical rainforest to an arid desert.
Discovery Green Renovation - Completed June 2020
Just steps from George R. Brown Convention Center, Discovery Green Park continues to be a favorite among visitors and locals alike. Spanning more than 12-acres, the new renovations include an expansion of the play structures from 10 to 20, with designated areas for kids aged two-five and five-12. In addition to new playscapes, visitors are now greeted with a new gateway that's great for photos with the family, more lighting, new landscaping, and an expansion of the women's restroom.
CenterPoint Hike and Bike Trails – Continuing in 2022
A new agreement between Harris County and CenterPoint Energy paved the way to construct hundreds of miles of hike and bike trails along grassy right-of-way that houses high-voltage power lines. Hundreds of miles of previously out of reach green space will be available for hike & bike trails. A creative agreement with Centerpoint Energy will allow us to use their right-of-way. CenterPoint operates more than 3,700 miles of large overhead transmission lines that bring electricity to local substations, which in turn distributes to homes and businesses.
Autry Park Urban Village- In Progress
Situated along 14-acres along Allen Parkway, the bespoke urban village is a mixed-use real estate project planned and developed by Hanover Company in partnership with Lionstone Investments. Set to open in three phases, the development will include five towers encompassing 1,450 residential units, 350,000 square-feet of Class A office space, and 100,000 square-feet of unique, carefully curated retail, all situated around a central green space. Earlier this year, the project revealed that two chefs with Michelin stars on their resume will head a new vegetable-forward restaurant named Auden.
TMC3 – In Progress
Last quarter, Texas Medical Center (TMC) announced the launch of the world's largest life science campus. The TMC3 master plan, which encompasses 37 acres and approximately 6 million square feet of anticipated development, was designed by Boston-based Elkus Manfredi Architects, a key player in shaping several of Massachusetts' leading life sciences clusters. With landscape design by Mikyoung Kim, TMC3 's defining feature is the Helix Gardens, green space that weaves through the heart of the campus and is open to all. A chain of five public parks, each approximately the size of a football field, the Helix Gardens will offer lush lawns, 3 grassy knolls, abundant tree canopies, curved walking paths, water features, cafés, and a central garden for outdoor receptions, concerts, graduations, and other large-scale events.
The Houston Zoo – Continuing through 2022
In 2022, the Houston Zoo will celebrate its 100th anniversary by completing the most dramatic transformation in its history. The $150 Million capital campaign includes plans to redevelop nearly half of the Houston Zoo's acreage with multi-species habitats, with additional funds allocated for conservation projects. As part of its centennial celebration later this year, the zoo will debut Galapagos Islands, a first-of-its kind exhibit that highlights the island's unique specifics, delicate ecosystems, and stunning environment.
Memorial Park - Ongoing through 2025
The 1,500-acre urban park located near the Houston Galleria and Uptown area is currently experiencing a major transformation. In addition to upgrades along its 3-mile jogging trails, the park also will feature a land bridge over Memorial Drive (set to be complete in late 2022), an indoor swimming pool, additional bike and pedestrian trails and a rugby pitch, just to name a few elements. Recently, the park debuted the first completed project of its Ten-Year Plan, the Clay Family Eastern Glades. Visitors of all ages can now explore more than 100 acres of previously inaccessible parkland thanks to a boardwalk around the lake and a menagerie of serene walking trails around the park.
A:
The Laura Hotel, Autograph Collection – Now Open
Breathing new life into the former space occupied by Hotel Alessandra, The Laura Hotel provides guests with luxury, ambience, and a convenient central downtown location. Filled with natural light throughout its 21-stories, the hotel features an expansive pool, sleek lobby bar, and carefully curated calendar of onsite events that provide the perfect setting for your next gathering or getaway.
Blossom Hotel Houston Medical Center – Now Open
Just a short distance from NRG Stadium, the newly opened 16-story Blossom Hotel provides an unexpected pocket of luxury those looking for a quiet retreat amidst the hustle and bustle of Houston's Texas Medical Center. Featuring 267-rooms, the Chinese-owned hotel features amenities such as a rooftop pool, elaborate private dining and meeting spaces, as well as a private karaoke room for those festive gatherings.
The Houstonian Hotel, Club & Spa – In progress
Sitting on a lush 27 acres at 111 N. Post Oak Lane in the Uptown/Galleria area, modifications to the hotel include completely remodeled guest rooms and suites, creating "an enhanced arrival experience," updating the hotel's Great Room lobby, adding a new deck overlooking Buffalo Bayou, creating a new indoor-outdoor restaurant overlooking the pool areas, plus redesigning and expanding multiple club studios and childcare areas. A rooftop event space also will be added for movies, entertainment, and gatherings. The hotel's iconic Trellis Spa recently reopened in early 2021 after a multi-million-dollar renovation.
Hyatt House/Hyatt Place Houston Texas Medical Center - Opening 2022
Houston-based developer Satya Inc. is working on a 350,000-square-foot hotel near the Texas Medical Center. The project is located at 7329 Fannin St. near the corner of Fannin and Old Spanish Trail, and is slated to be branded as a dual Hyatt hotel and extended stay facility. Once complete, the 14-story development will offer 159 hotel rooms under the Hyatt Place flag and 139 extended stay rooms under the Hyatt House brand. The development will be Chicago-based Hyatt Hotels Corp.'s (NYSE: H) first dual-branded property in Houston.
The Hilton Garden Inn and Home2 Suites by Hilton 
Located on the southwest corner of Almeda Road and Holcombe Boulevard on the Michael E. DeBakey Veterans Affairs Medical Center campus, The Hilton Garden Inn and Home2 Suites by Hilton project feature a combined 300 rooms. The hotels offer a free shuttle, fitness center, outdoor pool, and onsite restaurant.
Hyatt Place Houston Downtown – Now Open
Located in Houston's Central Business District, Hyatt Place Houston Downtown features a wide variety of stays in any one of its 150 rooms, including 16 suites. Guests will appreciate the hotel's ideal location to nearby entertainment venues such as Minute Maid Park, George R. Brown Convention Center and downtown Houston's lively Main Street establishments.
Holiday Inn Express and Stabridge Suites Houston Galleria – Now Open
Houston-based American Liberty Hospitality (ALH) has expanded its regional footprint with the rollout of the company's second dual-branded hotel, bringing two distinct-yet-complementary lodging experiences under one hometown roof. The combined Holiday Inn Express Houston – Galleria Area and Staybridge Suites Houston – Galleria Area will offer a total of 319 rooms and will be the first new hospitality offering in the Bayou City's sought-after Galleria area in several years. Both brands are franchises of InterContinental Hotels Group (IHG).
Hilton University of Houston - Expansion/Renovation Expected 2022
A $30.4 million project is underway to expand and renovate the Hilton University of Houston, the teaching hotel for students at UH's Conrad N. Hilton College of Hotel and Restaurant Management. Design plans include the addition of a five-story tower consisting of 71 guest rooms above the south wing, increasing the hotel's total number of rooms to 151. Six suites on the second floor will be removed to create much-needed executive meeting space. The hotel's existing 80 guest rooms in its north wing will be renovated, along with its lobby and public spaces. The adjacent courtyard between the north, south and west wings will also be renovated.
Thompson Hotel Houston - Opening 2023
Located along Buffalo Bayou Park, the Thompson Hotel Houston will be one of many luxurious components in the highly-coveted mixed-use development known as The Allen. Once complete, the hotel will feature 180 rooms set amidst an interior park, lively retail base, and pedestrian overpass that helps connects guests to the walking trails along the nearby bayou. Housed in a 42-story hotel and condominium tower, the hotel will occupy the lower portion of the project's tower.
A:
Railway Heights 
Sitting on 3.6-acres near the western edge of the 610 Loop, Railway Heights Market is the latest indoor food hall and retail market from the masterminds behind Houston's Conservatory and Bravery Hall. Channeling the ambiance of Terminal Market in Philadelphia or Chelsea Market in New York City, the development features a family park, local artisan vendors, and a rotation of tasty bites sure to please any palate. As an added bonus, Railway Heights will be adding a Beer Garden later this year.
Bravery Chef Hall in Houston Bravery Chef Hall
Shaking up Houston's budding food hall scene, Bravery Chef Hall is a foodie wonderland. Now offering seven different chef-led kitchens and three new bars under one roof, including the coveted Secret Garden Bar, this dining destination is a must-see when coming to downtown Houston. Bravery Chef Hall is located at 409 Travis on the street-level of luxury apartment building Aris Market Square.
Underground Hall
Taking over the former Conservatory space at 1010 Prairie St. in downtown Houston, the revamped underground food hall and drinkery houses an eclectic mix of vendors, ranging from savory entrees to decadent desserts. As a nod to its previous occupants, Underground Hall's bar will continue offering $1 champagne shots on Sundays.
Conservatory in The Crossing at Midtown – Coming Soon in 2022
The creators behind Houston's premiere food halls has unveiled its latest project, this time in the pedestrian-friendly Midtown neighborhood. Conservatory in The Crossings at Midtown is located at 606 Dennis Street and will feature a mixture of vendors, a wine and punch bar concept, as well as an on-site brewery. The development also is currently anchored by the widely popular Nashville-style hot chicken company: Dave's Hot Chicken.
Conservatory Galleria – Coming Soon, Spring 2022
Housed in the space once occupied by famed nightclub The Roxy, Conservatory Galleria builds on the legacy of the first Conservatory – Houston's premiere food hall that opened in downtown Houston in 2016. After being delayed by the pandemic, Conservatory Galleria is now scheduled to open in Spring 2022. Plans call for 11 food vendors and three bars, including a mezzanine-level wine bar and a new rooftop patio that will connect to the building's parking deck.
Farmer's Markets
Airline Farmers Market
Now in its final phase of development, the beloved Houston Farmer's Market is now open, but more is still to come. Bringing together food purveyors and unique retail vendors, the 18-acre space will continue to serve as a community hub with programming and events. To help achieve this goal, James Beard Award-winning chef Chris Shepherd and his business partner Kevin Floyd have been tapped to serve as food and beverage consultants for the project. In addition to vibrant produce, visitors can enjoy a variety of restaurants and local retailers in the newly renovated spaces.
Rice Village Farmer's Market
Rice Village and Casey Barbles of The Informal Grub and Heights Mercantile Farmers Market have teamed up to bring the Rice Village area an exciting new Farmers Market. The open-air market occurs bi-monthly on the 1st and 3rd Sunday of each month. Each attending vendor has been hand-selected to bring diverse, certified organic, and locally owned grocer items. The 40+ vendors range from family-owned farms, to artisan chocolate, to zero-waste home essentials.
A:
Airline Farmers Market
Now in its final phase of development, the beloved Houston Farmer's Market is now open, but more is still to come. Bringing together food purveyors and unique retail vendors, the 18-acre space will continue to serve as a community hub with programming and events. To help achieve this goal, James Beard Award-winning chef Chris Shepherd and his business partner Kevin Floyd have been tapped to serve as food and beverage consultants for the project. In addition to vibrant produce, visitors can enjoy a variety of restaurants and local retailers in the newly renovated spaces.
Rice Village Farmer's Market
Rice Village and Casey Barbles of The Informal Grub and Heights Mercantile Farmers Market have teamed up to bring the Rice Village area an exciting new Farmers Market. The open-air market occurs bi-monthly on the 1st and 3rd Sunday of each month. Each attending vendor has been hand-selected to bring diverse, certified organic, and locally owned grocer items. The 40+ vendors range from family-owned farms, to artisan chocolate, to zero-waste home essentials.
A:
Da Gama Canteen
Located in "The M-K-T," a mixed-use development overlooking The Heights Hike and Bike trail, this Portuguese-Indian canteen is the latest creation from chefs Shiva and Rick Di Virgilio. Renown for their other successes such as Oporto in Midtown and The Queen Vic, the power duo has injected their robust spice blends into a wide array of tapas-style small plates. Visitors can choose from four sections: do Quinta (vegetables), do Mar (seafood), do Carne (meat), and Pao (breads). Feeling peckish after a brisk walk or session on the bike? Stop by the restaurant's trail-facing window and refuel on homemade chai, organic coffee and tea, natural wine, or snacks such as Tandoori rolls, samosa chaat, and curry bowls.
J-Bar-M Barbeque
BBQ-loving fans should definitely make a point to visit this hidden gem in EaDo. Led by Texas pitmaster Willow Villarreal, this EaDo hotspot often sells out of its mouthwatering selections daily, but don't worry…earlier this month, Willow announced the smokehouse will now be open for dinner Friday and Saturday nights. To add to the festivities, visitors can also start enjoying some live music with their ribs every Sunday.
Sa Lao Thai Café
Devotees of the beloved Thai-Mexican fusion food truck Pho-jita can now rejoice as owners Souli Phaduangdet and her husband John Tapia unveil their standalone restaurant in the neighborhood of Oak Forest, just north of The Heights. Menu offerings include savory boat noodles, warm curries, and beef larb infused with fresh lime and mint.
Sunday Press
Drawing in design elements from its sister property (Ginger Kale), this stylish all-day café features healthy food options, from taro-blueberry chia seed puddings to a wide selection of inventive lattes. Order a lavender honey latte and relax with the Sunday paper as you lounge on one the café's architecturally pleasing armchairs.
Fast-casual Sunday Press's interiors with warm wood, concrete, and sleek seating .
Late August – Opening early 2022
Seeking to honor the past, the restaurant's namesake is a nod to the building's former tenant (iconic department store Sears) and the seminal catalog annually released in "late August" prior to the holiday season. Featuring a whimsical menu, 2021 Top Chef cast member and 2020 James Beard Semifinalist Chef Dawn Burrell will explore the soul of Afro-Asian flavors through a selection of innovative lunch, dinner, and brunch offerings.
A:
Department of Wonder – Coming soon in 2022
Housed in the 10,000 square feet space formerly occupied by retailer Z Gallerie in Sugarland Town Square, the Department of Wonder features an immersive, experimental mixed-reality experience that blends fantasy elements of cinema, theater, and cutting-edge technology. Using a light-gathering lantern, guests are ushered through a series of expansive rooms meeting fantastic characters while engaging with unique interactions.
Frida: Immersive Dream – Opens February 2022
Lighthouse Immersive and Impact Museums are reuniting to celebrate the art and life of Frida Kahlo through a new experiential exhibit in west Houston. Featured works include "The Two Fridas" (1939), "The Wounded Deer: (1946) and "Diego and I" (1946). Tickets begin at $39.99. For more information, visit https://www.immersive-frida.com/.
The Infinite – Continuing through February 2022
Only 251 people have actually experienced life on the International Space Station, but thanks to a virtual reality exhibit at Silver Street Studios in Sawyer Yards, visitors of all ages can now have the opportunity to feel what life in space is like. Using Oculus VR headsets, guests are ushered into an immersive experience where they can freely roam and explore different luminescent spheres. Tickets range from $30 to $55.
Seismique – Continues through June 2022
Houston's newest permanent experiential art museum, Seismique, is located at 2306 South Highway 6. Seismique offers guests 40-plus unique exhibits overflowing with dazzling displays of light generated by 9 million LEDs, color, sound, and natural elements. Designed for all ages, the 40,000-square-foot arts and entertainment concept features works by over two dozen established and emerging artists, along with advanced technological elements like projection mapping from 111 projectors, holograms, augmented reality, light mapping, motion tracking, gamification, and more. Tickets to Seismique are priced at $35 for adults and $28 for children 12 and under for General Admission. A VIP ticket option is also available at $45 for adults and $38 for children.
A:
M-K-T
Channeling the surrounding neighborhood's penchant for walkability and supporting independent retail and restaurant offerings, M-K-T in The Heights checks all the boxes and more. Conveniently located just off The Heights Hike and Bike trail near N. Shepherd, the mixed-use development features both architecturally stunning design and an exciting mix of tenants. Tantalize the taste buds at eateries such as Casa Nomad, Rakkan Ramen, and Da Gama Canteen, just to name a few. Grab a pair of stylish leggings from athleisure retailer DYI or grab an iced-cold tea blend at Yum Cha.
A:
Sekai Night and Day
Houston's newest nightclub is energizing a block of Saint Emanuel St. in the EaDo neighborhood as creators transform a 26,000 square foot warehouse into an energetic Vegas-style experience. Night owls and party revelers will appreciate amenities such as a 1,000-square-foot, resort-style pool, luxurious couches, private cabanas, and a 1,200 square foot elevated lounge.
Wyld Child
The second concept from Sekai Hospitality has found a home just off Washington Avenue near Rice Military and slated to open in the space formerly occupied by Benjy's/The Classic later this year. The boutique nightclub will feature an upscale nightlife experience for guests, including premium bottle service.