Whether you're into camping or glamping, the perfect campsite is just a short drive outside of Houston. With plenty of options for visitors and mild weather during most seasons, we've got the perfect places for you to slather on the sunscreen and set up camp.
A short trip south down the coast from Galveston will bring you to Galveston Island State Park where campers can enjoy four miles of trails and lake-area campsites. With options including screened shelters, campsites with water and electricity and a group trailer area, there's something for every type of camper here. Plus, the short walk to the shoreline means long walks, swimming and amazing sunsets only Texas can produce.
Sea Rim State Park is where the gulf meets the marsh. With 5.2 miles of Gulf shoreline and 4,000 acres of marshlands, this is a camping experience unlike any other. With birding, beach combing, canoe paddling, swimming and fishing available, there's no chance you'll get bored. Primitive camping is welcome on the beach, but you can also find 15 campsites with utilities and an on-site cabin.
Nothing says a night on the beach quite like a tent and a fire! Follet's Island Beach offers visitors the luxury of the great outdoors with primitive camp grounds. At this location you can live in your tent for up to two weeks at a time surrounded by nature views while enjoying the swimming, fishing, shelling and horseback riding in the area. Small campsite fires are also allowed when there is not a burn ban in effect.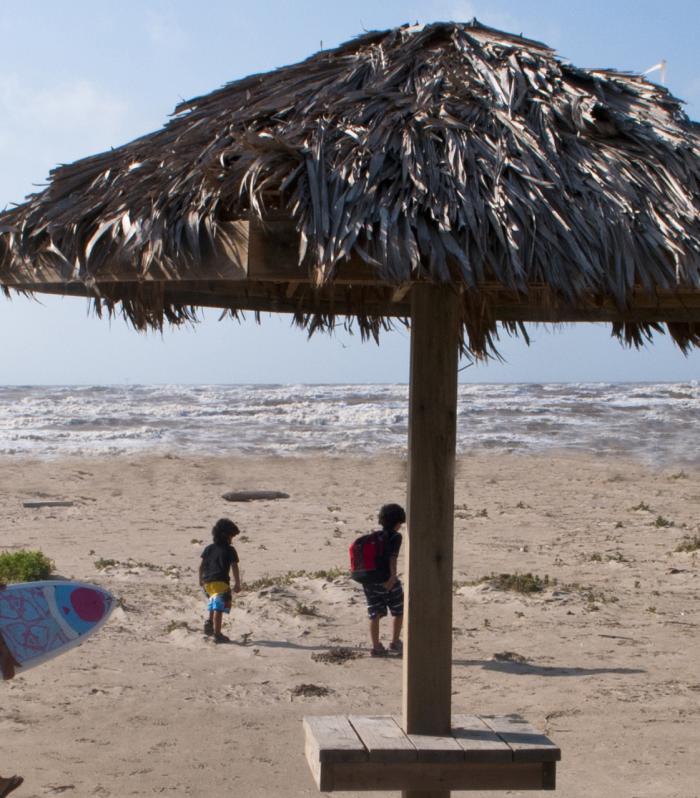 If you're hoping for something a little more glam, we recommend Quintana Beach County Park or San Luis Pass County Park. Both of these campsites are open year-round and provide day use amenities and overnight facilities as well as paved, full-service RV campsites. Quintana Beach County Park also features a lighted fishing pier perfect for avid fishermen and grills, a volleyball court and pedestrian beach for families.
If you'd rather spend your time in the freshwater, we recommend visiting Lake Conroe RV & Camping Resort. This campground allows you to launch your boat right from the campground or rent your own jon boat, paddle boat, kayak or canoe. Land-lovers will also find mini golf, basketball courts and a recreation hall. Tents, pop-ups and motor homes are welcome.
Past Conroe you'll find Huntsville State Park. With 21 miles of trails surrounded by woods, this camping experience is more traditional. That doesn't mean it's boring though! Bike, hike, camp, fish, swim or paddle your way around the pines, and experience the wide variety of nature that awaits you. Visitors can rent canoes, kayaks and paddleboats along with fishing equipment. Or bring your binoculars from home and watch the birds glide through the trees. There are over 160 campsites available with the luxury of picking up food and supplies at the Gator Junction store.
For more camping around Houston, click here.