Houston has an annual average temperature of 69 degrees, making it an excellent place to enjoy the many outdoor options just outside of town. From wooded trails to endless coast, here are great places to escape to nature around Houston:
One word: alligators. Located southwest of Houston, just 45 miles away, you'll find the swamp and diverse nature of Brazos Bend State Park. Here, you'll find 37 miles of hiking, biking and horseback trails, some of which are wheelchair-friendly. Along the many trails are wild alligators and many diverse birds. Pack your pole and fish from shore and camp out under the stars in a campsite, screened shelter or cabin.
Just west of Katy near the town of Sealy, Stephen F. Austin State Park is an excellent getaway along the Brazos River. The park includes 6 miles of hiking and biking trails, along with a wide variety of campsites to fit various vehicles and group sizes.
Approximately 30 minutes north of downtown, you can escape to over 4,500 acres of wooded parkland and 20 miles of hiking and biking trails. At Lake Houston Wilderness Park, choose from cabin and walk-in campsites for rental, or bring your horse for 13 miles of equestrian trails.
The island of Galveston is known for its attractions, shopping and its beaches. A short trip south down the coast from the city will bring you to Galveston Island State Park. The park offers four miles of trails and lake-area campsites across FM 3005 from the Gulf of Mexico. The short walk to the shoreline means long walks, swimming and amazing sunsets only Texas can produce.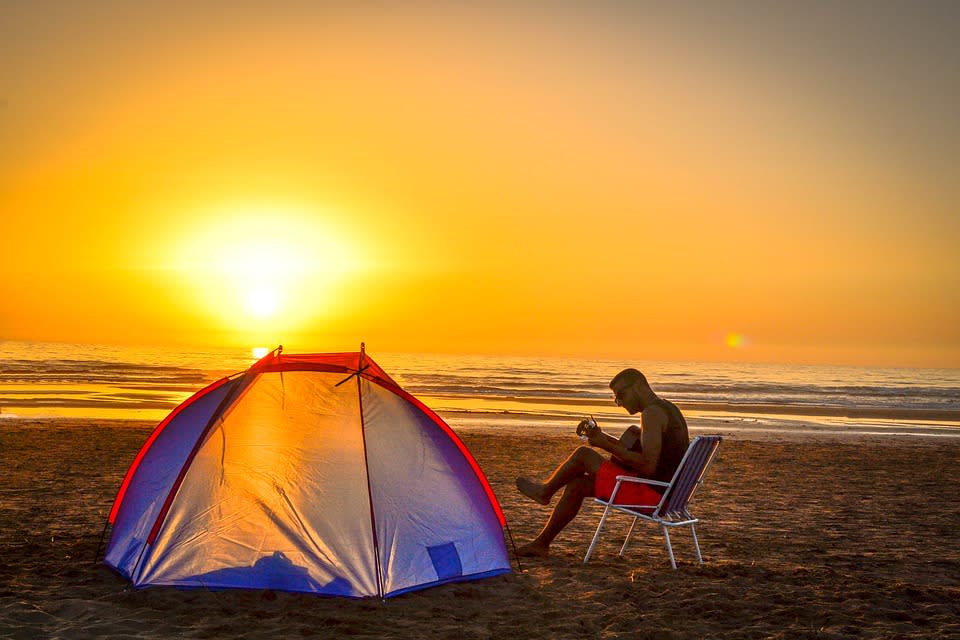 A longer drive from Houston means long, endless boardwalks and 4,000 acres of marshlands at Sea Rim State Park. For camping, choose one of 15 campsites with utilities, a cabin option, or primitive camping on the beach. Drive time to Sea Rim is roughly one hour and 45 minutes, just south of Port Arthur, but the lack of civilization will mean nights full of stars.
Head up I-45 past Conroe, and you'll come up to Huntsville State Park, home to 21 miles of trails, playgrounds, alligators, and endless activities. Bike, hike, camp, fish, swim or paddle your way around the pines, and experience the wide variety of nature that awaits you. Canoes, kayaks and paddle boats are available for rent, and you can borrow fishing equipment as well. There are over 160 campsites and event space for a gathering. At the park, you can pick up food and supplies at the Gator Junction store.
Need to really get away? A 2-hour drive to the north will land you at Davy Crockett National Forest. The 160,000 acres of East Texas woodlands includes a 45-acre lake and the 20-mile Four C National Recreation Trail that guides you through towering pines, hardwoods, swamps and more. The land includes primitive to RV camping, where you can take a breath of fresh air and get back to nature.
Just southeast of Freeport, TX, Quintana Beach County Park is open year-round for visitors looking to escape the sandy beach for the luxury of a paved, full-service RV campsite. Complete with a volleyball court, pedestrian beach and lighted fishing pier, this is an ideal location for bird watching, fishing, nature viewing, swimming and shelling. Not to mention the grills, picnic tables and covered pavilions you can enjoy meals out on after a long day of soaking up the sun.