You don't need to be an avid hiker or birder to find your adventure at the Brazoria National Wildlife Refuge (NWR). Located south of Houston, in the Brazosport Area, the Brazoria NWR is made up of over 40,000 acres of wetlands that are home to a variety of plants and animals. Boardwalks, trails, auto tour routes and blinds offer many opportunities to get outside and enjoy the refuge. 
Your first stop will be at the Discovery Center. This is where you can pick up helpful information about the refuge, including maps, brochures, details on where wildlife is being seen and learn about the habitat. The Discovery Center also has a classroom lab that serves visiting students throughout the year. Restroom facilities are available here for the public.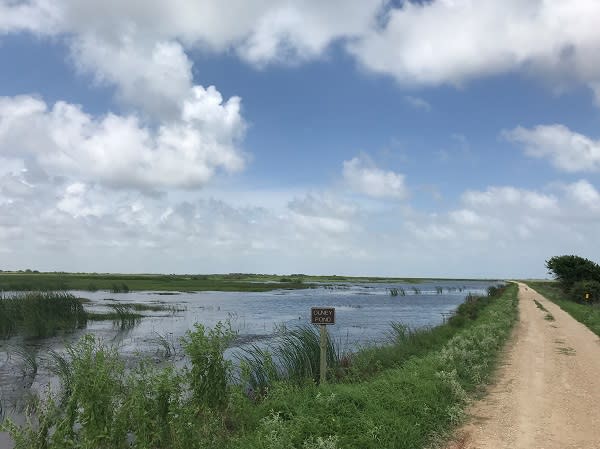 Start your exploring at the Big Slough Boardwalk & Trail located behind the Discovery Center. The boardwalk over the slough provides a close encounter with a marsh crowned with cattail and bulrush and offers renowned wildlife viewing and photography opportunities. Benches along the trail offer a great place to rest and quietly observe wildlife. Depending on the season of the visit you could spot an assortment of birds including ducks, geese, migrating songbirds, wading birds, and raptors, in addition to a variety of amphibians, reptiles, crustaceans, and resident alligators. Visitors can take the full loop, a little more than ½- mile long, that passes by an observation platform over Big Slough or one of the three shorter loops through the shady thickets. 
Another way to explore the refuge is on the Big Slough Auto Tour. Cars make good observation blinds on this well-maintained, gravel road. A self-guided auto tour CD is available at the Discovery Center. Stop at one of the salt marsh observation decks at Cross Trails Pond to investigate the salt marsh, its birds and tiny aquatic creatures. Teal and Rogers Pond observation platforms offer panoramic views of waterfowl congregations, especially flocks of snow geese in December and January. The 7.5-mile trail is also great for cycling on the refuge.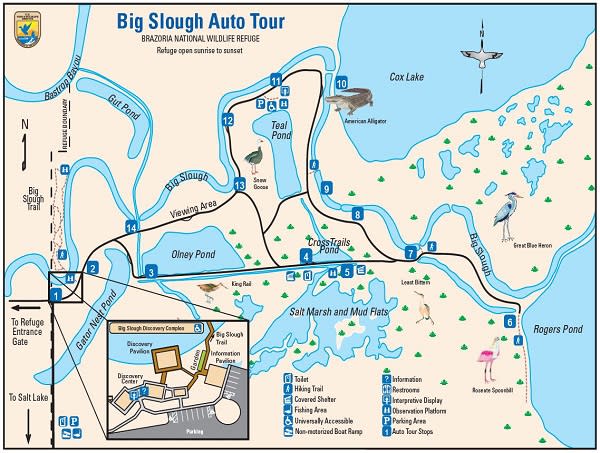 The Brazoria NWR reflects the ebb and flow of life in one of the richest environments on earth. Whether you hike, bike or stay in your car you will see different levels of vegetation, plants, birds, small mammals, butterflies, woody vines, reptiles, amphibians and a variety of trees at the refuge. Early morning, late afternoon, and after a rain are best times to see wildlife. Don't veer from marked trails and bring your binoculars, water, sunscreen, and insect repellant. 
The Brazoria National Wildlife Refuge is located at 2022 County Road 227 in Freeport. For more information go to VisitBrazosport.com.