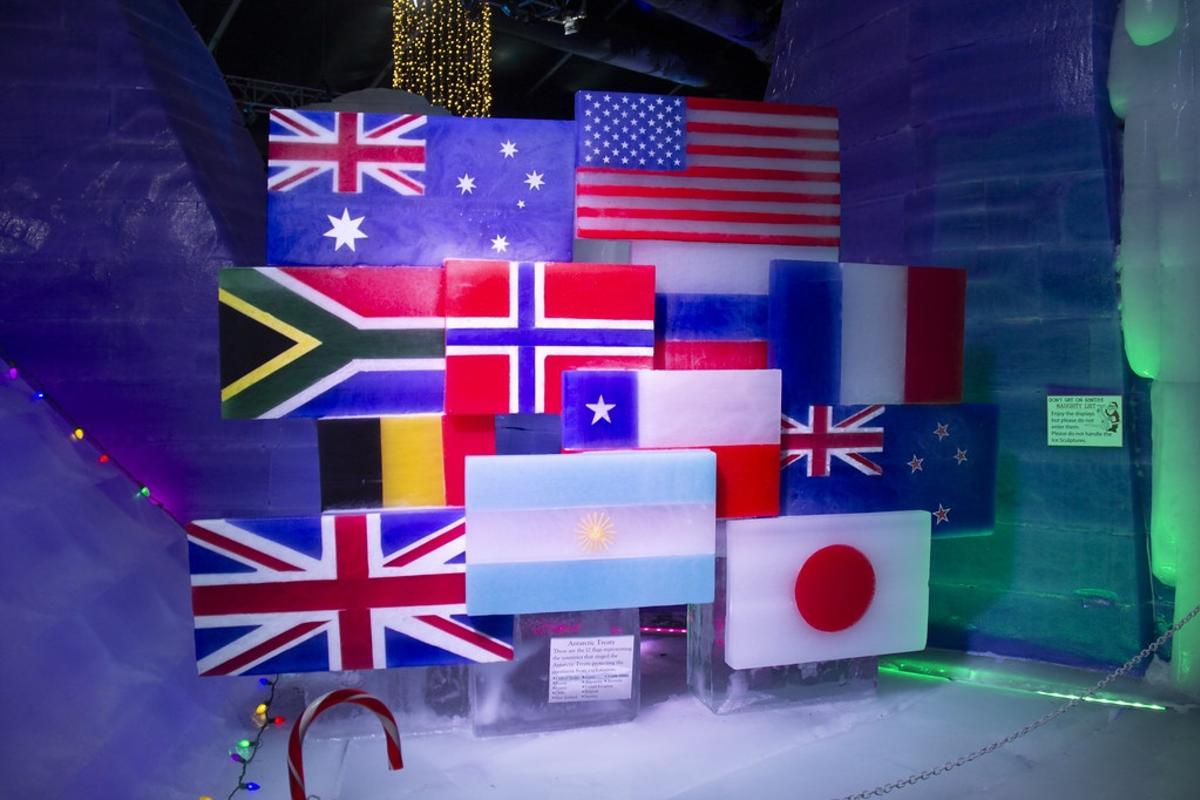 Who says you need 32-degree weather to enjoy some snow? We're rounding up our favorite places to get an ice fix outside of the Houston area. After all, if you can't take a day trip to ice skate then what can you take one for?
ICE LAND at Moody Gardens in Galveston
November 17 - January 6
The world's most famous landmarks will become cooler than ever as Moody Gardens introduces ICE LAND: Christmas Around the World with a brand new theme. The award-winning CAA Harbin Ruijing Carving Team of master ice carvers from Harbin, China will return to Moody Gardens to chart the course for this festive journey around the world. Guests will travel from Russia and Egypt to China and beyond and see how other cultures celebrate the season. Featured will be landmarks from all around the world including the Alamo, Big Ben, Sydney Opera House, the Great Wall of China and more!
Sugar Land Ice and Sports Center in Sugar Land
Ice skating is an activity that is fun for the entire family. Sugar Land Ice and Sports Center has a full line of rental skates in a wide range of sizes, starting at toddler size 8. While there are often games and lessons going on at the center, there are open skating times almost every single day. You can also rent Bobby the Seal for the kids to sit and ride around on the ice if they are feeling a little unsteady. Sessions are $12 - $14 per person depending on how long you want to stay. Check the schedule for themed days and open skate times.
The Ice Rink in The Woodlands
November 17 - January 21
Lace up your skates and hit the ice! The Ice Rink, located in The Cynthia Woods Mitchell Pavilion multi-purpose building, is the perfect place for an intimate date or a family outing. If you're sitting on the sidelines there's plenty of holiday cheer for you to enjoy, as well. Hot chocolate and delicious treats await you at the concession stand. Or, if you're learning to skate for the very first time, rent an aid that will allow you to stay upright on the ice. (We won't judge you). Enjoy a two-hour skate rental Monday through Sunday for adults at $12.50. Children 5 and under pay $6.
Aerodrome Ice Skating Complex in Tomball
The Aerodrome offers holiday parties and themed nights throughout the year. Daily public skating sessions are available for skaters of all ages. Admission is $10 per person with skate rental at $5 per pair. The Aerodrome also has Bobby the Seal or Penguin rental for kids who need help on the ice. Check out the "Family Fun Pack" for a Saturday or Sunday afternoon session that includes four admissions/skate rentals, one large pizza and four drinks for $70.
Events with Snow
Lighting of The Doves - November 23
This long-standing tradition in The Woodlands signifies the start of the holiday season in the community. The ceremonial illumination of the giant doves also includes a festival featuring snow play areas, vendor booths, children's activities and strolling entertainment. Of course, Santa Claus himself will be there, arriving by sleigh down The Woodlands Waterway ahead of a dazzling fireworks display. The event is free, but there is a $10 charge for taking part in the snow festivities.
Conroe Christmas Celebration - December 14
Bundle up and prepare to sled down real hills of snow in Conroe on December 14th! The Conroe Christmas Celebration will have two real huge snow hills to slide and play on. There will also be train rides, a live nativity scene, camel rides, a petting zoo and more. It's free admission and everyone is welcome.
Reindeer Park - December 7
There will be something for everyone at this fun-filled one day event. Kick off the holiday season with s'mores, a band, carnival rides, arts and crafts, and SNOW! With a curling area, snow slides and snow play, there's snow way your kids won't be entertained for hours. It's fun for parents too with plenty of opportunities to get crafty, taste some holiday cookies and take a picture with Santa himself.