Gearing up to do some holiday shopping? Skip the material goods this season and treat your loved ones to a one-of-a-kind H-Town experience. Following are six wonderful experiences that most anyone on your list will enjoy. 
Animal Encounter 
Get up, close and personal with some of the Houston Zoo's beloved residents. Buy the animal lover on your list a gift certificate to an Animal Encounter at the zoo. Whether they want to learn about sloths, partake in an interactive sea lion training experience, or help bathe an elephant, you'll have plenty of unforgettable experiences to choose from. Looking for other zoo experiences? Check out these other Houston Zoo gift ideas.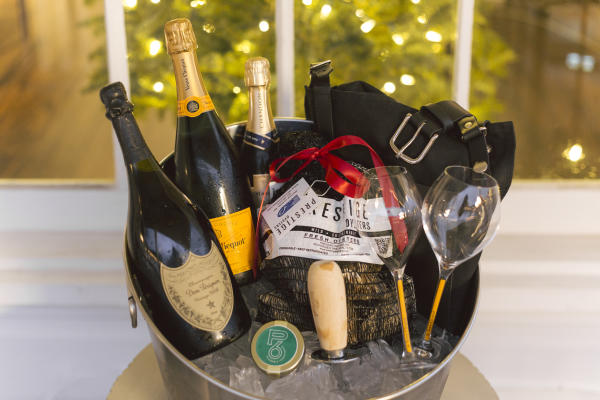 Courtesy of Kimberly Park PR
Bubbles & Oysters
Pier Six Seafood & Oyster House in San Leon has created luxe dining kits perfect for the oyster lover in your life. Each kit includes a special selection of oysters, sparkling wine or champagne, and premium caviar presented in a wine-chilling bucket. The kits range in price from $85 to $300 and also include oyster-shucking knives and other accessories. The Oyster Roasting Kit ($85), includes one dozen oysters, an oyster shucking kit and a choice of roasting topping. The Deck One kit ($300) comes with a bottle of Dom Perignon, two champagne flutes, one dozen oysters, caviar, a shucking knife, a cutting glove, and two oyster forks. Call to order through December 30. 
Pampering and Relaxation
After a busy year, who wouldn't love the gift of rest and relaxation? Houston has a variety of luxurious spas where you can treat that special person to some well-deserved pampering. Consider a gift card to The Spa at the Four Seasons, where the Pumpkin Spice Soothing Body Scrub sounds divine or treat someone to a day pass to The Houstonian's Trellis Spa. At a reasonable $120, your special someone can access the spa's soaking pools and garden, jacuzzi, and indoor reflection pool for a relaxing escape.
Houston by Bike
Give your friends or family a gift certificate to enjoy Houston by bike. Whether you give them a Bayou City Bike Tour or an annual Houston BCycle membership, this is a gift that will get them moving and exploring the city in a different way!
Cooking School
Cooking classes make good gifts even for experienced home cooks. If you want to splurge, treat someone to an annual membership to Smart in the Kitchen School classes. They'll have access to live and recorded online cooking classes with Houston-based Marcia Smart. Smart also offers themed mini-lessons, such as sheet-pan dinners and cocktails, that would make an awesome gift. Prefer in-person classes? Well Done Cooking Classes offers gift cards in several amounts as well as class packages.
Museum Membership
You'll have plenty of choices when it comes to gifting Houston museum memberships. For science enthusiasts, buy a membership to The Houston Museum of Natural Science. Art lovers will surely enjoy a membership to the Museum of Fine Arts. And the little ones in your life will thank you for one year of access to the Children's Museum of Houston. Another great option is a Houston Museum Pass, which gives the recipient one-day or 30-day access to several Houston museums.