In celebration of Women's History Month, we're recognizing the contributions of the incredible women of Houston who enrich our lives and make the lights of our city shine a little brighter. In this four-part series, we'll highlight the accomplishments of Houstonians in various industries, from culinary to fashion, medical to aerospace.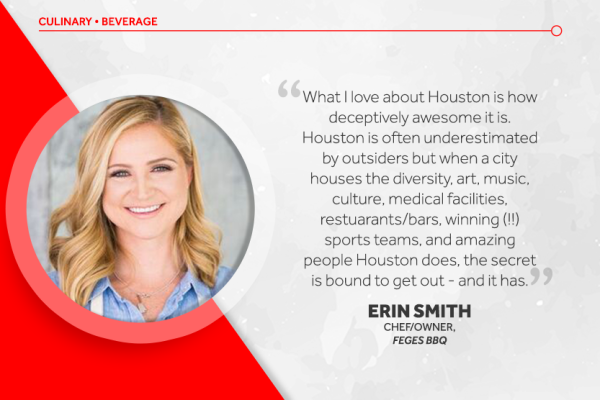 What do you get when you cross a degree in chemistry with top honors at the acclaimed California Culinary Academy in San Francisco? Houston's Chef Erin Smith – that's what. Starting her professional culinary career training at New York City's acclaimed Per Se restaurant, Smith went on to hold positions with Union Square mainstay Italian Wine Merchants and Babbo Ristorante e Enoteca. With world-class experience under her belt, Smith decided to bring her expansive talents back home to Houston in 2012 and has played major roles at some of the city's most oft-praised hotspots, including: Plonk! Beer & Wine Bistro, Blacksmith, The Hay Merchant, Anvil Bar & Refuge, The Pastry War, Camerata and JW Marriott Downtown's Main Kitchen.

In 2016, Smith claimed victory on Food Network's Chopped against three fellow chefs and brought delicious glory to Houston. What's next for Chef Smith? You can catch her at Feges BBQ, which she opened with her husband, Patrick, in 2018. 
Smith is also active in the community, working since its inception with I'll Have What She's Having, an all-female organization of chefs, small business owners, restaurant professionals and physicians raising funds to advance local women's health. Smith has also volunteered three years running at Southern Smoke, which raised funds most recently for restaurant industry employees affected by Hurricane Harvey.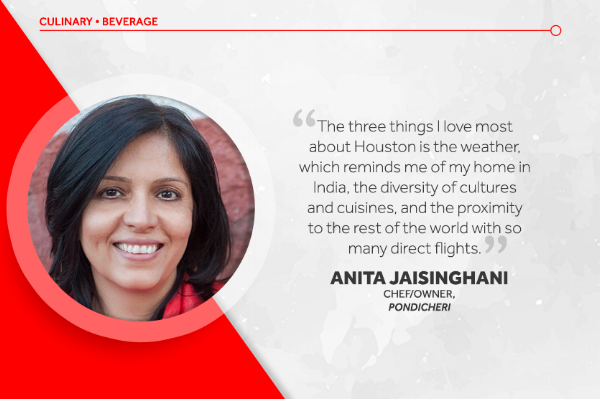 Chef Anita Jaisinghani may be best known for her two award-winning restaurants in Houston, Indika and Pondicheri. Or maybe it's the three James Beard nominations for Best Chef Southwest?

Trained as a microbiologist by way of India, her success in the industry didn't happen overnight. Jaisinghani arrived in Houston via Canada in 1990. As a stay-at-home mother of two, she started her culinary career from her home, launching a catering company and selling chutneys through Whole Foods. Following a two-year stint as pastry chef at Café Annie, she finally found her footing creating deeply personal dishes that illustrated her desire to portray Indian food in a new light.

Today, her success crosses state lines with her second Pondicheri location in New York City. But while her restaurant may be expanding, her philanthropic efforts remain right her at home. Every second Saturday of the month in Houston Jaisinghani hosts a Community Breakfast, donating 50% of sales to featured non-profits. She's also involved with I'll Have What She's Having, and is an outspoken advocate of the #NotInMyKitchen movement (read her thoughts here).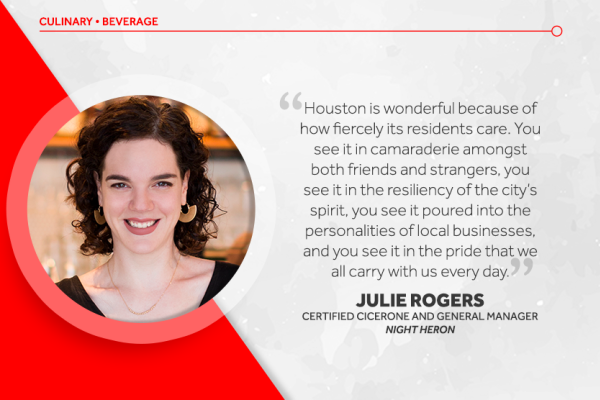 Born and raised in Houston, Julie Rogers was on her way to earning a degree in Chinese language from the University of Houston, until, that is, her college "job" turned into a career. From Té House of Tea to Down House, Rogers quickly developed a passion for beverages that would lead her to achieving the title of Certified Cicerone (a "sommelier" of beers). From there, Rogers moved up the ranks, tending bar at the acclaimed Coltivare under owner Morgan Weber before being promoted to Assistant General Manager. Today, you'll find Rogers at the recently opened Night Heron where she's running the show as General Manager.

Rogers is also involved with the national organization, No Kid Hungry — so involved, in fact, that she rode her bike 300 miles in three days to raise money for the organization. Check out her experience here, and drop by Night Heron to try some fantastic cocktail creations.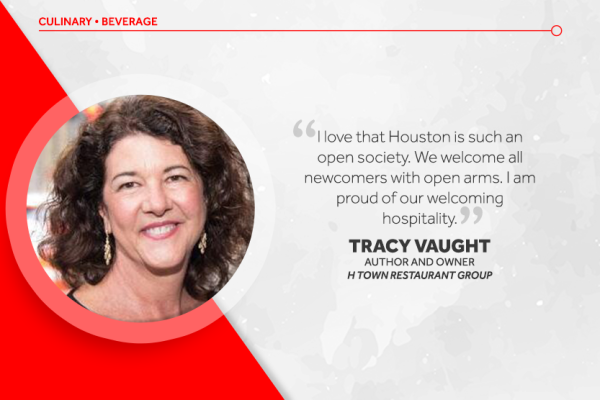 When it comes to innovative food concepts, Tracy Vaught is Houston's go-to restaurateur. The owner of H-Town Restaurant Group earned two "Outstanding Restaurateur" nods from the James Beard Foundation and Texas Restaurant Association, not to mention local titles like Restaurateur of the Year. 
Tracy's venture started in 1983 when the geologist turned author and restaurateur opened Backstreet Café with her uncle. Shortly thereafter, she met and married Hugo Ortega, who at the time worked at her restaurant. 
Vaught and Ortega went on to open three more restaurants with distinct Latin American concepts - Hugo's in 2002, Caracol in 2013, and Xochi 2017. In addition to her four successful restaurants, she is a co-operator of Third Coast Restaurant, part owner of Rice Village's Prego, and author or two cookbooks- Backstreet Kitchen and Hugo Ortega's Street Food of Mexico.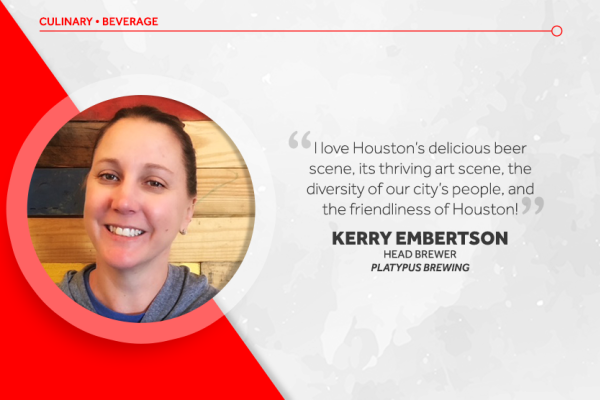 Kerry Embertson was slinging beer at the great Crescent City Brewhouse in New Orleans when she had her career epiphany. Watching the resident brewmaster, she realized her prerequisite dental science classes translated perfectly into beer making.   
 
Embertson was on a mission and shortly thereafter completed courses at the American Brewers Guild. Opportunities came rolling in, first at Karl Strauss Brewery in San Diego, CA, and then at Lost Coast Brewery in Eureka, CA. It was at Lost Coast where she hit her stride, quickly moving up the ranks to Head Brewer and earning Gold at the California State Fair, and People's Choice at the Reno BBQ Brews, Brews and Blues Festival. 
You can now catch Embertson at Platypus Brewing on Washington Avenue. Whether it's a sour or IPA, Imperial Stout or pale ale, raise a glass and toast to this female brewer making waves (and suds) in Houston. Cheers!