Hibernation from the brutally cold winter is over and it's time to enjoy being outside. After one of the coldest winters in recent memory, we're in need of some fresh air picnicking. With so much great food in Houston, what better way to savor it than the great outdoors?
Want a spot to spread out with your family? Look no further than Levy Park. Complete with a splash pad, climbing walls and numerous jungle gyms, families can spend a full day at the park. After your kids have worked up an appetite on the playground, bring a lunch and sit on the Activity Lawn where there is table tennis, a putting green, chairs and tables for those who didn't bring a blanket. Plus, you can even grab hot picnic food — burgers, hot dogs and nachos — while you're there at Love Shack. Bonus, there's also a dog park for your four-legged family members. 
---
Do you have a pretty large group looking to picnic? If so, give Hermann Park a shot. With 445-acres in the center of Houston, you can't go wrong with this centrally located gem. Hermann Park even offers a designated picnic area equipped with picnic tables, BBQ grills, swing sets, a boardwalk and fun trails to hike and ride your bike. Plus, Hermann Park is a short walk to the Houston Zoo, Miller Outdoor Theatre and Houston Museum of Natural Science.
---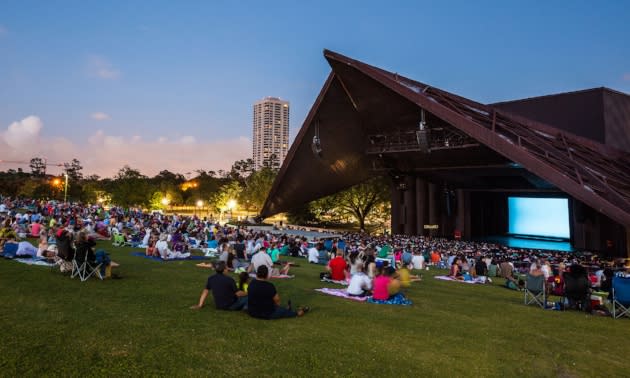 From daytime to date night, Miller Outdoor Theatre is the perfect place to soak up spring. With free performances from March through October, Houstonians take advantage of the amazing entertainment by picnicking on the theatre's hillside. Events at the theatre are free and Miller Outdoor Theatre's BYOB policy allows guests to bring their own beverages and food to performances, though glass bottles and containers are prohibited. 
---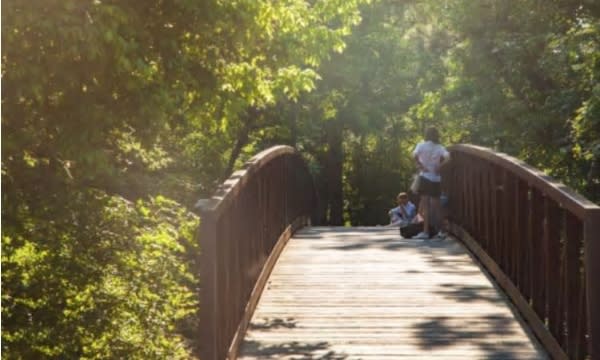 For our friends on the west side of Houston, there's beautiful Terry Hershey Park. Buffalo Bayou winds through the 500-acre park with scenic bike and hiking trails running parallel to the bayou's banks. The park boasts great trails for mountain bikers and the aptly named Ant Hills that give riders and joggers a more intense terrain. Further, there are picnic tables and BBQ grills for those looking for a more leisurely afternoon meal. 
---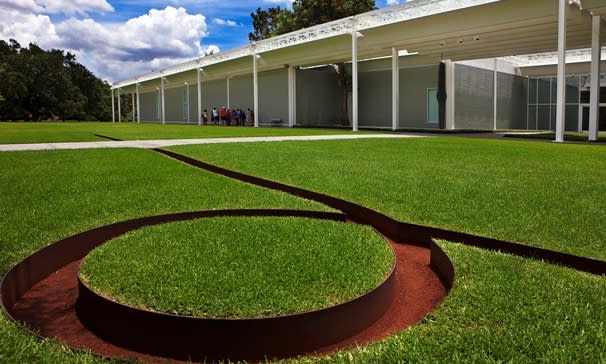 Located at the Menil Collection, Menil Park is a great spot for an artistic picnic experience. Picnickers don't even need to bring a lunch as they can order from the on-site Bistro Menil. The lush green area is lined with early-20th-century bungalows and shaded by live oak trees, adding to Menil's aesthetic and experience. If you're feeling inspired after enjoying the sculptures in Menil Park, head over to the Menil Collection* or the Rothko Chapel for a truly sophisticated and cultural experience. 
---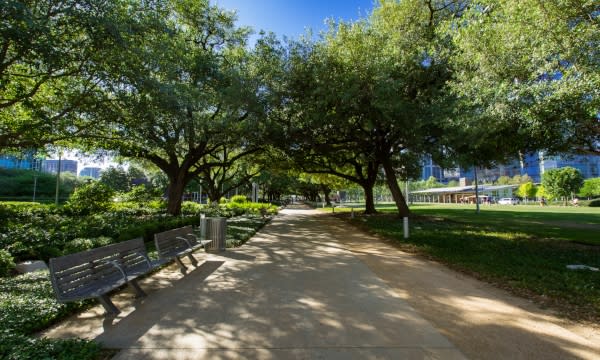 For a green space close to Downtown, check out the Sarofim Picnic Lawn at Discovery Green. The lawn offers more than just picnic space, it includes dog runs, a playground and a mist tree. There are also two restaurants, The Grove and The Lake House, proximal to the lawn for an impromptu picnic. You never know what activities are going on at Discovery Green, so take advantage of some of the fun events before or after your picnic.
---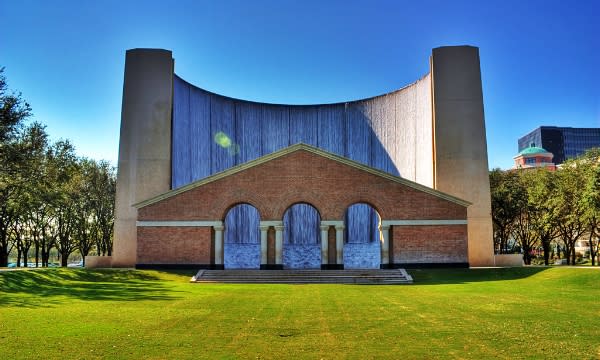 If you work in the Post Oak area, you might need a workday picnic. If so, head to the Gerald D. Hines Waterwall Park. The chaos of the workday fades to nothing with the sound of rushing water from the 64-foot-U-shaped water fountain. Plus, the 186 live oaks that line the green space are usually a welcomed change from the cubicle. Leave the office, grab food to go and enjoy lunch outside.
For ideas on where to pick up picnic food, click here.
Want even more great outdoors ideas? Follow us on Instagram at @Visit_Houston!