CITY LIGHTS
DOWNTOWN HOLIDAY MAGIC
City Lights Downtown Holiday Magic is pulling out all the stops to transform downtown Houston into the perfect winter wonderland with eight unique themed villages. Open to the public and mostly free, villages offer ice for skating, lights for gazing and activities to make your family's season bright. Whether you are enjoying a night out with friends, an evening of family fun, or a memorable activity for visiting friends and relatives, there is something special for everyone and all ages to enjoy.
1 DECK THE TREES
GEORGE R. BROWN CONVENTION CENTER | 1001 AVENIDA DE LAS AMERICAS, HOUSTON, TX 77010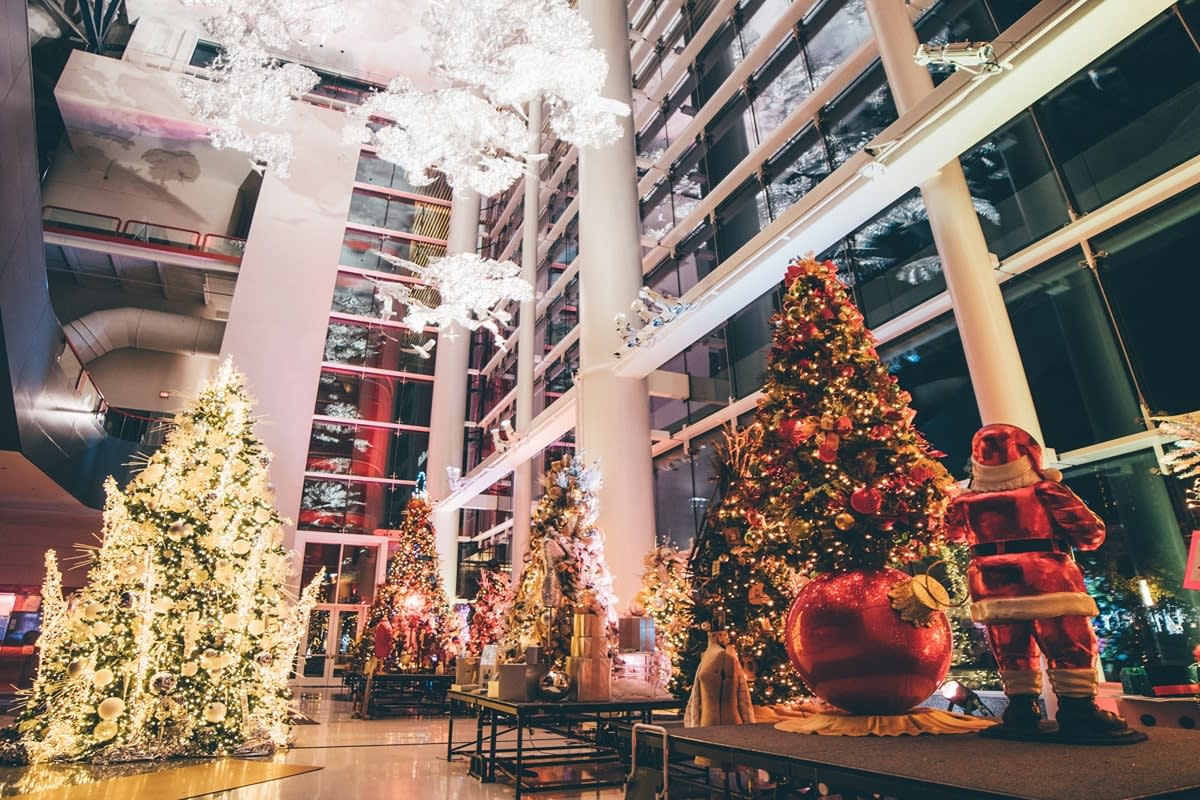 November 18, 2022 – January 02, 2023
Benefitting the Alley Theatre's educational community and artistic initiatives, a display of 30 wonderfully festooned Christmas trees will appear in the Grand Holiday Window at the George R. Brown Convention Center facing Avenida de las Americas. Adding to the ambiance is the Avenida Concert Series with live musical performances. Check out Avenida Houston for the concert schedule.
Read more about Deck The Trees here
2 LAND OF SWEETS
HILTON AMERICAS | 1600 LAMAR ST., HOUSTON, TX 77010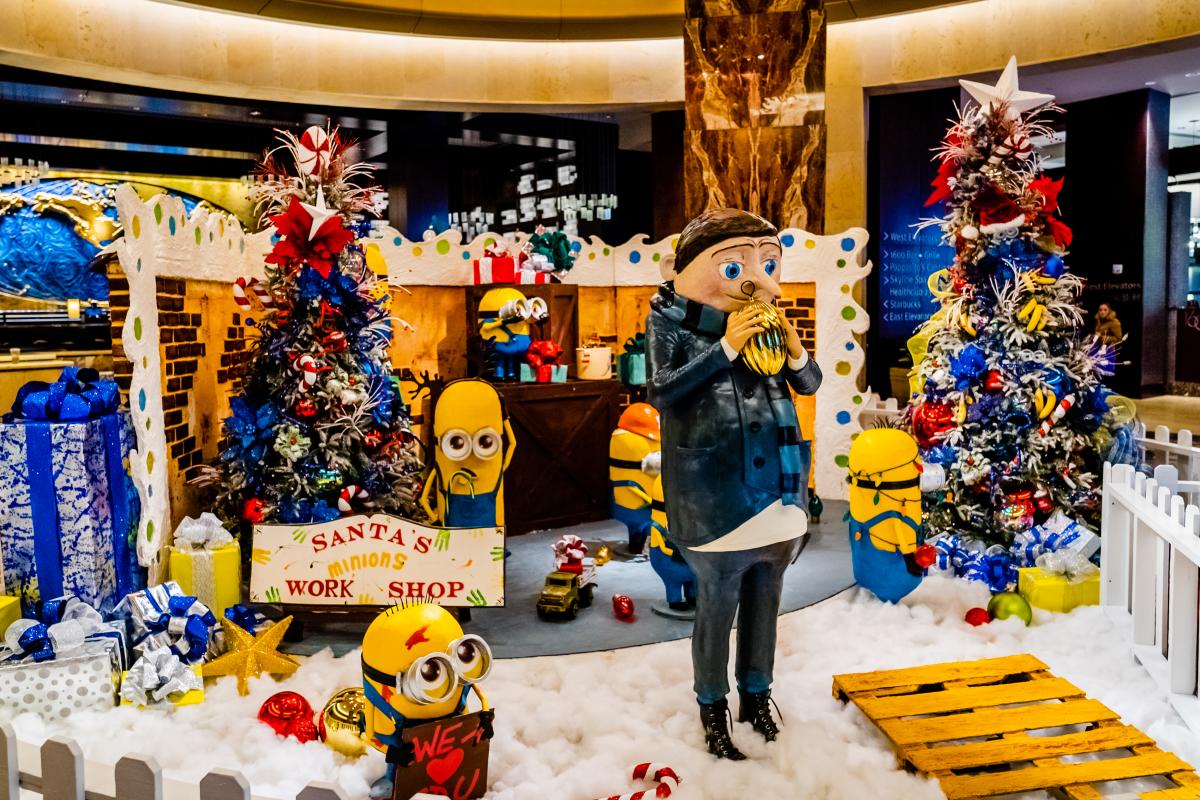 November 17, 2022 – January 02, 2023
Get ready to be wowed in the lobby of the Hilton Americas with the return of its iconic holiday chocolate display. Sweeter than ever this year, this year's hand-sculpted and Minion-themed masterpiece will boast well over 2,000 pounds of chocolate. Check it out and explore all the festivities Downtown has to offer with the hotel's 'Tis the Season package, which includes luxurious accommodations, a holiday treat, and two tickets to the Discovery Green ice rink.
3 Holiday Ice Village
DISCOVERY GREEN | 1500 MCKINNEY ST., HOUSTON, TX 77010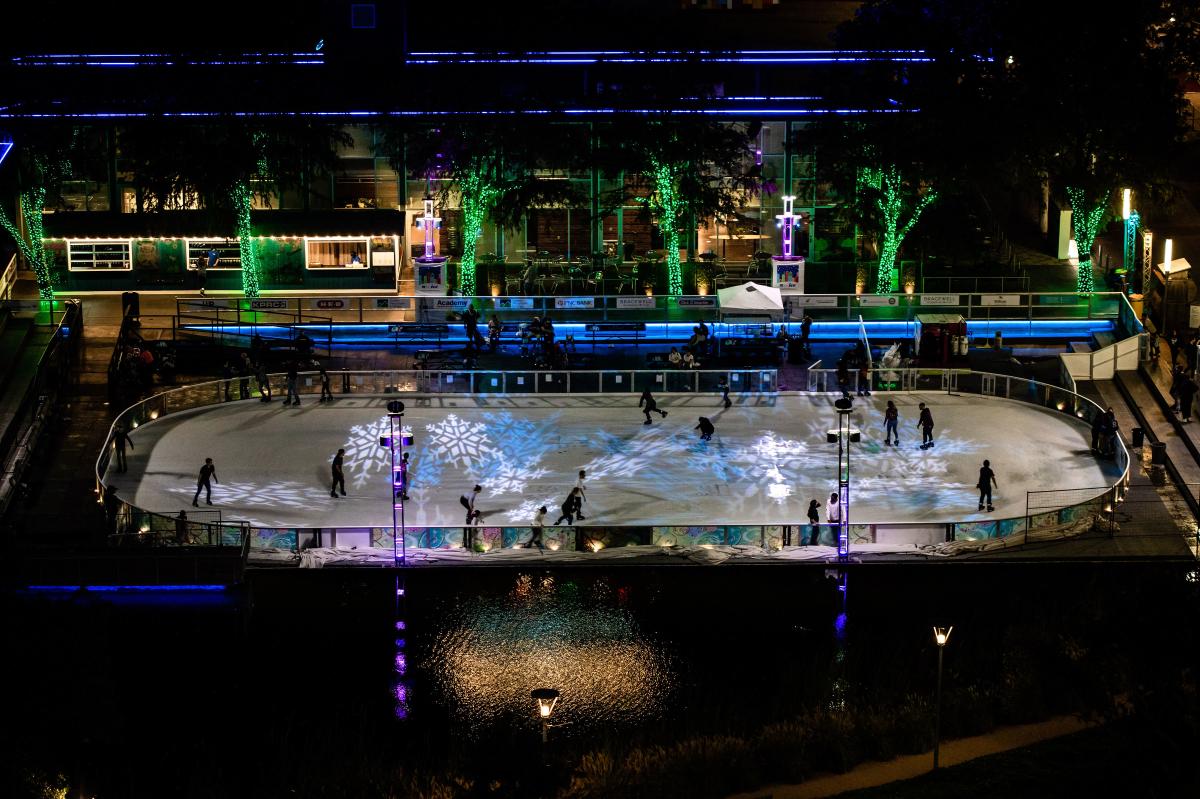 November 11, 2022 – January 07, 2023
Glide your way into the holidays underneath the glittering lights of Downtown at this bustling, open-air ice-skating rink sponsored by Green Mountain Energy in the heart of Discovery Green. You can anticipate a number of quirky and cool, themed skate nights and even an opportunity to hit the ice with Santa. Tickets are priced at $17 per person and include a skate rental. And if skating isn't your thing, enjoy a holiday movie under the stars every Thursday evening or explore the park and Solstice Art Installation. Every Saturday in November and December, Flea by Night brings an eclectic array of vendors selling items perfect for gifting that special someone. Check Discovery Green for details.
Read more about Holiday Ice Village here
4 Texas Winter Lights
MARRIOTT MARQUIS | 1777 WALKER ST., HOUSTON, TX 77010
November 11, 2022 – January 08, 2023
Experience Texas Winter Lights at Marriott Marquis Houston nightly, from 5pm - 10 pm. Back for its third year, discover our interactive winter lights experience on the 6th floor Altitude Rooftop & Pool. Guests will find Instagram worthy photo ops with new light activations throughout the deck, including our majestic light-up stallion, adult playground, and grove of lights to name a few. Indulge in festive signature cocktails, a winter-themed dining menu, and so much more. Float through our lazy river, heated all winter long to 80°, as lights glimmer from above.
Read more about Texas Winter Lights here
5 SANTA'S VILLAGE
MAIN STREET SQUARE | 1000 MAIN STREET, HOUSTON, TX 77002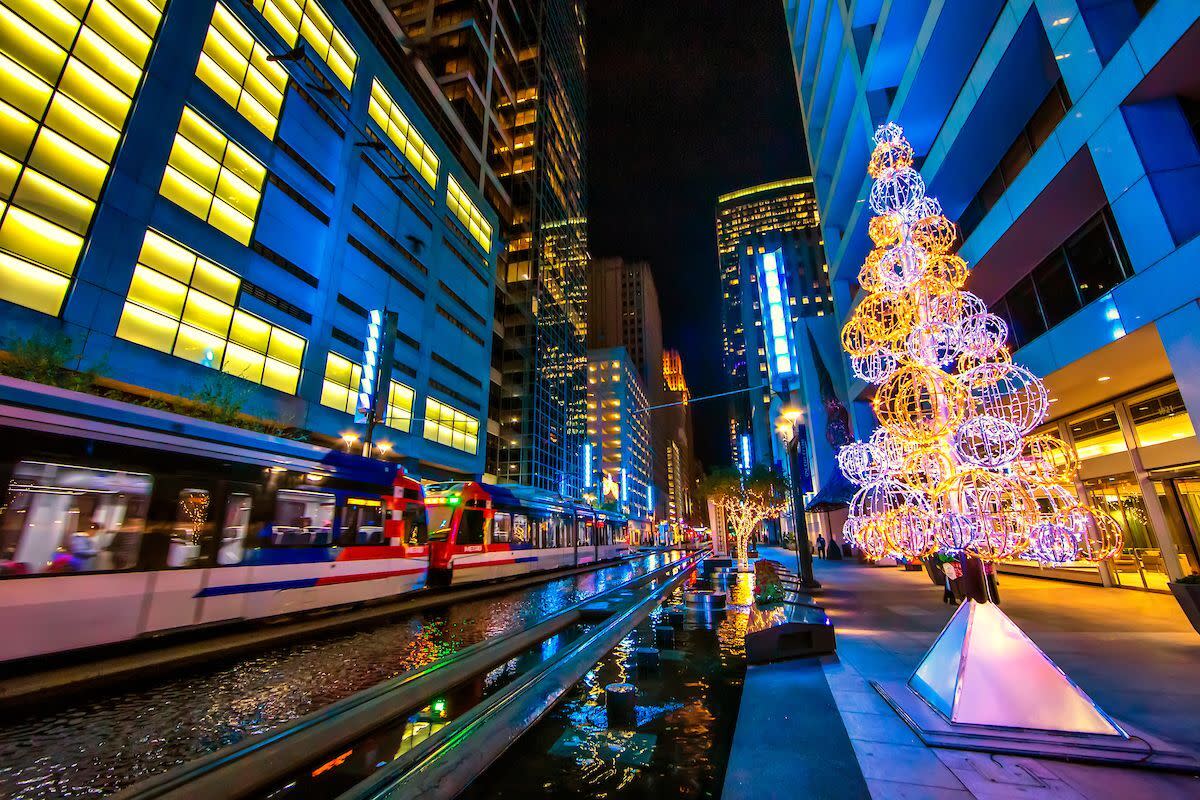 November 18, 2022 – January 02, 2023
Santa Claus is coming to town to share the wonder of the season. Get your photo with Kris Kringle every Friday and Saturday starting at 6 pm at Santa's Village in Main Street Square, known for its vibrantly lit 40-foot water bursts and 250-foot-long, eight-inch-deep reflecting pool. After Santa shares his magic, explore a series of holiday markets taking place every Friday and Saturday.
Read more about Santa's Village here
6 MISTLETOE SQUARE
MARKET SQUARE PARK | 301 MILAM ST., HOUSTON, TX 77002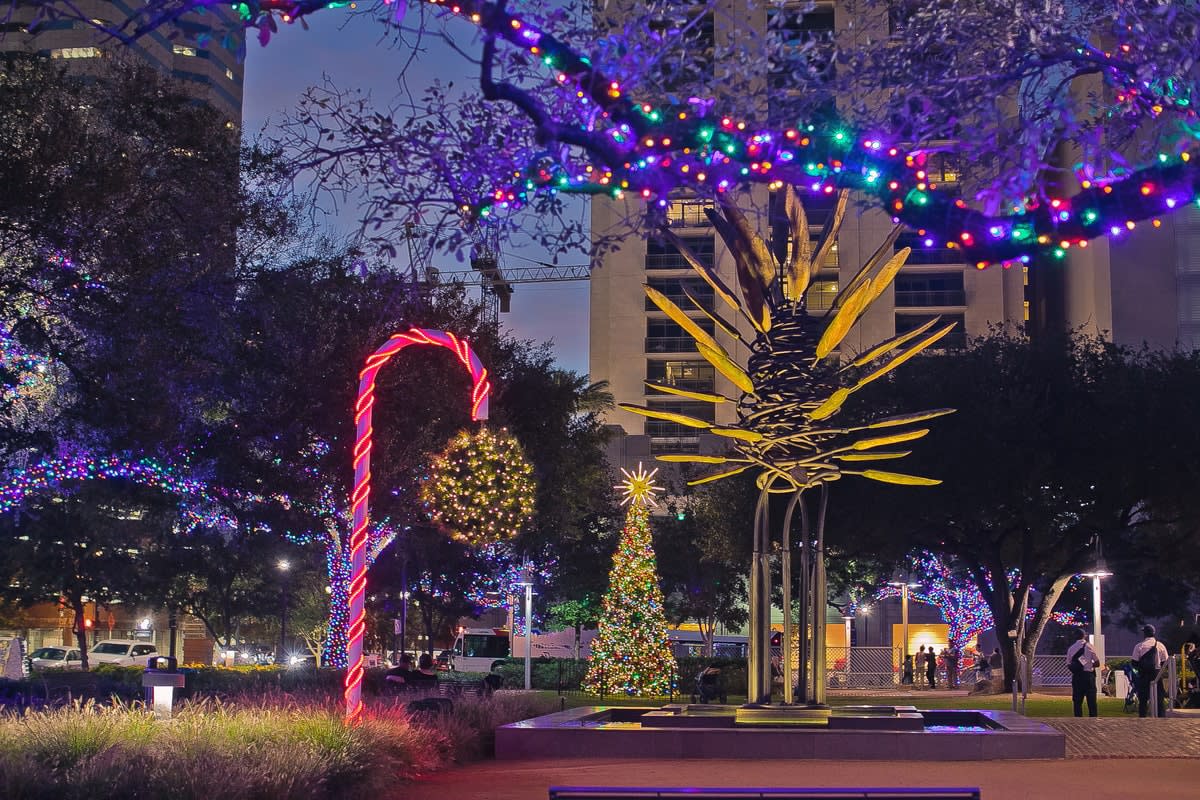 November 18, 2022 – January 02, 2023
Texas' biggest mistletoe installation returns to historic Market Square Park aka Mistletoe Square for the holidays. Share a smooch with a loved one under this 150-inch ball of greenery hanging from a giant 15-foot candy cane. Snuggle up under the twinkling lights and enjoy a holiday movie – check Market Square Park for details – or make your very own gingerbread house with Phoenicia Specialty Foods.
Read more about Mistletoe Square here
7 SUGAR PLUM PLAZA
WORTHAM THEATER | 501 TEXAS ST., Houston, TX 77002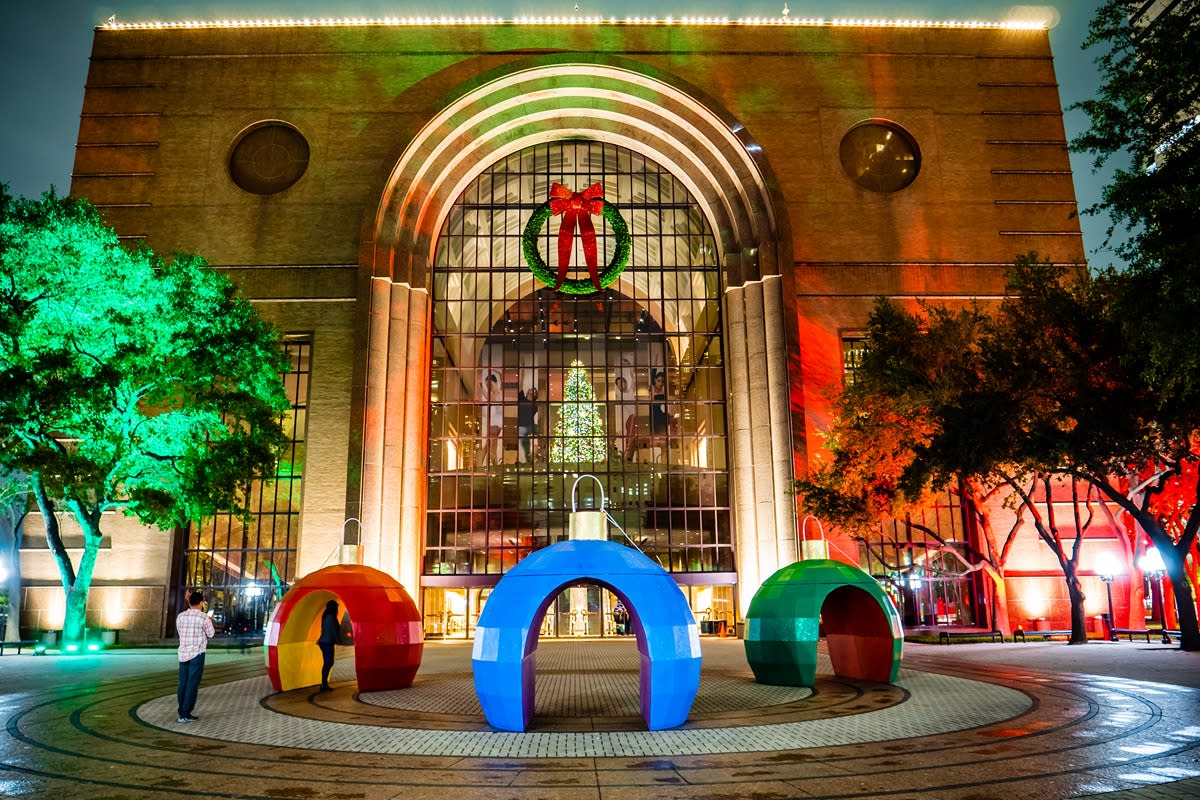 November 18, 2022 – January 02, 2023
Looking for visions of sugarplums to dance in your head? For this magical time of year, the iconic Fish Plaza at the entrance of the Wortham Theater is being reimagined as an ode to the holiday season. Listen to cheerful tunes while you wander around the seasonally renamed Sugar Plum Plaza to gaze at the larger-than-life custom-built ornaments.
8 WINTER WANDERLAND
DOWNTOWN DISTRICT | 950 BAGBY ST, HOUSTON, TX 77002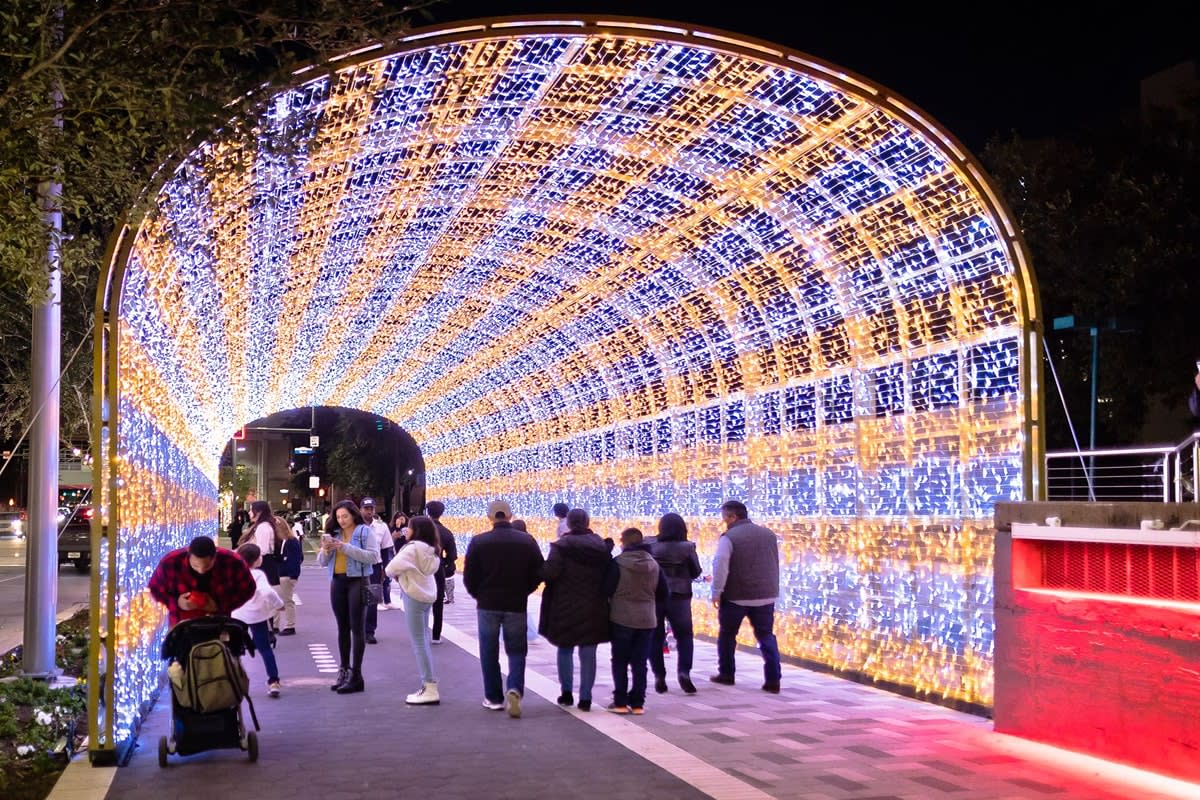 November 18, 2022 – January 02, 2023
Ensure your season is merry and bright as you stroll through 100,000 twinkling LED lights along recently reconstructed and beautified Bagby Street from Lamar to Preston. Signature elements include giant angel wings, constellation arches, and an 80-foot light tunnel across from The Hobby Center for the Performing Arts.
Read more about Winter Wanderland here