Photo: Ribeye meatballs at Weights + Measures

Have you made reservations for Houston Restaurant Weeks yet? The fundraiser for the Houston Food Bank kicks off August 1 and already diners are narrowing down their choices from the close to 200 participating restaurants.
Now in its 14th year, the event is popular because it allows diners to get a taste of Houston's best restaurants for a little less money and for a good cause. You pay $20 for lunch or brunch and $25, $35 or $45 for dinner at participating restaurants and they'll donate a portion of the proceeds to the Houston Food Bank. Last year, the event raised a record $1.9 million.
Houston Restaurant Weeks runs through Labor Day (September 5, 2016), so you have a little over a month to explore Houston's exciting culinary scene. Here are seven delicious menus to help you get started.
This Houston institution offers brunch, lunch and dinner during Houston Restaurant Weeks, but who can pass up trying one of the city's most popular brunches for $20? Choose from five first course options that include the restaurant's longtime favorite turtle soup and a duck and collard green gumbo. Second course choices include creole roasted chicken, Louisiana catfish, southern beef tenderloin with grits, and a vegetarian egg scramble with smoked creole tomato sauce.
All eight locations of El Tiempo are participating for the first time in Houston Restaurant Weeks. And of the $25 dinners, El Tiempo's three-course menu is a pretty good deal. To start, try the chicharron crab cake -- pork cracklings stuffed with crab -- or queso with spicy beef, bacon, grilled onions and serrano peppers. Follow with a half-pound of carnitas or fajitas al carbon "with all the fixins." And for a sweet ending, choose from Mexican flan, chocobanana or fried ice cream.
Hunky Dory
Chef Richard Knight's Heights restaurant has been incredibly popular since it opened last year. If you haven't tried it yet, the $35 Houston Restaurant Week menu may motivate you to do so. For your first course, order the charcuterie board -- chicken liver mousse and pork terrine served with pickles and bread. Next, try the braised short ribs, which are served with tomato salad and mashed potatoes. And for a sweet ending, don't miss Knight's sticky toffee pudding, a sponge cake soaked in caramel.
Houston Restaurant Week offers a good excuse to dine at Tony Vallone's namesake restaurant, a Houston classic that celebrated its 50th anniversary last year. From its $45 dinner menu, start with the chicken and spinach cannelloni or the agnolotti al zafferano. Follow it with fire roasted hen or snapper francese. If you don't mind spending a bit more, get the truffled fillet of beef for an additional $12. The menu has four dessert options, including tiramisu and a cherry crostata, but we keep gravitating toward the chocolate souffle even though it's an extra $8.
B&B Butchers
The dinner menu at this butcher shop and steakhouse on Washington Avenue has good options, although getting the bigger cuts of meat will cost you a little extra cash. Start with the brisket stuffed ravioli or, for an extra $8, the restaurant's popular thick-cut bacon. Entrees include a 10-ounce filet of beef and bacon-wrapped stuffed shrimp but an extra $20 gets you a dry-aged 22-ounce ribeye. It adds up quickly, we know, but you can skip all the extra splurges and still get a good meal for $45. For dessert choose between a New York cheesecake, chocolate cake or carrot cake.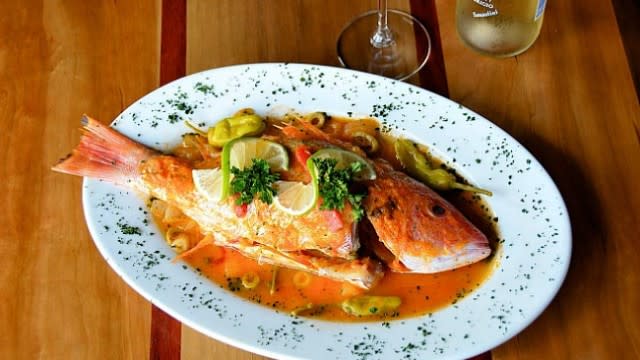 Chef Hugo Ortega has put together four dinner menu options  – Between the Waves, Dry Land, Our Style and Vegetarian -- at his Galleria seafood restaurant. While they're on the higher end at $45, each menu consists of an amuse bouche, appetizer, entree and dessert. Try the entre las olas (between the waves) menu, which starts with a campechana amuse bouche, followed by Ortega's posole verde (a hominy and little neck clams soup) and a wood-grilled Gulf fish fillet with black truffle rice tamal and grilled asparagus. Orange cream-filled Mexican pastries close out the meal. If you're in the mood to splurge, add wine pairings for $28.
The Midtown restaurant is a first-time Houston Restaurant Week participant and it has put together a nice dinner menu for $35. Start with the potted swordfish or ribeye meatballs. Entree choices include a hand-cut fettuccine with vegetables and cheese, seared ahi tuna or wood-grilled lamb chops with asparagus and truffle potato mash. For dessert, try the restaurant's "doughknots," peach melba or chocolate mint cake.
See the full list of Houston Restaurant Weeks participating restaurants and menus.