For 10 years, Midtown wine bar 13 Celsius has been a favorite among Houston locals for its unique yet accessible wine list, well thought out meat and cheese boards, knowledgeable staff and architecturally striking building. Those things Houstonians love about it earned the wine bar a spot in Food & Wine Magazine's list of best wine bars in the country, which recognizes wine bars with "wine lists that provide a distinct point of view" as well as a good atmosphere and experience.

We chatted with Adele Corrigan, 13 Celsius general manager and sommelier, and Ian Rosenberg, the bar's co-founder, about making Food & Wine's list, the wine scene in Houston and some wine shopping tips. Here's what they had to say.
What was your reaction to being among the best wine bars in the U.S.?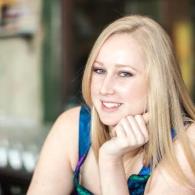 Adele: It was a total shock, a really nice surprise. I got the notification on Facebook and was like, 'wow, that's really cool,' and then I spread the word to the staff and they were elated and very excited.

Ian: I'd been working with [Food & Wine] and (Photo: Ryan Cruze)  gave them a photo and stuff. They never said what it was for; I figured it was for a Houston thing. We had no idea. We were all incredibly shocked and incredibly humbled to be recognized in that capacity.
What do you attribute your success to?
Adele: I guess I would say just keeping true to our roots and doing what we've been  doing since day one, which is having a unique wine list and providing excellent customer service, and having this experience with wines through education and a dedicated, knowledgeable staff, and providing something that's truly unique to Houston and keeping with it for 10 years now.

Ian: 13 all began with the building, a very dilapidated, beautiful building with tons of character. Everything we did we built around that notion of just being somewhere unique and special, and just always supporting all of the creative juices that all of our employees bring to the table. Just the purity of a bottle of wine, the simplicity of it and making sure that the customer's experience is the best possible experience it can be, while at the same time creating a unique one-off experience in a space that's a rarity in Houston.
Can you tell me more about your interactions with customers?
Adele: The list is huge and we serve by the wine by the glass, which is great and it's a lot of fun for the wine nerds but even for the wine novice. Feel free to ask questions. Ask the bartenders, what do you recommend? How do you feel about this wine? No one should ever be shy to pour a sample or two or three or four to see what the guest's palate is responsive to and what they like. We also ask simple questions: What are you in the mood for? Do you like light, medium or heavy? Do you like fruity or earthy? That helps us narrow down the general spectrum of wine that the guests are looking for. Let's say they like heavy cabernets so we know that and we can recommend something that's very similar but that they've never heard of before and that's when I think a really cool experience is created. There's a lot of fun that can be had with that, and having the guests open up and express how they feel about the wine helps them connect with the space and the bartenders and gets them to come back. We have so many regulars who come in and ask, 'what's new? what's weird? what's different?' and that's really awesome.
How has Houston's wine scene changed since you opened?
Adele: I definitely think that it has evolved immensely. The average consumer is a lot smarter, people are more open to new ideas, new wines, and to different grape varietals. I think the overall palate of Houstonians has grown exponentially. It's not too hard now to sell people on something unusual. Word has gotten out that we have some of the very off the beaten path things so if you're looking to experience those things you can come to 13 Celsius. But even going out in town when you look at other people's wine's lists, I really do think that the overall average wine consumer has been educated a lot in the past five or so years.

Ian: Mike and Adele's work has probably changed the wine scene a little bit in Houston and I think they've raised the bar to some degree. How much, that is probably arguable but we have many people who have come through 13 who are in other positions in the wine industry. I think it's that collaborative environment we foster but also 13 I think has helped a lot of other important restaurants and people in Houston who've been part of that evolution of what's made the Houston food scene what it is today.
What are some tips would you give to people buying wine?
Adele: Pick a region that you like and if you know that you love Chianti, maybe find other things in that region. The same thing can be said, too, if you like a bottle of wine, flip it over look in the back, see who the importer is and perhaps find other wines from the same importer because a lot of times that importer will have a similar viewpoint and palate. Take Rosenthal, for example. They bring a lot of really interesting boutique wines and if you like this one wine from Rosenthal Imports, there's a chance you might like something else they bring into the market as well.
Aside from 13 Celsius, what are your favorite places to drink a glass in Houston?
Adele: For me, there's Camerata who's doing a great job with its ever rotating selection of wines and then I love going downtown to Public Services and seeing what they're doing as well. Those two are doing a fantastic job. Another of my go-tos is going to Dolce Vita and sitting at the bar and having a nice glass of Italian red of some sort. If I want to spend some money, I'll go down to Pappa's [Steakhouse] because they have an absolutely amazing wine list.
How about your favorite places to eat?
Adele: One of my go-tos is Pax Americana. I love what they do there with the fresh ingredients and the ambiance and the cocktails and things like that. Something that's new that I've had a really good experience at is over at Riel, which is that new Canadian influenced but also Gulf Coast local food. Pondicheri for lunch is one of my favorite spots. And of course depending on where out of towners are from getting some Vietnamese food here in Midtown.

Ian: I had a daughter 16 months ago, I don't go anywhere. It's no joke, usually when we have wine it's at home. I do love to celebrate Houston's unique cultural food scene and I always try to find more of the unique, smaller places to take people. You never go wrong going if you want Asian food to go to Huynh and you have to get out-of-towners to Ninfa's on Navigation.