Chef Chris Cosentino knows a thing or two about family, food and tradition – the three main ingredients in virtually every annual Thanksgiving celebration across America. His Italian heritage is the impetus behind his latest restaurant, Rosalie Italian Soul, which opened in October inside the C. Baldwin Hotel in Downtown Houston. Named after his great grandmother, Rosalie Cosentino, the restaurant offers classic Italian dishes such as housemade pastas, red sauce dishes and signature pizzas that combine Consentino's family traditions with Houston's local fare.
With Thanksgiving just around the corner, we asked Chef Cosentino to share a recipe that shows how to add a little flare to the holiday feast without sacrificing tradition. Check out his Texas interpretation of turkey and stuffing (or dressing, depending on your traditions).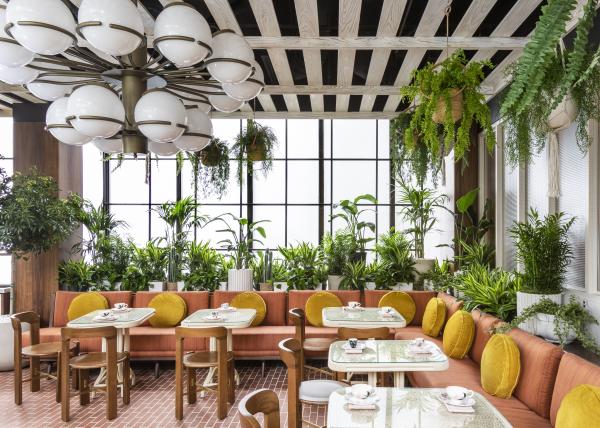 Why did you choose to share this recipe with us?
I chose two recipes - one of the bird and one of the stuffing. Since BBQ is so popular in Texas, I chose to do a smoked turkey with hay and pinecones, which is an old duck and wild game bird-smoking technique. It's easy to do, and with so many home smokers in Houston, I thought it would be great to share. 
Also, since bird stuffing is such a huge debate, I thought it would be fun to share a recipe that was modified from when I grew up sausage and clam stuffing. For Houston, however, I have modified the recipe to include gulf oysters. The balance of the brine — shellfish with pork — is amazing and makes for a great holiday staple.
What feelings does the dish evoke for you?
Both of these are classic Thanksgiving dishes with a lot of beauty and family history behind them. As Italian-Americans, we always had these dishes - in addition to lasagna - on the table. The turkey I changed a bit, but that's just a chef being chef-fy.
Your new restaurant just opened in the C. Baldwin Hotel. What do you want to tell our audience about your first foray in the city?
Being a part of the historical opening of the C. Baldwin Hotel is such an honor — especially to have Rosalie located in such a beautiful place.
Hay & Pinecone Smoked Turkey
INGREDIENTS
Turkey Brine:
3 gallons water
1 1 1/2 cups kosher salt
3/4 cup pure maple syrup
12 thyme sprigs
6 sage branches
5 bay leaves
2 yellow onions, julienne
4 apples, cored and quartered
1 teaspoon juniper berries, toasted
1 tablespoon black peppercorns, toasted
1 tablespoon coriander seeds, toasted
1 head of garlic, halved crosswise
1 10-pound turkey, neck and giblets reserved for another use
2 pounds dry pine cones and hay                   
DIRECTIONS
In a very large pot, combine the water, sea salt, maple syrup, thyme, sage, apples, onions, bay leaves, dry spices and garlic. Stir the brine until the salt is completely dissolved. Add the turkey, breast side down, top it with a plate to keep it submerged and refrigerate for 24 hours.
Light a hardwood charcoal in the firebox of a smoker. Heat the smoker to 200 degrees. Scatter some of the soaked hay and pinecones around the coals; the chips should smolder but not flare. Set a drip pan filled with ice water on the bottom of the smoke box.
Remove the turkey from the brine and pat dry inside and out with paper towels. Tuck the wing tips under the turkey and tie the legs together with string. Set the turkey over the drip pan. Smoke the turkey for about 2 hours, monitor the coals throughout the smoking process and add more coals and pinecones, soaked hay and ice as needed to maintain the temperature and smoke level. Once the turkey has been smoked, place it in the oven at 325 degrees until an instant-read thermometer inserted in an inner thigh registers 165 degrees; Transfer the turkey to a carving board and let rest for 20 minutes before serving. 
Sausage & Oyster Stuffing
INGREDIENTS
2 1-pound loaves of sourdough bread, bread cut into 1-inch dice (20 cups)
1 ½-pound Italian fennel sausage (out of the casing)
6 tablespoons unsalted butter
2 large sweet onions, small diced
2 large carrots, small diced
6 large celery ribs, small diced
1 head fennel, small diced
2 tablespoons picked thyme leaves
1 tablespoon coarsely chopped sage leaves
1 cup dry white wine (if you wouldn't drink it, don't use it)
2 dozen medium-to-large shucked gulf oysters, halved; 1/2 cup liquor reserved or substitute 1.5 cups cooked chopped clams and reserved cooking liquid ½ cup
3 cups chicken stock
Salt and freshly ground pepper
DIRECTIONS
Preheat the oven to 250 degrees. Spread the bread on 2 large rimmed baking sheets and bake for 20 minutes, until crisp; let cool. Transfer to a very large mixing bowl.
In a large skillet, add 2 tablespoons of butter and cook the sausage meat over moderate heat, breaking it up with a spoon, until no pink remains, about 10 minutes. With a slotted spoon, add the sausage to the bread in the bowl.
Add the 4 tablespoons of solid butter to the fat in the skillet and heat. Add the onions, carrots, celery, and fennel.  Season lightly with salt and pepper and cook over moderately high heat, stirring, until the onions start to soften, about 5 minutes. Reduce the heat to low, add the herbs and cook, stirring occasionally, until the vegetables are completely softened, about 20 minutes. Add the wine and simmer over high heat until reduced by three fourths, about 4 minutes.
Add the vegetable mixture to the bread cubes and sausage and toss. Add the oysters and their liquor, and enough stock so that the bread is very moist but not overly soggy; season the stuffing with salt and pepper. Transfer the stuffing to the prepared baking dishes.
Bake the stuffing in the upper third of the oven for about 15 minutes, or until hot. Preheat the broiler. Broil the stuffing 6 inches from the heat for about 2 minutes, rotating the baking dishes as needed, until nicely browned on top. Serve right away.