Comfort food takes on a new meaning this holiday season thanks to Chef Ryan Lachaine. The popular culinary wiz is the co-owner and executive chef of Riel, a three-year-old restaurant that offers cuisine influenced by his Ukrainian heritage, French-Canadian upbringing and his time on the Texas Gulf Coast. Lachaine has cultivated a following in Houston after stints at Gravitas, Stella Sola, Reef and Underbelly. He has been featured in local and national media, including Food & Wine magazine, and used his talents in notable restaurant kitchens across the country.
Just in time for the holidays, Chef Lachaine shares his take on a classic Eastern European dish: cabbage rolls. So roll up your sleeves, take out the pots and pans, and add a new option to the menu while creating memories with your loved ones. Enjoy!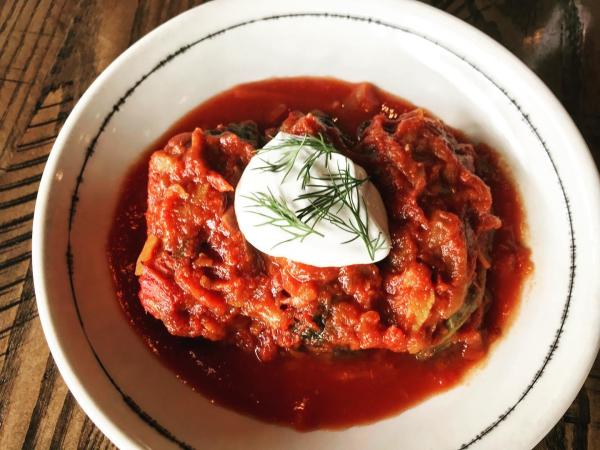 Ingredients:
2 large heads green or savoy cabbage
Sauce:
1 jumbo carrot, grated 
2 medium yellow onions, julienned
5 cloves garlic, thinly sliced
1 quart crushed tomato 
1 quart vegetable, pork or chicken stock
1 3 oz jar cherry preserves
3 tablespoons rice vinegar
1 tablespoon salt + extra to taste
1 tablespoon neutral oil
Filling:
2.5 lb ground pork
1 pint cooked short grain rice
1 tablespoon garlic minced
2 teaspoons salt
Directions:
In a large saucepot, add oil and turn to medium heat. Once pot is hot, add onions, carrots, and garlic and sweat for 5-10 minutes or until soft.
Add crushed tomato, stock, cherry preserves, rice vinegar, and salt. Simmer for 15-20 minutes on low. Taste, and adjust the seasoning as necessary.
Bring another large pot (large enough to fit the cabbage) filled with water to a boil. Cut a deep core out of the bottom of each cabbage and gently place into boiling water. Prepare an ice bath.
With tongs, carefully remove the cabbage leaves that become soft and fall off the head and place in ice water. Continue to cook for 6-8 minutes until leaves become pliable and take entire cabbage head and place in ice water. Carefully, without ripping the leaves, peel each layer apart and place onto a rack or colander to cool. 
While leaves are cooling, mix ground pork, rice, garlic and salt.
On a clean workstation begin preparing the rolls. Grab one leaf at a time, and trim any large ribs or broken edges.
You will use 1 hefty tablespoon per cabbage leaf (the exact amount may vary depending on the size of the leaf) and place the pork in the middle bottom part of the leaf, and bring each side in and roll up. This is the same way you would roll a burrito.
After rolling all of the leaves, get a heavy bottom pan hot with 1 tablespoon of oil so nothing sticks. Working in batches, sear each package, fold side down, until they caramelize. Repeat on the other side. This will add flavor and seal the rolls, so don't skimp.
In a heavy bottom baking dish or Dutch oven, add some of the sauce to the bottom. Neatly layer the rolls in the bottom. It's okay if you have to stack some of them to get them to fit. Top with enough sauce to cover and save any extra for serving.
Bake at 325 degrees, covered tightly, for 1 hour and ten minutes.
Allow them to cool slightly, and serve them with the remaining sauce, sour cream and dill.