Houston's craft beer scene has exploded in recent years and it seems like new breweries continue to pop up around town. Since a nice, cold beer goes great with this summer heat, we've gathered some of our favorite breweries in Houston and a little further afield. The ones in the city are close enough to each other that you could visit two or three in one day (don't forget your designated driver). Or you can arrange a local brewery tour with Fresh Tap Tours, Texas Beer Bus or The Wave.
Saint Arnold Brewing Co.  - Get some board games, chairs and a group of friends and head to Saint Arnold for their beloved Saturday tasting. Located in a 100-year-old warehouse near downtown, Saint Arnold has been operating for 22 years and currently offers a lineup of 10 year-round beers including Fancy Lawnmower, a German-style beer, and Endeavor, a double IPA named after the space shuttle. They also brew seasonal (currently the Summer Pils) and limited edition beers, which include the sought after Icon and Divine Reserve series. Saint Arnold also serves food.
The Details: Tap room open from Monday through Thursday 11 a.m. to 4:30 p.m., Fridays 11 a.m. to 10 p.m. and Saturdays 11 a.m. to 3 p.m. Saturday admission is $10 and includes a souvenir glass and four beers. Tours offered on weekdays at 1 and 3 p.m. and Saturdays at every hour from noon to 2 p.m.
Karbach Brewing Co. - Founded by the former owners of a beer distribution company, Karbach has experienced impressive growth since it opened in 2011. In 2015, the brewery opened shiny new digs, boasting a beer garden, event space and restaurant whose menu includes dishes prepared with Karbach brews. Some popular picks among Karbach's line of six year-round beers include Weiss Versa, a wheat beer, and Rodeo Clown Double IPA. Right now, sit back and enjoy a Staycation – Karbach's citrusy summer brew.
The Details: Biergarten opens Monday through Friday 2:30 to 9:30 p.m.; Saturday noon to 9:30 p.m. and Sunday noon to 5:30 p.m. Tastings are $9 for a 9-oz glass and four beers or $13 for a pint and three tokens. Tours are held on weekdays at 3 p.m., 5 p.m. and 7 p.m. On weekends, every hour on the hour from 1 p.m. until 7 p.m. on Saturdays and until 5 p.m. on Sundays
8th Wonder Brewery - Because of its location East of Downtown, "WonderWorld" – 8th Wonder's beer garden – is the perfect stop before catching a baseball, soccer or basketball game. Named after the iconic Astrodome, the brewery owned by Eatsie Boys partners Ryan Soroka and chef Matt Marcus offered its first tours in 2013. Enjoy their beers, which include the popular Rockethouse Vietnamese coffee porter, and their new Instant Classic summer ale, along with games and food from local food trucks.
The Details: Monday through Friday 11 a.m. to 10 p.m., Sundays 11 a.m. to 6 p.m. For $15, get three beer tokens and a 16-oz 8th Wonder souvenir glass; or get a 12-oz plastic cup and pay $10 for three beers or $4 for one.
Buffalo Bayou Brewing Company - The brainchild of Rassul Zarinfar, Buffalo Bayou was founded in 2011 and held its first tours in 2012. Known for brewing traditional styles with unexpected twists, the brewery has gained a loyal following among those who love something a little bit different. Its mainstays include 1836, the "copper ale" named after the year in which Houston was founded, and More Cowbell, an American double IPA. Your summer bet: the Raspberry Rotunde, a Saison that is all about the raspberries.
The Details: The brewery opens its doors on Saturdays for an open house from noon to 3 p.m. $10 get you three tokens and a glass. Purchase tickets online  or at the door. Also open on Fridays from 6 to 9 p.m.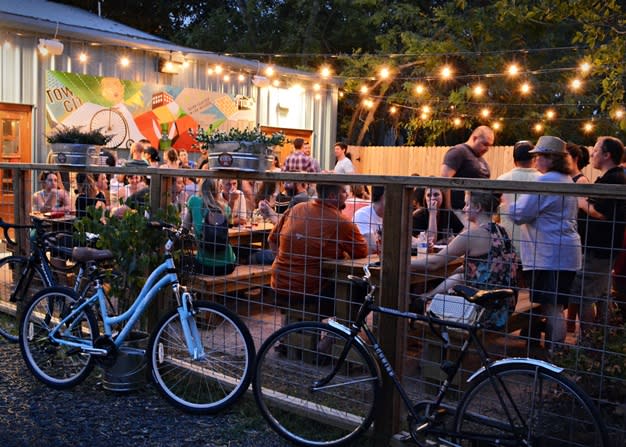 Town In City Brewing – This relatively new Heights brewery is the brainchild of Steven Macalello and Justin Engle, passionate home brewers who opened shop last August. Unlike other breweries, they don't do tours or tokens, instead operating more like a bar. Not sure what to try? Order a City Porter. "It changes people's minds when they see a darker beer. They think it's going to be heavy and too rich and it's light and refreshing," said Macalello. Pub fare is available from the brewery's food truck, which serves dishes such as pretzels and queso, and a brisket banh mi.
The Details: Tap room open from Wednesdays and Thursdays from 3 p.m. to 10 p.m.; Fridays from 3 p.m. to midnight; Saturdays from 10 a.m. to midnight; and Sundays from 10 a.m. to 10 p.m. No tours.
No Label Brewing - Grab your lawn chairs and head out to Katy, west of Houston, for a fun Saturday afternoon of beer, music and food. The family owned brewery opened its doors among old rice silos in 2010 and outgrew its first location two years later. Now operating across the street, No Label brews five year-round beers including El Hefe Weizen, a German hefeweizen, and Ridgeback Ale, a dark American amber, as well as seasonal beers. On tap for summer is Forbidden Lavender, a floral Belgian witbier.
The Details: Monday-Friday 3 p.m.-10 p.m., Sunday, noon to 6 p.m. Saturday noon to 3 p.m. The $10 admission on Saturdays includes four beers and a tour. Kids and dogs welcome.
B-52 Brewing Co. - This Conroe brewery launched by brothers Chad and Brent Daniel celebrated its two-year anniversary last month. Housed in shipping containers and set among a forest, the "outside wooded beer garden" features 60 picnic tables, games and food trucks for visitors to enjoy at their Saturday beer tastings. Among their most popular brews are Wingman Wheat IPA, Payload Pilsner and Breakfast Stout. To beat the heat, the Berliner Weiss is a popular choice.
The Details: Friday 5 p.m.-11 p.m., Sunday noon to 5 p.m. Saturday noon to 6 p.m. Saturday tastings cost $12 for one pint glass and three beers or $8 for a half pint glass and three beers. Outside food is welcome and bottles are sold on site for you to take home.
The Lone Pint Brewery - Located about an hour north of Houston, this family owned Magnolia brewery has built a loyal following since it opened in 2012. A good place to start is with a taste of its Yellow Rose IPA. The beer is known as "SMaSH" for its single malt, single hop recipe and has been consistently named among the state's top IPAs. Also ask about Lone Pint's Zythophile series, brews that explore a single, new hop.
The Details: Open Saturdays from noon to 4 p.m. for tastings and tours. The $10 price tag gets you a pint glass and three tasting tokens. Kid and dog friendly. Food available from local vendors or you can bring your own.
Southern Star Brewing Co. - Head to this Conroe brewery for a taste of their well-known Bombshell Blonde or Buried Hatchet Stout beers. Southern Star started production in 2008 and was the first Texas craft brewery to sell its beer in cans. Last year it opened a new taproom, offering visitors more space to enjoy their line of year-round, seasonal and limited edition beers. Check out their Taproom Series for a taste of their experimental side.
The Details: Visit on Fridays from 4 p.m. to 9 p.m. for $3 beers. On Saturdays, the brewery opens from noon and 6 p.m. A $10 fee gets you a pint glass and three beers, and tours at 2 p.m. and 4 p.m. Sundays bring $3 beers, pizza and games from noon to 6 p.m. Kids and pets welcome.
SpindleTap Brewery - Not even a year old, this brewery 15 minutes north of downtown pays homage to the Spindletop gusher that brought about the Texas Oil Boom. SpindleTap's founders come from the oil and gas business and the brewery is built into a fully functional oil and gas distribution center. The taproom is a lot like a sports bar with 14 TVs and plenty of seating, making it a popular destination during football season. If the loud sports bar vibe isn't your thing, grab a seat inside the brewery or in their outdoor area. SpindleTap's most popular brew, the Honey Hole, is an ESB (Extra Special Bitter) infused with Texas clover honey. "It's been very popular because it's a smooth and easy drinking beer but it's actually quite strong," said Cameron Banks, one of the brewery's founders.
The Details: Taproom open Fridays from 4 p.m. to 9 p.m. and Saturdays noon to 9 p.m. The brewery opens on Sundays only during football season.  $15 gets you three beers and a pint glass. Flights and single beers also available.