Whether you're coming to visit, enjoying a long layover or wrapping up your say in H-Town, treat yourself to a true dining experience when at George Bush International Airport. While eating at the airport is likely not on most people's to-do lists, some of Houston's most notable restaurants and chefs have set up shop for the hungry traveler.
Didn't have a chance to experience a margarita at Cadillac Bar or try the delicious Vietnamese-Cajun fusion food Houston is known for? Fear not! It's all available at the airport.
TERMINAL A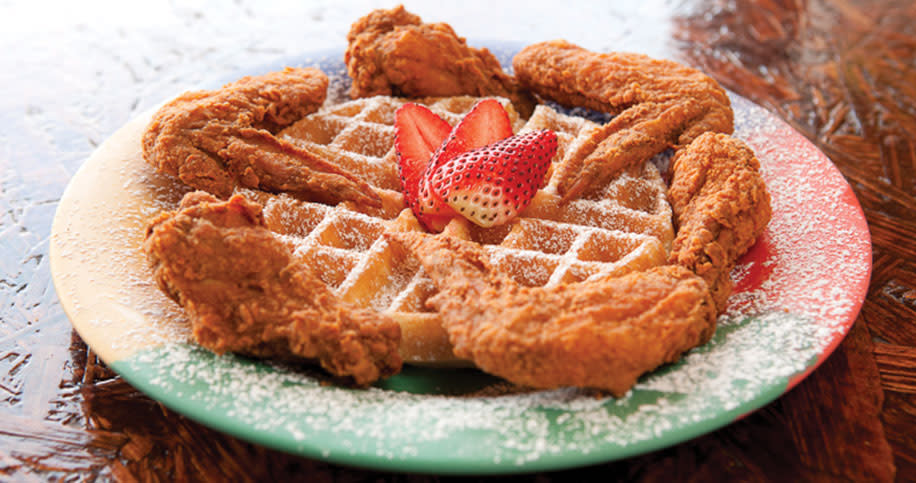 The Breakfast Klub brings the iconic Midtown restaurant's soul food to travelers, serving up breakfast all day with an express counter for those sprinting to their gate. (Gate A1)
Cadillac Mexican Kitchen & Tequila Bar, from Houston-based Landry's Group, serves up Tex-Mex classics, including fajitas, enchiladas and margaritas. (Gate A17)
For a good Houston burger, check out Hubcap Grill & Beer Yard. Its Philly Cheesesteak Burger was voted #5 in Texas Monthly's list of best burgers in the state. (Gate A26)
And while not a Houston restaurant, Mockingbird Distillery & Smokehouse, from the Austin-based distillers of Tito's Vodka, gives you a little taste of Texas with plates of smoked meats and sausages. (Gate A15)
Liquid Provisions is just that, a place to sit and enjoy a libation, featuring cocktails, local craft beer and wine that focus handcrafted and distinct flavors. (Gate A17)
More choices in Terminal A:
Chick-Fil-A - Gate A17
Flights Lounge & Grill - Pre-Security, Houston Airport Marriott
Jack In The Box - Gate A7
Panda Express - Gate A17
Starbucks - Gate A7 and A17
Subway - Pre-Security, Check-In
Wendy's - Gate A17
Which Which - Gate A7
TERMINAL B


Get a taste of Gulf Coast seafood at chef Bryan Caswell's 3rd Bar Eating House in Terminal B. The full-service restaurant serves fresh oysters, shrimp po'boys and fresh fish in a nice setting. (Gate B1)
For Tex-Mex, Caswell's El Real (Temporarily Closed) is a good bet in Terminal B, with plenty of options to sample cuisine from different parts of Texas. (Terminal B Food Court)
Barcüterie (Temporarily Closed) offers a variety of classic American bar food including charcuterie and cheeses, sandwiches, salads, and craft beer. In addition, Barcuterie offers breakfast items served all day. (Gate B21)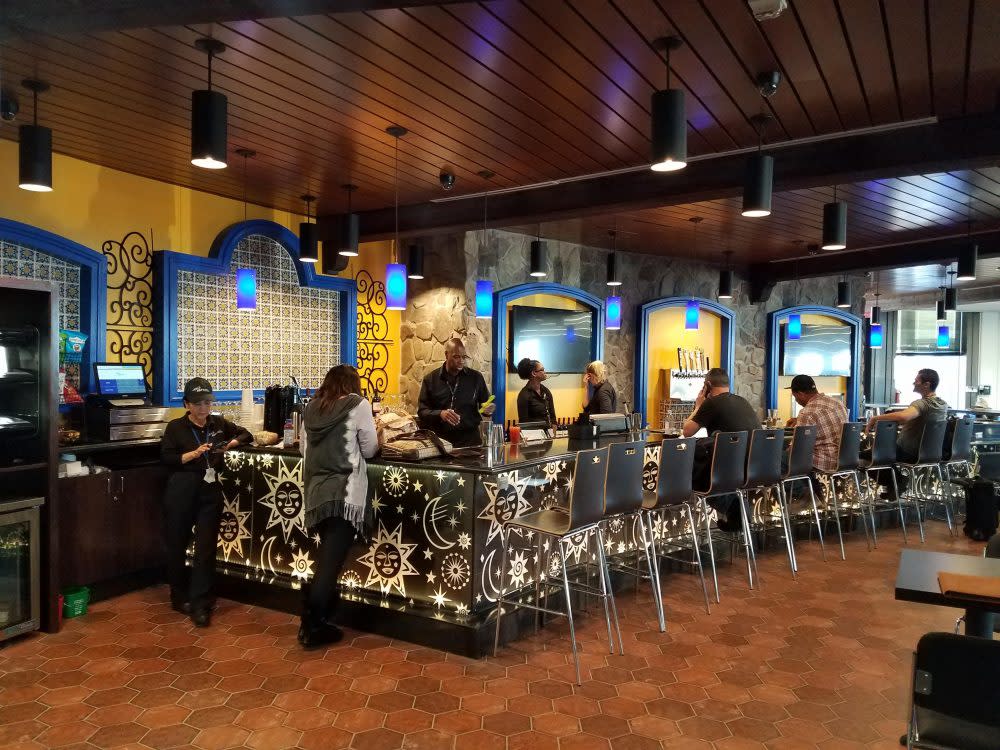 A Houston Tex-Mex favorite for over 30 years, Café Adobe is know for traditional Mexican cuisine with a modern twist of fresh ingredients and authentic recipes in a fun atmosphere. (Gate B88)
For fast bites born in Texas, we encourage guests to head to Whataburger. We strongly suggest a honey butter chicken biscuit. (Gate B1)
More choices in Terminal B:
American Craft Tavern - Gate B63
Bullritos - B1 - temporarily closed
Chick-Fil-A - Terminal B Food Court
CIBO Express Gourmet Market - Gate B1
Freshii - Terminal B Food Court
Hard Rock Cafe - Gate B65
Jason's Deli - Gate B1
Panda Express - Gate B1
Peet's Coffee - Gate B65
Starbucks - Gate B1
 
TERMINAL C


In Houston, restaurants like Bam Bam merge the influence of our large Vietnamese population with Cajun seafood staples. Bam Bam's menu includes grilled and raw oysters, poboys, boudin and gumbo. (Gate C5)
Those looking for a quick bite can also stop by Pink's Pizza, a well-known Houston pizza chain, for a slice. (Gate C42)
Landry's Seafood, a Gulf Coast institution, offers menu favorites like calamari with marinara red pepper remoulade, succulent oysters on the half shell and gumbo. (Gate C42)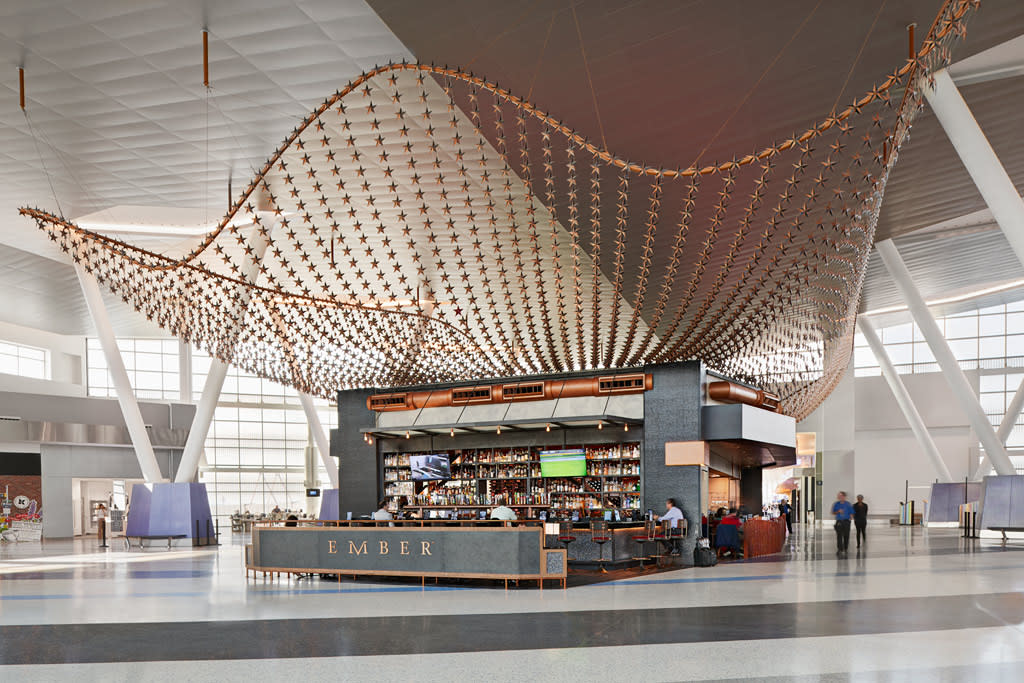 Building on a love of all things Houston, Ember emphasizes seasonal produce, seafood from the Gulf, and locally-sourced meats including hand-cut steaks and Texas-sized burgers. As the brainchild of James Beard award winner Chris Shepherd, you're in for a true Texas treat. (Gate C12)
El Premio Tex-Mex Bar and Grill offers more Tex-Mex favorites like classic queso with green chilies and house-made chips or fresh chicken or skirt steak fajitas served with fresh tortillas. (Gate C34)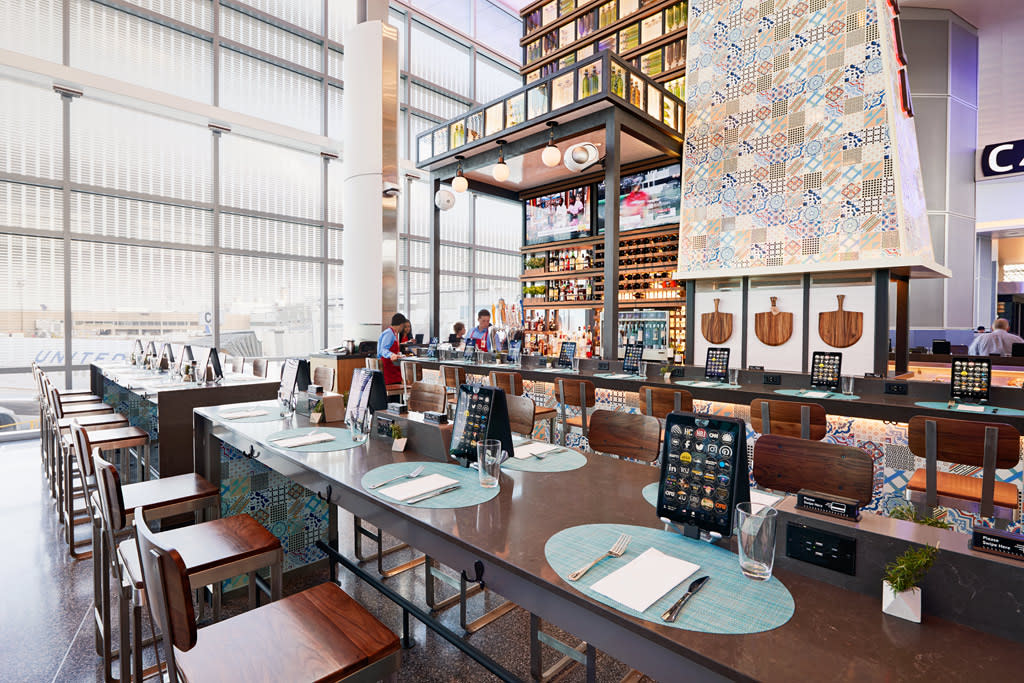 Pala, from Chef Ryan Pera of Coltivare, brings local, seasonal and Neapolitan style pizza, salad, paninis and more to terminal C-North. (Gate C5)
More choices in Terminal C:
Agave Taqueria - Gate C33
Brewster Beer Garden - Gate C43 (Temporarily Closed)
CIBO Express Gourmet Market - Gates C1, C10, C12, C15, C34, C33, &C42
Einstein Bros. Bagels - Gate C42
Forno Magico Neapolitan Pizza - Gate C34
Freshens - Gate C43 (Temporarily Closed)
H-Burger Bar - Gate C33
La Salsa - Gate C42
Potbelly Sandwich Shop - Gate C12 (Temporarily Closed)
Southern Belle - Gate C44
Starbucks - Gates C1, C10, & C33
Stax - Gate C43 (Temporarily Closed)
Subway - Gate C1 and C45 (Temporarily Closed)
Wendy's - Gate C12 & 42
TERMINAL D


Travelers can enjoy award-winning chef Hugo Ortega's authentic Mexican cuisine at Hugo's Cocina (Temporarily Closed). Enjoy dishes like migas and huevos rancheros for breakfast and choose from tacos, tortas (sandwiches) and soups such as pozole for lunch and dinner.
Hugo's Cocina also has a tequila menu to give travelers a taste of a variety of tequilas and mezcals. (Gate D6)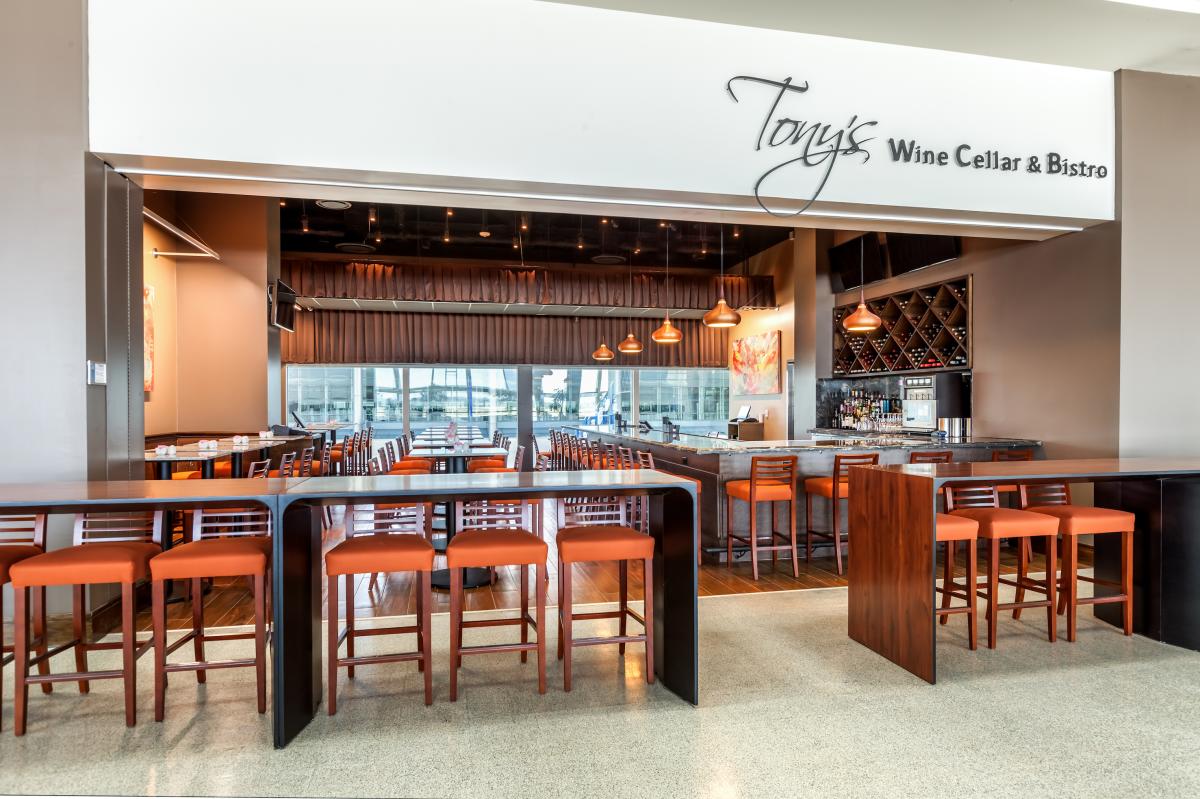 Also in Terminal D, Tony's Wine Cellar & Bistro (Temporarily Closed) serving wine for travelers to enjoy with a salad or sandwich. (Gate D9)
More Choices in Terminal D:
Ciao Gourmet Market - Gate D8 (Temporarily Closed)
Peet's Coffee - Gate D6 (Temporarily Closed)
Red Mango - Gate D6 (Temporarily Closed)
Starbucks - Pre-Security, Check-In (Temporarily Closed)
TERMINAL E


Diners at Tanglewood Grille can enjoy delicious dishes, like hand-cut steaks, build-your-own burgers, fresh seafood and farm-to-table greens, along with classic cocktails and a variety of craft beers. (Gate E23)
Enjoy Italian cuisine through a combination of local foods and traditional family recipes with Gavi's house-made pizza, pasta, and antipasti. (Gate E14)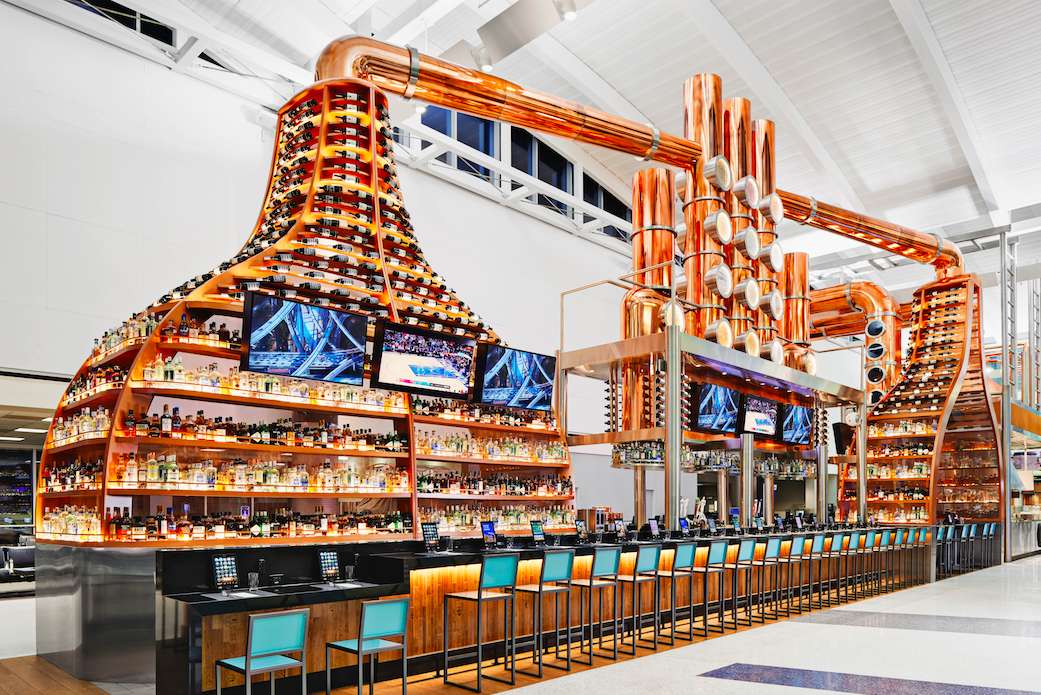 Q, developed by chef Greg Gatlin, includes Texas barbecue staples such as brisket, ribs and Texas sausage. A glass-enclosed smoke room and on-site pitmaster highlight the culture of classic Texas BBQ. (Gate E2)
Head to Pappadeaux Seafood Kitchen if seafood is what you're after or for a more casual meal, Pappasito's Cantina offers solid Tex-Mex cuisine and margaritas. (Gate E3 & E1, respectively)
More choices in Terminal E:
Auntie Anne's - Gate E12
Beerhive - Gate E1 (Temporarily Closed)
CIBO Express Gourmet - Gates E2, E5, E10, E12, E18, E22, & E24
Cinnabon - Gate E12
Custom Burgers - Gate E2
Double Beer & Whiskey Garden - Gate E5 (Temporarily Closed)
Dunkin' Donuts - Gate E11
Einstein Bros. Bagels - Gate E1
Houston Wheelhouse - Gate E19
Nature's Kitchen - Gate E24 (Temporarily Closed)
Nestle Tollhouse - Gate E12
Panda Express - Gate E1
Ruby's Diner - Security Checkpoint
Starbucks - Gates E2 & E24
Tagliare - Gate E1
The Market by Villa - Gate E1
Wendy's - Gate E24
World Nectar - Gate E1 (Temporarily Closed)
Yogen Fruz - Gate E1 (Temporarily Closed)
Yume - Gaet E11
Zori Bistro - Gate E24