It's no secret that Houston has a culturally diverse culinary scene. Visitors and locals rave about easily finding food from all over the world. Yes, Houston's Tex-Mex game is strong, but the city also offers a variety of culinary options from Central and South America, so whether you're craving a taco, a flaky empanada, or a pupusa, you'll find it here. Start exploring with our guide to good Latin American eats.
Airline Drive/Heights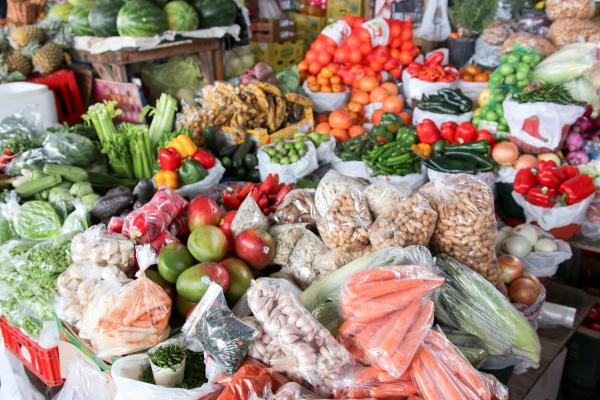 Well known for its produce markets, which date back to the 1940s, this area of town is home to markets, restaurants and bakeries worth visiting. Notably, the Houston Farmers Market, which until recently was known as Caninos Produce, is a destination for shopping for produce and Mexican, Central and South American ingredients, from varieties of chiles to tropical fruit. 
Right across the street, you'll find El Bolillo Bakery, a can't miss Houston institution where you can shop for an endless variety of Mexican breads, cookies, pastries, and sweets. Don't miss the pan dulce or the namesake bolillo bread.
In the mood for Mexican-style seafood? Try Connie's Seafood, a Houston institution since 1979, which serves tasty ceviches and micheladas. Also try Teotihuacan, a casual spot known for great carnitas, fajitas and shrimp enchiladas. 
Downtown/EaDo/East End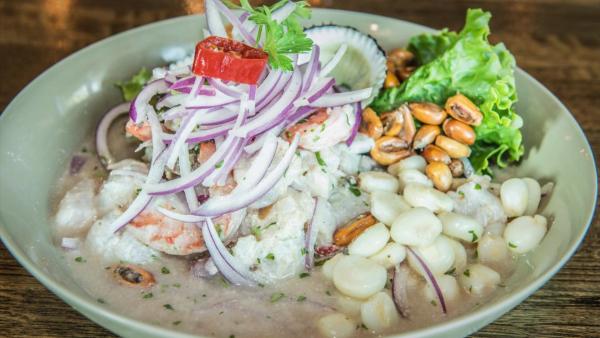 To get a taste of South America in one place, look no further than Andes Café. Chef David Guerrero's restaurant in downtown's Bravery Chef Hall serves a variety of traditional South American dishes, including Peruvian lomo saltado, Ecuadorian hornado (roasted pork leg served with hominy and llapingachos, Ecuadorian potato pancakes), and Argentinian churrasco. 
On Navigation Boulevard in the East End, Ninfa's on Navigation is where fajitas got their start. This lively taqueria with a storied past has been dishing out delicious food since 1973 and serves some of the best fajitas and margaritas on this side of town. 
For Peruvian-style rotisserie chicken, visit the Chicken Station, chef Roberto Castre's fast-casual restaurant in Magnolia Park. Enjoy flavorful chicken with your choice of sides, which include fried yuca, fried plantains, and chaufa (Peruvian-style fried rice).
West Houston/Westchase


In West Houston, visitors will have a hard time choosing among the options available to enjoy Latin American and Caribbean cuisine. On Richmond Avenue before the Beltway, you'll find Colombian food at Mi Pueblito Restaurant. In Westchase, you can enjoy the sweet and savory Argentinian empanadas of The Original Marini's Empanadas. For Cuban specialties like picadillo, ropa vieja and the popular Cubano sandwich, try LaVina on Richmond past Gessner. We love the pupusas at Mama Rosa's Pupuseria, a mom-and-pop restaurant on Hillcroft, where you can enjoy tasty Salvadoran cuisine.
A few others …
For Puerto Rican-inspired food served from inside Dr. Gleem Car Wash, try Sofrito on Ella Boulevard. Its small, fast-casual menu includes Cuban sandwiches, their take on the Puerto Rican sandwich called tripleta, served here with smoked brisket, roasted pork and glazed ham, stuffed fried green plantains, and empanadas. 
In Montrose, stop at Gusto Gourmet for tasty Venezuelan arepas stuffed with all the traditional fillings. Also on the menu: Venezuelan specialties like pastel de yuca, layers of mashed yuca served with shredded cheese and chicken, and pistachio, a Venezuelan-style lasagna.