It's a favorite for kids and adults – after all, who doesn't love a good grilled cheese sandwich? Whether you prefer a crispy grilled cheese with tomato soup or like it with salty potato chips, there is no wrong way to enjoy one of America's favorite meals.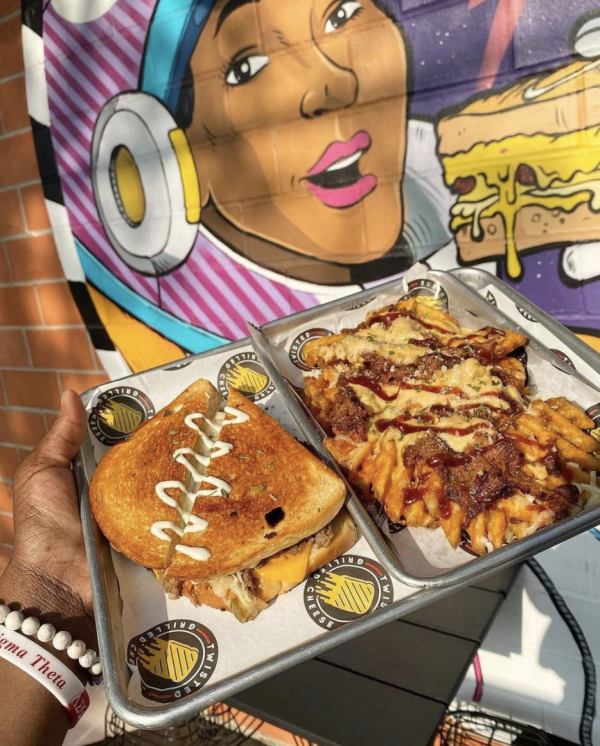 Courtesy of @twistedgrilledcheese on Instagram
Looking for a grilled cheese with a ... dare we say ... "twist"? Twisted Grilled Cheese, a Houston original, offers a variety of grilled cheeses off the beaten path, for those of you looking for a cheesy adventure. Offering sandwiches with all sorts of different melted cheeses, this hot spot throws in smoked salmon, avocados and even truffle mushrooms into their American classics.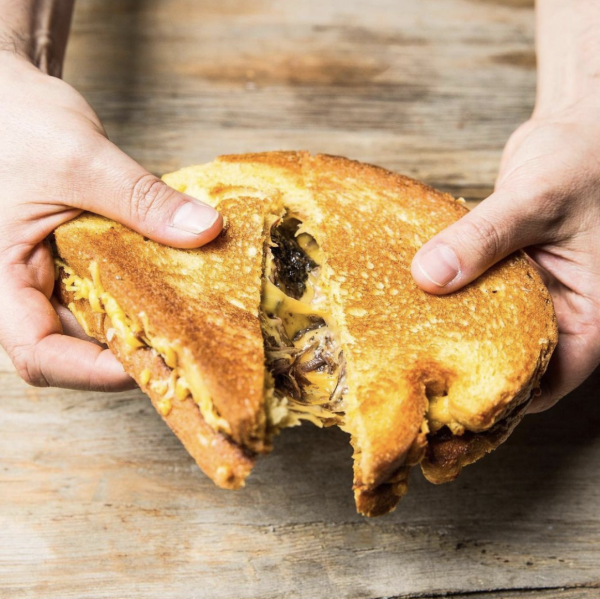 Courtesy of @blackwalnutcafe on Instagram
Located along Rice Village's bustling Morningside Drive, this counter-service cafe has everything from omelets to pastas and sandwiches, but it's their grilled cheese that has a cult following. The Pot Roast Grilled cheese features slow-cooked chuck tender, buttered challah bread and American Cheese.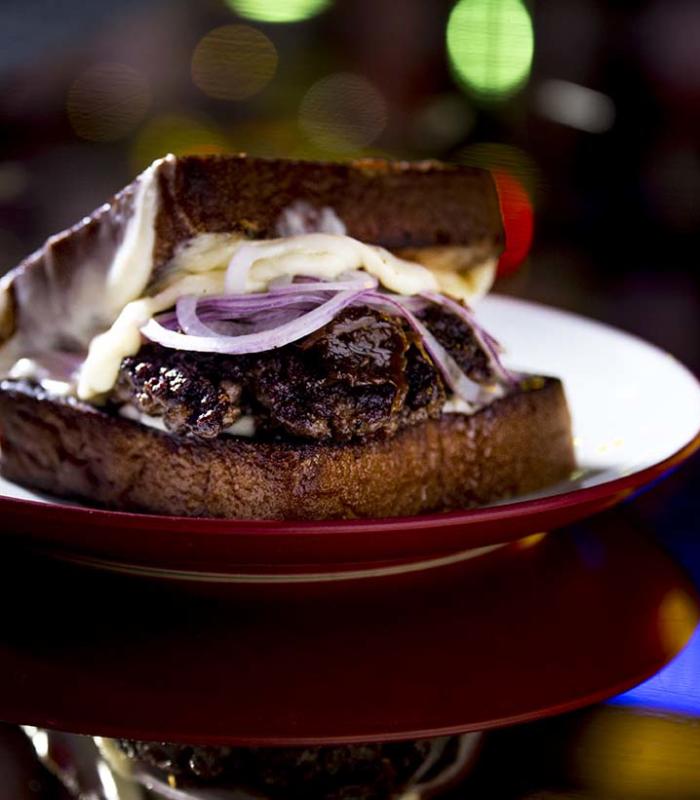 This "neighborhood bar with food" concept takes traditional bar food to the next level. Their twist on the grilled cheese is no different. The BLT Party Melt is  grilled on a house-made Pain de Mie and served with a beef patty, crispy cheese, caramelized onions and thinly sliced red onions.
Brasserie 19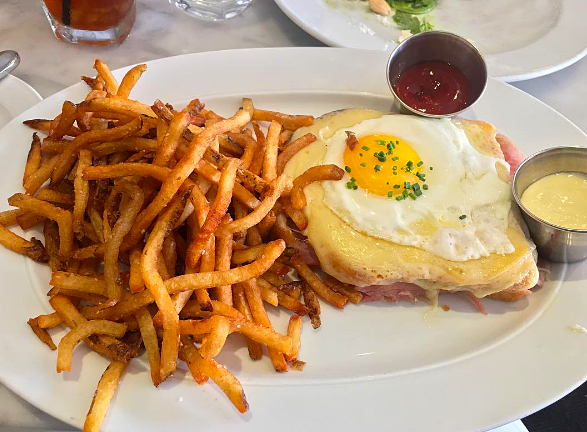 The menu at Brasserie 19 features classic French brasserie fare with modern American influences. You won't find "grilled cheese" on the menu. Instead, keep your eyes peeled for the French version called a Croque Monsieur. This grilled sandwich includes brioche, french ham, gruyere, béchamel and Pomme frites and is served with a farm fresh egg on the side.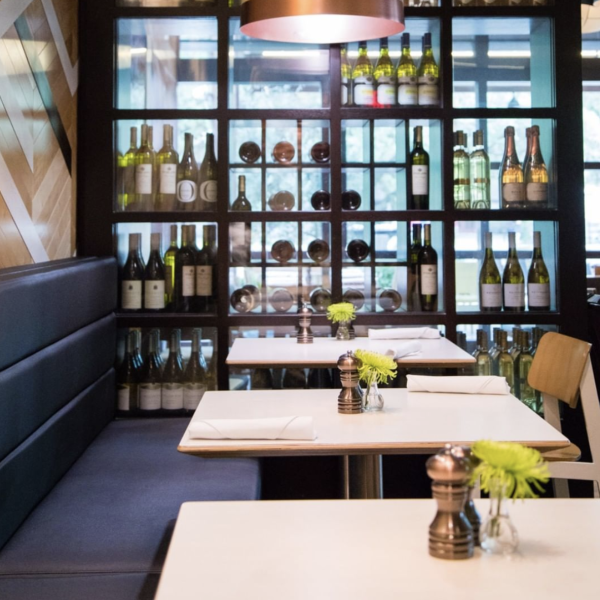 Courtesy of @hungryscafe on Instagram
Hungry's menu is globally-inspired with a healthy twist. For the grilled cheese, they believe traditional and simple is best. American cheese is melted between fresh, white bread and toasted to buttery perfection. You can enjoy it with a side of fresh fruit.
Max's Wine Dive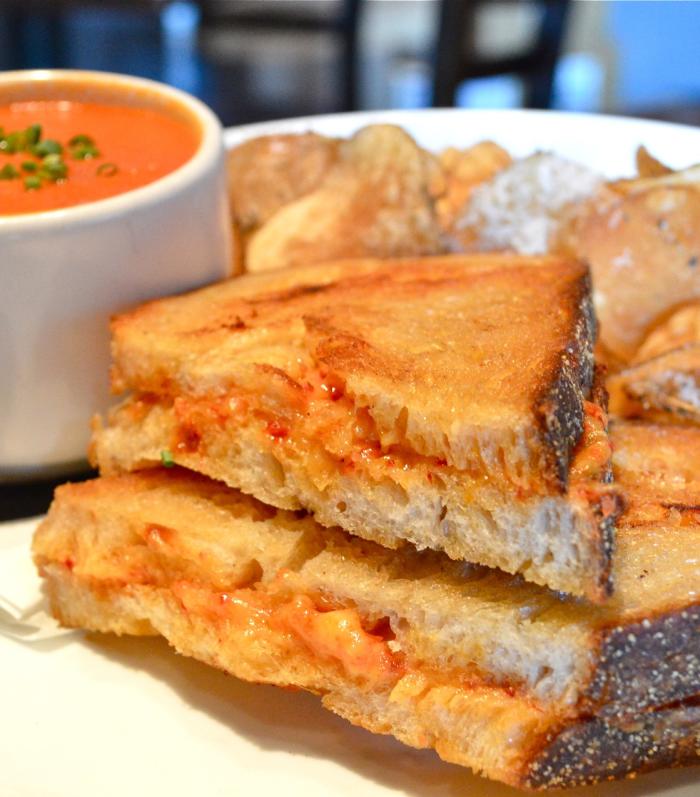 This "upscale dive bar" offers late-night comfort food and a vast wine list. The grilled cheese sandwich features toasted artisan bread, roasted piquillo pepper 'pimento and cheese,' house made tomato basil soup and Wine Dive chips.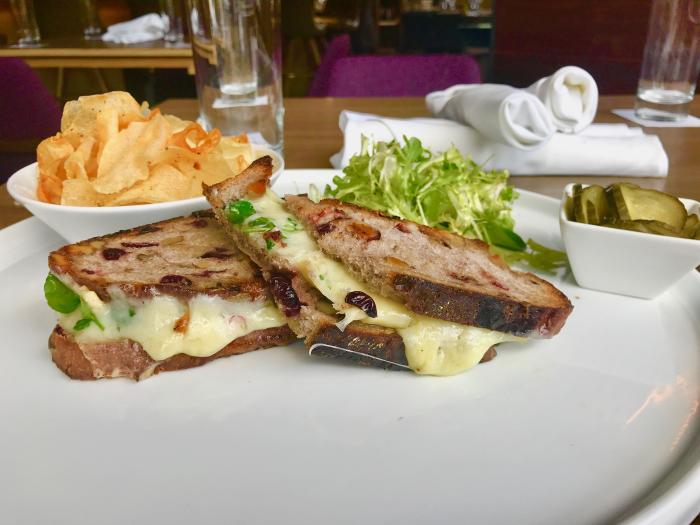 Weights and Measures
Located in a 1950's industrial warehouse, Weights and Measures is a multi-purpose concept that includes a bake shop, a bar and a restaurant featuring seasonal American cuisine. The Guyere Reserve Cranberry Walnut Bread Grilled Cheese includes purple onions and pickles and is served with a salad and chips.
A few other places that offer a stellar grilled cheese sandwich: