Photo Credit: Invitation Solutions

Save the dates and invites give guests their first impression of your wedding day and set the tone for other wedding day essentials like programs, menus and place cards. The look you choose for your paper goods and signage doesn't only create a nice aesthetic for your event, it's also a reflection of you. Nowadays, graphic designers help couples "brand" their event.
"We can create a monogram or some sort of icon that represents the couple and we use that element from the invitation suite to ceremony program all the way to the reception, seating boards, place cards, escort cards," said Kristen Rubin Adcock of Invitation Solutions. "We really try to create a cohesive look from start to finish."
Rubin Adcock and other local experts offered their tips on how to get the "look" you want for your wedding stationery. Monograms are in, by the way, so consider having your graphic designer create one to incorporate into your invitation suite and other wedding materials.
Communicate your vision
Pinterest boards have made it easier for brides to communicate their vision of just about any element related to their wedding day. Graphic designers can use it as a starting point to discuss the look of the wedding and offer suggestions about how to achieve the feel the couple wants while customizing it for their event. The venue is also very telling of the wedding's style, says Rubin Adcock, so it often also serves as a point of inspiration for invites and other printed materials.
Let your invitation be the guide
While you may have lots of ideas and inspiration, Vivian Jade of Vivian Jade Luxury Paper Goods suggests that brides focus on the main invitation first. "Then we carry over to the wedding day essentials so they have a more cohesive theme in their wedding stationery," she said. Any elements you choose for your invitation suite, whether it's a monogram or color palette can be incorporated into any other items you'll use on your wedding day. The main invite communicates your wedding's vision, however, so start there.
Weigh your options
Today's invitations can get so creative that prices can range anywhere from $2 to $50. Says Jade: "Do they want something that folds up or opens up? Are they drawn toward pocket invitations? Are they drawn to sparkly, glitter? What's their style?" Every aspect of your printed goods can factor into cost -- from paper to envelope liners to printing style. Letterpress printing is going to cost more than thermography and shiny paper more than regular cardstock. Think about what you want and let your designer guide you about what can be done within your budget.
Consider calligraphy
Calligraphy has been enjoying a resurgence, said Megan Grant of Meg Grant & Co., and we're not talking just to address invitation envelopes. Brides use calligraphy on signage, menus, seating charts, escort cards and hashtag signs. This can bring in a unique design element to your wedding day. Some calligraphers have a very distinctive style that may fit into the overall look of your wedding. Others try different styles and fonts, offering couples versatility.
Go beyond paper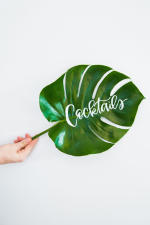 Paper is classic but how about having a seating chart calligraphed on transparent acrylic or bar signs calligraphed onto a palm frond? Using materials other than paper can put a personal stamp on your event. "It elevates the look of something to a different level," said Grant. "That's not to take away from a traditional, elegant escort card. It's a unique way to add an element that's a bit outside of the box." Rubin Adcock says bringing in other materials helps unify your wedding look. If you're having a rustic wedding, for example, you can bring in wood accents, coasters and seating boards. Going this route can up your costs -- Grant's calligraphed welcome signs run from $25 to $50 a piece not including materials -- but if you have the budget, it'll add a layer of interest to your wedding day look.