Bust out the sparklers and get ready to don your red, white, and blue because it's almost America's birthday, and we're ready to celebrate…how about HOU?
That's right, July 4th is upon us, and there's no shortage of things to do in Houston and our surrounding cities. From The Island to The Woodlands, we've got all the activities you need to plan the perfect Independence Day adventure.
We'll start the festivities off right here in Houston, where the annual Shell Freedom Over Texas is set to return in full firework force! After two years of a reimagined event, attendees are invited to celebrate America's birthday with a host of festivities, including the Walmart All-American Kids Zone, the Bud Light Seltzer Summer Sizzle, the Dr. Pepper Cool Zone, and so much more. Live music from local, regional, and national artists will pulsate through Eleanor Tinsley and Sam Houston Parks all evening long, leading up to an exciting fireworks finale to conclude the bash. Not only does 2022 mark the return of this beloved annual event, but it also marks the 60th Anniversary of NASA Johnson Space Center's presence in Houston. To commemorate, Johnson Space Center is bringing an exclusive Space City Experience to Shell Freedom Over Texas attendees. This Texas-sized celebration is sure to be one for the books!

Sam Houston & Eleanor Tinsley Parks
1000 Bagby St. & 18-3600 Allen Pkwy
4:00 pm. – 10:00 p.m.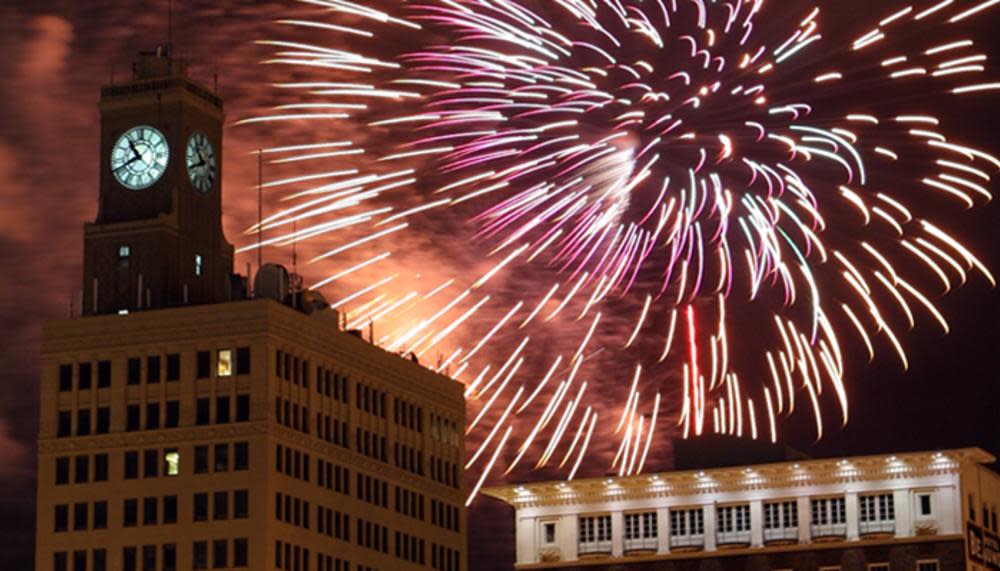 Next, let's head east, where Downtown Beaumont's Event Centre will spark to life this Independence Day with fireworks, live music, and more. Cool off at the Budweiser beer garden and grab a bite from one of the eclectic food trucks. Then throw down your favorite lawn chair and prepare to be dazzled by an exciting firework display. Need to entertain the kids while you wait? Families will enjoy the Rotary Centennial Playground and other kids' activities on the opposite side of the lake. Lawn chairs, blankets, and coolers are permitted but remember to leave the outside alcohol at home.
Beaumont Event Centre
700 Crockett Street
Beaumont, TX 77701
5:00 pm. – 9:30 p.m.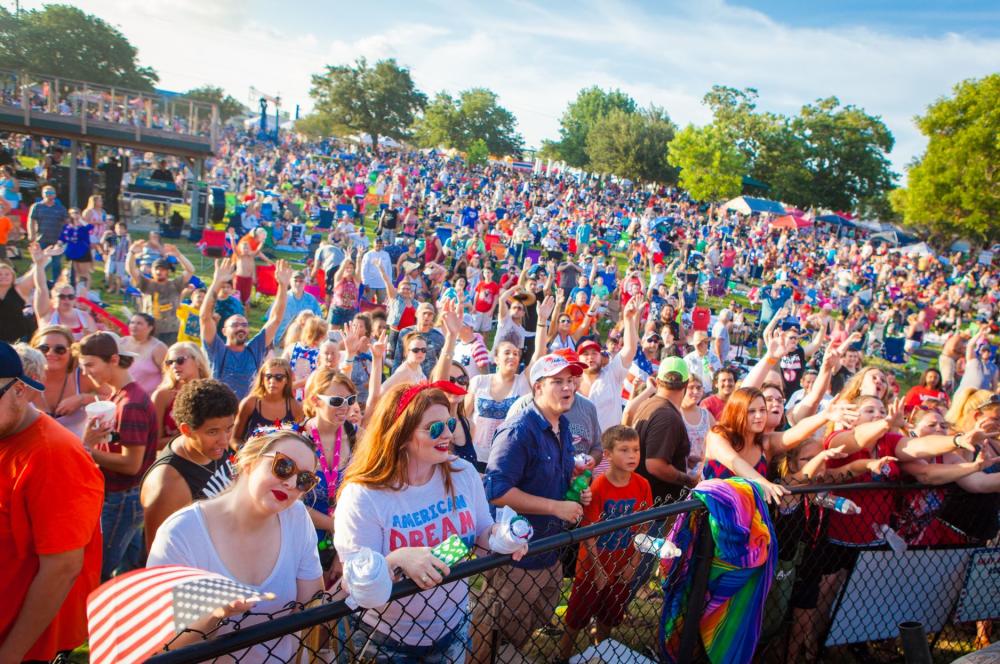 If you're looking for an entire weekend of festivities, Baytown's Independence Day Celebration has you covered with not one but two full evenings of live entertainment! The Spazmatics arrive in Bicentennial Park on July 3rd at 6:30 p.m. to heat things up. Heat things up? We get it; in these temps, you'd probably rather be cooling down. Then stop by a local food vendor and grab a drink with plenty of…ICE, ICE, BABY…Vanilla Ice, to be exact! Yep, the one-and-only Vanilla Ice takes the stage at 8:30 p.m. to get the crowd jumping. On Monday, the party kicks off at 4:00 p.m. with musical artists, including The Band Perry, the annual parade, and, of course, a sensational fireworks display. 
Bicentennial Park
1001 Market Street
Baytown, TX 77521
July 3rd 6:30 p.m.
July 4th 4:00 p.m.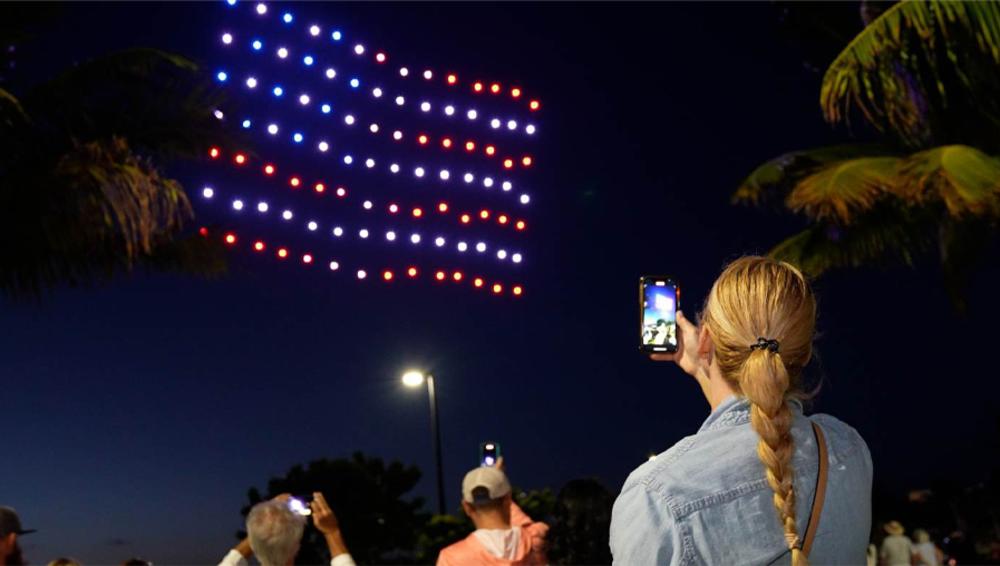 Our friends on Galveston Island are completely re-imagining their 2022 patriotic celebration with a one-of-a-kind Fourth of July Drone Show Over the Gulf! That's right, the concerns of falling debris and limited beach access are long gone. Galveston's futuristic light display lasting approximately twelve minutes will include twelve custom formations—fireworks, patriotic images, and sea creatures! Located at 37th & Seawall, the event follows the 4th of July Parade and lifts off with two hundred drones at 9:00 p.m. and again at 10:00 p.m. 
Seawall Beach
37th & Seawall
Galveston, TX 77550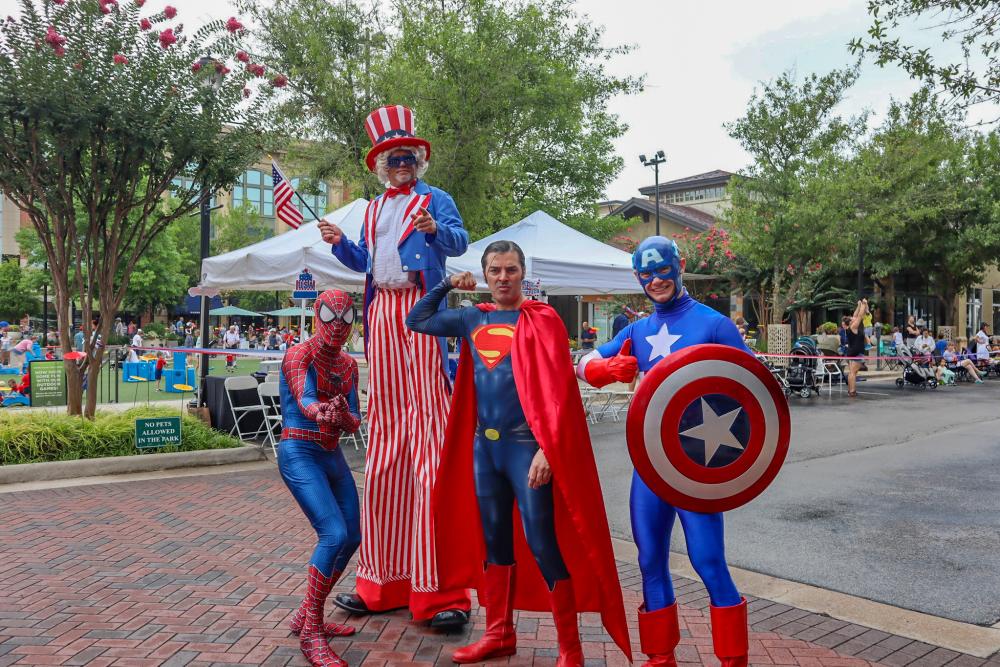 Head up north to enjoy a variety of Fourth of July Celebrations in The Woodlands. The Houston Symphony lets freedom ring on July 3rd with the return of the Star-Spangled Salute, a free Independence Eve concert taking place at the beloved Cynthia Woods Mitchell Pavilion. Wake up early on July 4th to find the perfect spot for the South County Fourth of July Parade starting at 9:00 a.m. Filled with marching bands, fire engines, and floats, the parade route weaves its way through multiple sites including Market Street and Town Green Park. Later that evening, the Red, Hot, & Blue Festival featuring a variety of activities throughout The Woodlands kicks off at 6:00 p.m. The evening concludes with the 18-minute Fireworks Extravaganza launching at approximately 9:30 p.m.
Star-Spangled Salute
The Cynthia Woods Mitchell Pavilion
2005 Lake Robbins Drive
The Woodlands, TX 77380
South County 4th of July Parade
Market Street & The Woodlands Town Center
2099 Lake Robbins Drive
The Woodlands, TX 77380
Red, Hot, & Blue Festival
Town Green Park
2099 Lake Robbins Drive
The Woodlands, TX 77380