Ready for the Big Game this Sunday? The Tampa Bay Buccaneers face the Kansas City Chiefs in Tampa Bay during Super Bowl LV, and you can catch all the excitement at these Houston establishments. Prefer to stay home? We've also included some irresistible to-go options for your at-home Super Bowl spread.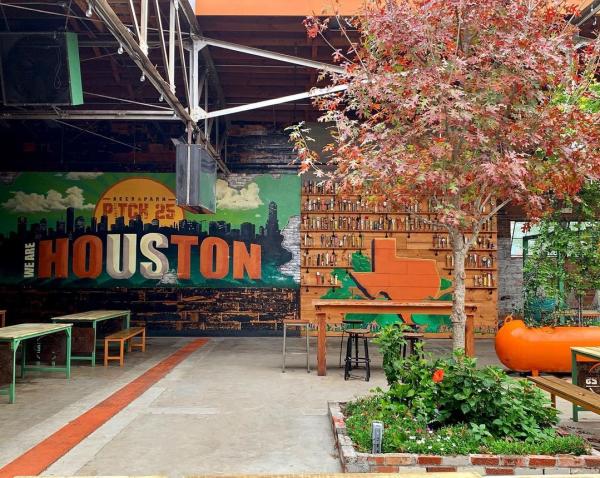 Courtesy of @Pitch25htx on Instagram
It may be known for its soccer theme, but Pitch 25 is well equipped for Super Bowl Sunday. With ample seating outdoors and a large interior space with plenty of TVs, it's a good spot to watch all the action. Get there early to grab a seat and enjoy beer and bites. You may just win some cool raffle prizes!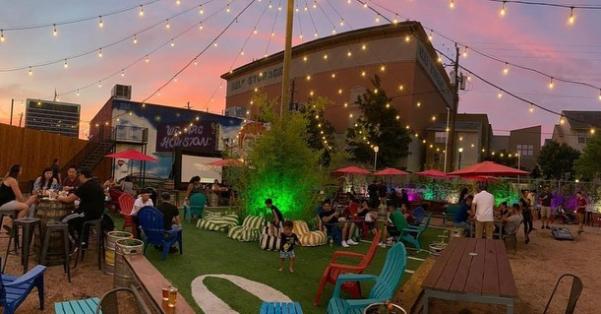 Courtesy of @socialbeergardenhtx on Instagram
This Midtown beer garden's patios feels almost like your own backyard. Claim a bean bag or seat at a picnic table and watch all of Tom Brady's moves on the big screen. Social Beer Garden will have bucket specials starting at 4 p.m. and food from Le Créole La Vie Chicken & Beignets food truck.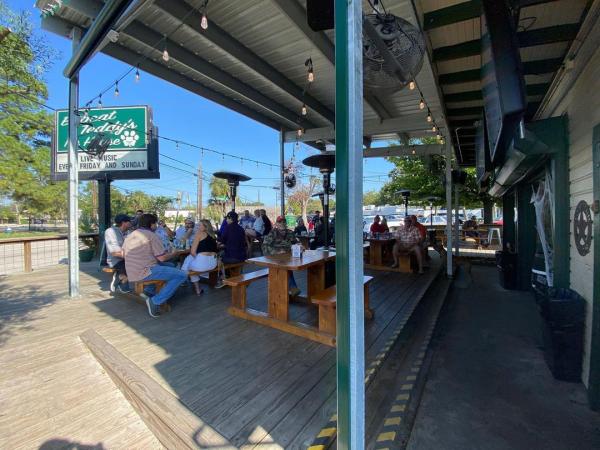 Courtesy of @bobcatteddys on Instagram
Head over to Bobcat Teddy's for a "Super Boil Sunday." That's right, this Heights ice house has paired football and crawfish for a fun-filled Sunday. Get there starting at noon to enjoy mudbugs from Bagzz of Bugzz Crawfish and live music from Chris Goodwin starting at 1:30 p.m. You'll be ready for kick-off and the big game, which will be shown on TVs and a large blow-up screen in the parking lot.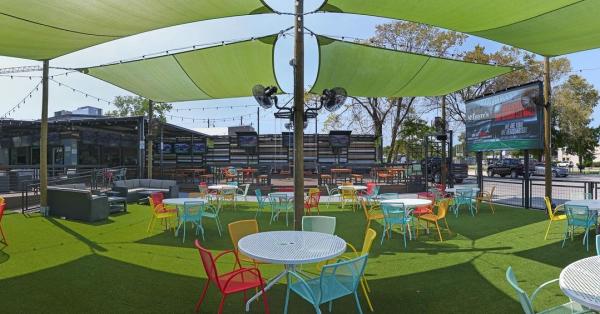 Courtesy of @mcintyresheights on Instagram
With more than 60 high-definition TVs, a 187-inch LED wall, and plenty of outdoor space and seating, you won't miss any detail of the game at this Shady Acres bar. Plus, you'll have plenty of options from its ample selection of 50-plus beers (24 on tap), wines, and signature cocktails, as well as grub by some of Houston's best food trucks.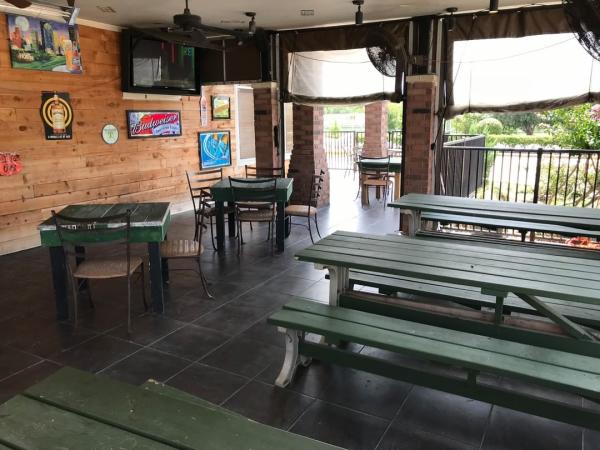 Courtesy of @luckyspubwest on Instagram
Lucky's Pub West
In West Houston, Lucky's Pub is celebrating Super Bowl Sunday with its first crawfish boil of 2021. Bayou City Boilers will be on hand with crawfish and shrimp by the pound. Plus, you'll enjoy drinks specials and music before and after the game. Table reservations are available.
---
At Home
There's something to be said for watching the game at home in the comfort of our PJs, but why not make it extra special by ordering food from Houston's restaurants. Here are six options to whet your appetite.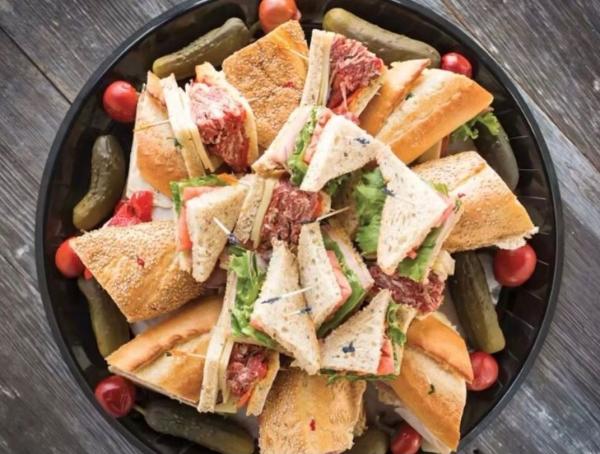 Courtesy of @bbbutchers on Instagram
The Butcher Shop at B&B Butchers
Sandwiches, meat and cheese boards, Wagyu burgers and hot dogs are all on the Game Day Grub To-Go Menu at B&B Butchers. Order at least 24 hours in advance. Pick up available until 4 p.m. on Super Bowl Sunday.
For $150, enjoy a pint of red salsa, guacamole, and queso, one dozen mini chicken flautas, one dozen beef fajita sliders, and one dozen chicken adobo skewers. Add a gallon of margaritas for $85 and you're ready for game day! Packages are also available at Ninfa's Uptown location.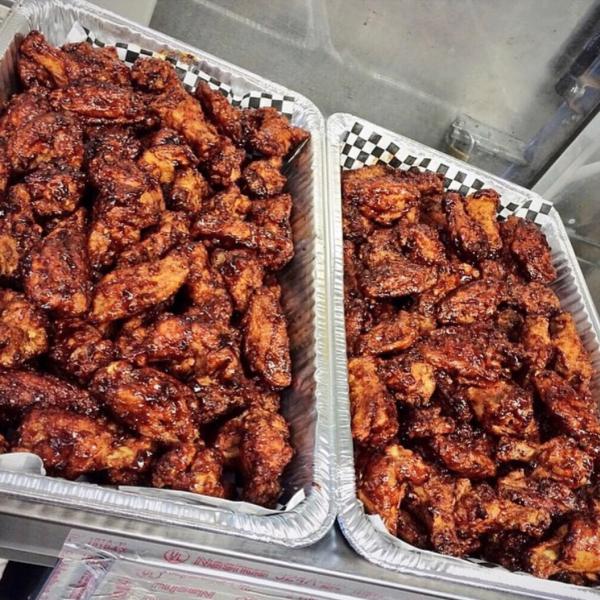 Courtesy of @stickyschicken on Instagram
No Super Bowl is complete without chicken wings, and at Sticky's chicken if you buy one tray, you get the second one half off if you pre-order by Friday, Feb. 5. Choose your favorite flavor from Asian Tings, SLAB (Spicy Loud And Bangin'), Shallot, and Original Sticky's in quantities of 25, 50 and 75 pieces. 
Craving something sweet? This local bakery has you covered with its game day options, which include Super Bowl decorated butter cookies, chocolate-dipped pretzels, and Touchdown Cupcakes.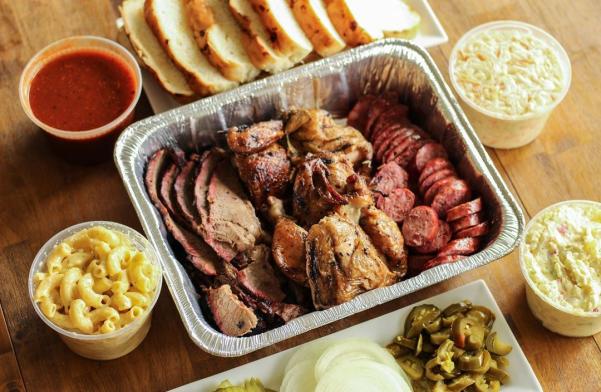 Courtesy of @goodecobbq on Instagram
Goode Company Barbecue Party Packs are a great choice for your game day meal.  Each pack includes a choice of meat –brisket, pork ribs, smoked chicken, sausage, turkey breast or ham – and sides, including cole slaw, pinto beans, jambalaya, potato salad, mac-n-cheese, potato salad and more! Available in packs for four, six and 10 people. Available at the Katy Freeway, Kirby and Six Pines Drive locations.
Pondicheri
Celebrate Super Bowl with Pondicheri's tasty Super Bowl Sunday menu. On offer are Madras chicken wings, vindaloo ribs, and naan pizzas with seasonal masalas, veggies and meat. Want it all? Order the Game Night Package for four, which includes Kalonji lamb chops, Madras chicken wings, Desi fries, naan pizza, dal, ranch raita, and more. Orders must be placed 24 hours in advance. Guests can pick up food at noon or 2 p.m. on Super Bowl Sunday.
MAKE IT A STAYCATION!
Tired of looking at the same four walls? Book a night at one of Houston's top hotels for a nice change of scenery. The city's hospitality industry has committed to making guests' safety their top priority. Before you book, check out these Houston hotel deals.