Southern by nature, spicy by virtue, and delicious by all standards. Soul food is the ultimate comfort food. The depth of flavors in the seemingly innocuous ingredients is an art form that few can master. Ham hocks, chitterlings, smothered oxtails and mac and cheese, catfish, okra and lima beans round out some of the usual soul food suspects.
To bring out the best in Houston soul food, enjoying soul food with friends and family is a must. In fact, families run a number of Houston soul food restaurants and some patrons swear you can taste the love in each dish. Below are a few of our favorite restaurants to enjoy hearty home cooking.
Esther's Soul Food and Cajun Café serves up daily specials such as shrimp and crawfish étoufée and smothered Cajun pork chops. Esther also opened a new restaurant, Esther's Signature boasting a true soul food brunch. Guests will find chicken and waffles and one favorite: fish and cheese grits with buttery toast. Don't be surprised if you run into someone who is related to "Queen Esther" because most of her family works both the front of the house and the back.
Mikki's Café Soul Food Restaurant has been serving the Southwest side of Houston since 2000. The family-run restaurant was founded by Jeanette Williams and her children. Menu items include smothered pork chops covered in thick, rich brown gravy and served over white rice. The ox tails are seasoned to perfection and include three sides. Side item choices include collard greens, mac and cheese, candied yams, broccoli cheese rice casserole, green beans, okra and tomatoes, red beans and more. Talk about comfort food. Mikki's Famous Fried Catfish is served on Friday and Sunday only, so mark your calendars!
What's in a name? For the Turkey Leg Hut, their name is part of their signature dish. Turkey legs reign supreme at this restaurant with slow smoked turkey legs that you can stuff with homemade dirty rice or kick up the flavor with one of their many sauce options. They even offer a Hennessy or Ciroc Mango glaze. Further, there's the Cajun classic boudin or the deep fried boudin balls, which are not to be missed. Of course, what's a soul food menu without fried catfish, which is served with their seasoned waffle fries. We think you'll agree that this is food that's good for the soul.
This Is It was founded in 1959 in the Freedmen's Town area of Houston and dishes out delicious soul food to a diverse mix of customers. On any given day, you'll see the restaurants regulars to politicians and out of town guests who heard about the restaurant's legendary soul food. Started by over 60 years ago by Frank and Mattie Jones, This Is It is now run by grandson Craig Joseph. Menu specials include fork tender braised ox tails with two-time "People's Choice" award-winning baked macaroni and cheese, and slightly sweet cornbread muffins. Don't forget to try the banana pudding!
Taking soul food and giving it a unique twist, is Kulture, located on Avenidas de las Americas in Downtown Houston. Kulture explores food, spirits, art and music through cultural contributions of the African diaspora, including the southern states and Carribbean. Guests can expect exciting changes to the typical spices and ingredients usually associated with soul food. However, not straying too far, guests can still enjoy shareable plates of fried okra and pork skin cracklin' or indulge in entrées like the oxtail ragout or chicken with friend crawfish popover. Rounding out the menu are classic desserts like bread pudding and buttermilk pie.
If you don't know Chef Jonny Rhodes of Indigo, then you're in for quite a treat. His much-acclaimed restaurant opened in 2019 and has garnered quite a following in a short period of time. Indigo's nightly tasting menu melds ingredients used in the 1700s by slaves whom were brought over to settle the USA, and even employs primal cooking methods of pickling and live fire which were used during aforementioned time period. If  you're looking for a soul food experience that tells a story, make your reservation now.
Krab Queenz
Fried shrimp and fish, Cajun rice, lemon pepper fries, and, you guessed it - snow crab legs. Did we just list off our favorite menu items at Crab Queenz? You bet.
One thing is for sure: if you're looking to indulge in some truly authentic soul food/seafood offerings, this Beltway 8/Westheimer-located restaurant is calling your name. We haven't tried it yet, but everyone is talking about their fried lobster and waffle ::drooling::. And, the rave reviews don't stop at the food. The beverage selection takes southern creativity up a notch with inventive daiquiris and the signature Hennessy Float - a crowd favorite.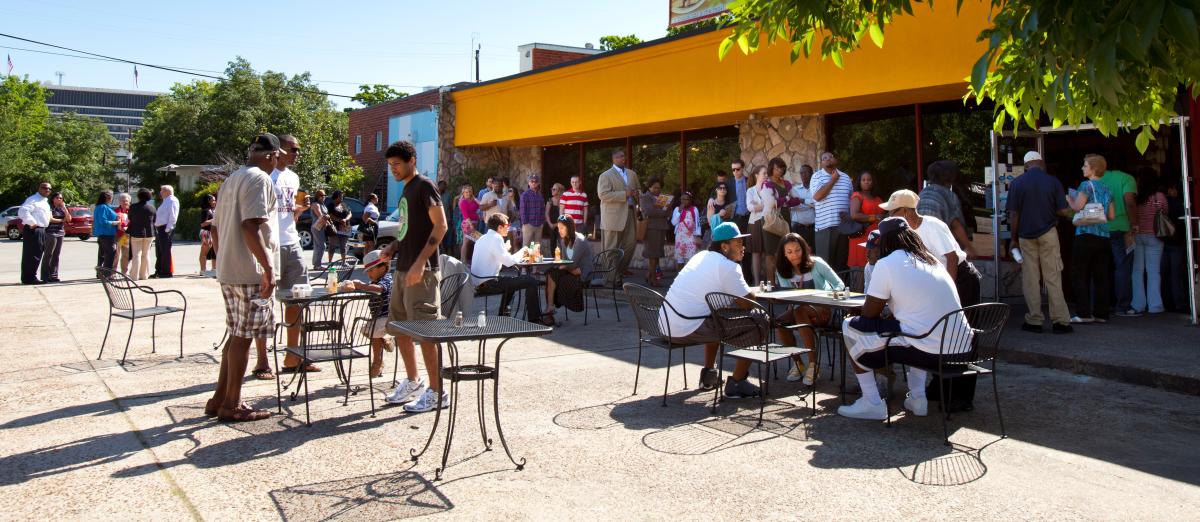 What is there to say about TBK that hasn't already been bragged about in their 4,000+ Yelp reviews? This Houston institution knows how to please the crowds that wait in line around the corner during much of the day. The chicken and waffles are obviously the must-try - a fluffy waffle topped with crunch fresh-fried chicken, and sliced strawberries - a delicate balance. Another favorite has to be the Fried Catfish, which is the namesake of the restaurant's Instagram handle, @Katfishandgrits. Leaving the bar late at night and need some munchies? TBK is open until 3 a.m. on Saturday and Sunday morning. #ProblemSolved
Soul Food Vegan
It's so easy to classify all soul food as indulgent, awe-inspiring in size, and not part of your daily plan for a healthy diet - that's where Soul Food Vegan comes in. Located just south of Downtown Houston, this unassuming mom-and-pop restaurant is taking classic southern recipies and adding a lighter touch. Our favorites? The cashew alfredo pasta, mushroom po' boy, and the cajun beyond burger. It's not just good for the soul, but also for your new year's resolution.
Alfreda's Soul Food
This Museum District cafeteria knows how to bring the flavor - ooh wee. Let's just take a moment to admire the smothered turkey wings. Something so simple elevated by showering the dish with their special gravy, which puts a smile on your face after each bite. As for their side dishes, the top picks have to be the mac and cheese, yams and string beans. Yes, it's like thanksgiving all year round. Looking for some a bit more 'grab and go'? Well, you can grab one of their huge turkey legs and... go. lol