One perfect day in downtown Houston wouldn't be complete without taking advantage of some of the great food options the city has to offer. From early morning breakfast to late night drinks, we've got you covered for a tasty 24 hours in downtown Houston.
Breakfast
Ciao bella! A perfect start to the day is grabbing breakfast at Café di Firenze before heading into the office. This quaint pastry and panini shop is reminiscent of the Italian city of Florence, where high-end coffees and homemade meals are revered. If you really want to feel like you're on a trip to Europe, pair a Bamboloni (stuffed Italian donut) with any one of the hot designer coffees, iced lattes or brewed teas.
Other breakfast options: Local Foods, Quattro or La Calle Tacos
Lunch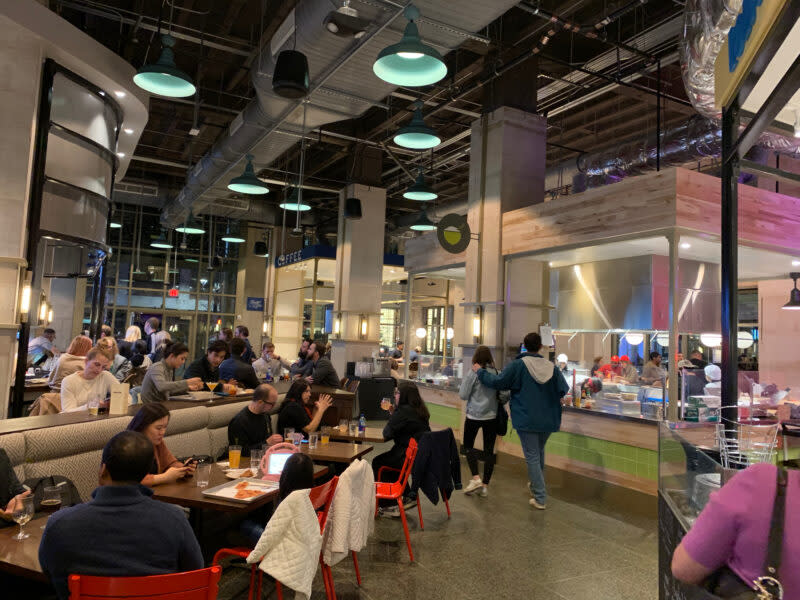 Food courts are so 1990s, but food halls are the newest rage, and when your tummy starts grumbling for lunch, Finn Hall has your covered. Located in the heart of Downtown Houston, this food hall includes nearly a dozen eateries and two full bars, all independently operated. The eating establishments include Craft Burger, Amaya Coffee, Dish Society, Goode Co. Taqueria, Low Tide, Mala Sichuan, Oddball Eats, Sit Lo and Yong. So whether you have a hankering for all-American fare or something more exotic, you'll have a good selection from which to choose for lunch. Let your taste buds go on tour with a visit to Finn Hall.
Other lunch options: The Grove, Hub Cap Grill or Conservatory
Happy Hour
When it's time to let your hair down and kick up your heels a bit, head over to Kulture. This swanky downtown spot offers as much in atmosphere as it does on its menu. From 4 to 7, Monday – Friday, you can choose from domestic, imported or local beer, wines from South Africa or specialty cocktails including the popular pomegranate mojito. Take advantage of Kulture's food specials from its Caribbean-Southern menu while you people watch through the floor-to-ceiling windows.
Other happy hour options: Moonshiners, Xochi or Bardot
Dinner
You've never had Mexican food like this before. For an experience that's out of this world, take a trip to the award-winning restaurant La Fisheria for dinner. The Mexican and seafood fusion pairs coastal cuisine with various seafood dishes for an extensive offering of soups, salads, entrées and even gluten-free options. Save room for dessert or one of their signature cocktails.
Other dinner options: Irma's or Azuma
Late Night
Not ready to head home? Make a stop at Frank's Backyard, a unique, casual whiskey bar that feels like you're… well… in someone's backyard. Wood benches on grassy lawns and flat screen TVs provide the ambiance while fans help keep you cool in Houston's night air. We hope you're thirsty because their drink menu reads like an encyclopedia of spirits, wine and beer. Frank's is open until midnight Sunday – Wednesday and until 2 a.m. Thursday – Friday.
Other late night options: El Big Bad or Shay McElroy's