Peanuts and popcorn are great snacks for any other ballpark, but this is Houston, a town known for its big appetite and even bigger offering of delicious food. Hot dogs, burgers, wings and barbeque are all on the menu at Minute Maid Park. And you wouldn't be in Houston if you didn't try a few Tex-Mex options. So get your taste buds ready! We're sure this list will hit a home run.
Your taste buds can take a trip to Italy from right here in Houston by visiting Osso and Kristalla in section 226. Italian cuisine is on the menu with personal-sized pizzas made fresh right at the ballpark. You can also get Astros game day specials on select beers for just $5.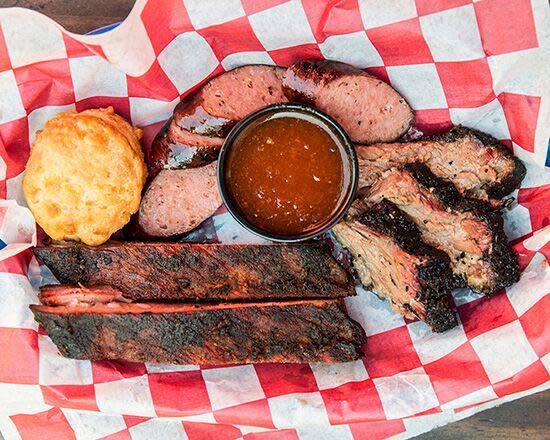 No visit to H-Town is complete without some good ole Texas barbeque. Stroll over to section 124 where Jackson Street BBQ serves savory brisket, ribs, chicken, and pulled pork along side loaded baked potatoes and friend macaroni and cheese.
Get ready to loosen that belt buckle a bit when you visit Torchy's Tacos for a Texas take on ballpark hot dogs. The popular .45 Express is an all-beef Nolan Ryan hot dog served like a taco, complete with tortilla strips, cheese, pickled jalapenos, sour cream and event hot Cheetos. This is one treat you won't soon forget.
Since its opening in 2011, Karbach Bar has become a well-known brewery in Houston. You can head over to section 404 to fill your cup with draft beer from renowned brewmaster Eric Warner. Karbach's new Love Street Bar located behind home plate has just what you need to quench your thirst.
Dippin Dots
It gets hot in Houston, so what better way to cool off than a visit to Dippin Dots for some ice cream? Give your taste buds a break from the savory and spicy and try the sweet and sentimental with over two dozen flavors that'll take you back to your childhood. You'll find Dippin Dots in sections 105, 156, 409 and 430.
Just like everything else in Texas, we go BIG when it comes to food. Be sure to stop by the Astros concession stands while watching the 'Stros bring home the win. We'll see you at the ballgame.