Looking to make an authentic Mexican dish at home? Let award-winning chef Hugo Ortega show you how to make Arroz a la Tumbada Negro, a coastal Mexican-inspired seafood with rice dish from Veracruz, Mexico. If you've tasted this dish at his restaurant Hugo's in Montrose, you know it's delicious! Here's Chef Hugo Ortega's recipe for you to enjoy.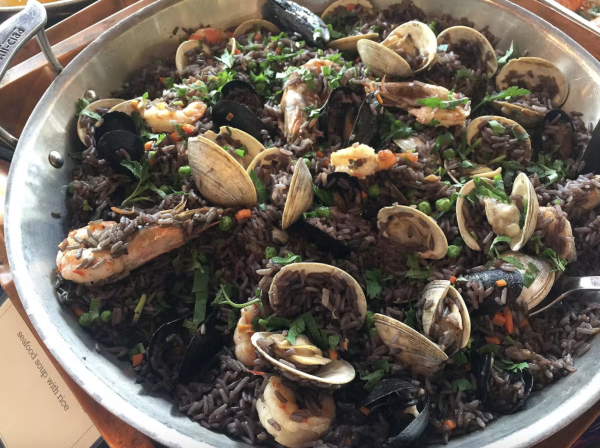 INGREDIENTS (for 2 servings)
4 Tbsp. olive oil
8 medium mussels
8 medium clams
4 scallops 
6 U-10 shrimp, head on 
3 Tbsp. white onion, medium dice
1 tsp. garlic, chopped 
2 cups black bean rice (recipe follows)
2 epazote leaves 
2 cups fish or shrimp stock if using warm, fresh cooked rice, 2-1/2 cups of rice cooked in advance 
1/4 cup green peas
1/4 cup carrots, small dice
Salt & pepper to taste
2 Tbsp. cilantro, chiffonade  
DIRECTIONS
In a large skillet, heat olive oil until almost smoking. Add mussels, clams, scallops and shrimp and sauté for 2 minutes. Add onion and sauté for 30 seconds. Add garlic and cook for 30 seconds. Add fish broth, rice, epazote, peas and carrots and mix well to incorporate all the ingredients. Let cook for 5 minutes under low heat. Season to taste. Transfer immediately to serving plate, garnish with cilantro. 
---
BLACK BEAN RICE INGREDIENTS 
3 cups black bean broth (you can use liquid from cooking your own beans, or use liquid from canned beans, but this liquid will be thicker)
1 Tbsp. kosher salt
1 Tbsp. corn oil
2 cups parboiled rice
3 Tbsp. white onion, finely dice
Note: This rice is not dry, it should be left watery. 
DIRECTIONS
Put black bean broth, salt, corn oil, onion and rice into a medium pot, cover and bring to a boil over medium heat. Once it starts boiling, reduce to low heat. Cook for 10 minutes or until liquid has evaporated. Turn off and do not uncover the rice, let it rest 15 minutes covered. Rice can be made a day in advance.