I do not consider myself a foodie or an influencer, but I do pride myself as an explorer. Even as a native Houstonian, it is hard to keep up with the hottest and freshest places sprouting up in the different pockets of Houston neighborhoods. With all the stars aligned, exploring Houston's food scene has allowed me to indulge in the chef's table and have conversations with five innovative culinary geniuses who I respect for being tastemakers in the Houston culinary circle.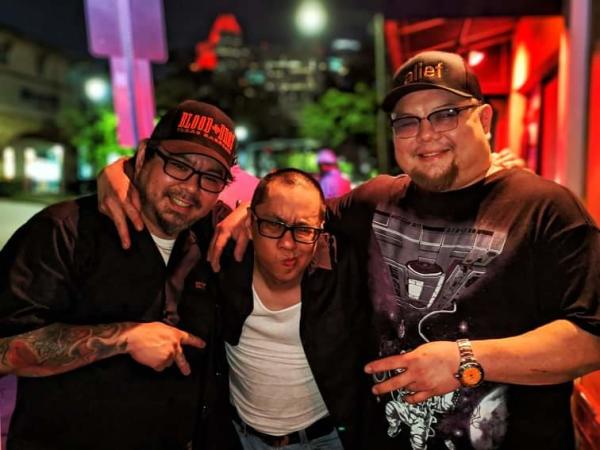 Courtesy of Blood Bros.
I've known about Terry and his crew for over two decades now, starting from their original Glitter Karaoke in Alief. That joint has since moved to Midtown in Houston, a very popular watering hole where I would meet up friends. It wasn't a shock but more of a surprise when I heard that the crew has started a new business in the barbecue world, a very hard and competitive niche in Texas. But without any doubt, Blood Bros. has gotten a lot of praises, publications, awards, and all-around positive vibes with the most notable, recently landing in the New York Times' prestigious list of 50 exciting restaurants to visit in the US and being Top 50 BBQ Joints by Texas Monthly. My enthusiasm has been heightened since Blood Bros. is in Bellaire, a few streets down from where I live. So let's hear what Terry and his business partners, his brother Robin and Quy aka the Pitmaster, have to say about their new undertaking.
DD: Give us a quick background with your involvement in the food and beverages. 
BB: Terry and Robin have been bar owners for 20 years, But Robin has also been cooking for Blood Bros. for 8 years now. Quy cooked our Steak Night for about 9 years, then started smoking for Blood Bros. a year later.
DD: How did you guys transition from running a karaoke bar to starting Blood Bros.? 
BB: Quy was grilling for our Steak Night and started bringing up some proteins that he was smoking from home. Customers and staff really enjoyed it. So we started doing pop-ups and festivals around town. We did that for 7 years, then we finally opened our brick & mortar.
DD: How did you guys come up with the name Blood Bros.?
BB: Robin came up with the name. We needed a bold name to match the bold flavors we were smoking. We thought Blood Bros. was a nice fit to describe our friendship and food.
DD: Without spilling your secrets, what makes your food stand out from the other BBQ restaurants?
BB: We like to incorporate a lot of the international flavors we grew up with into our food.
DD: Can you give our readers a brief description of your day-to-day operations and how you prepare your food?
BB: We start the day at 5 a.m. The briskets come out the smoker from the night before, then the ribs, turkey, and sausages go on next. Then a new set of briskets will go back on and cook until the next day. The sides get made fresh right before the service.
DD: What items are your best sellers? 
BB: The Texas Trinity: Brisket, Ribs, Sausages
DD: Do you have any exciting future projects in the works? 
BB: We are working on a new concept with Alyssa Dole in Garden Oaks that we cannot disclose yet. 
BOH Pasta & Pizza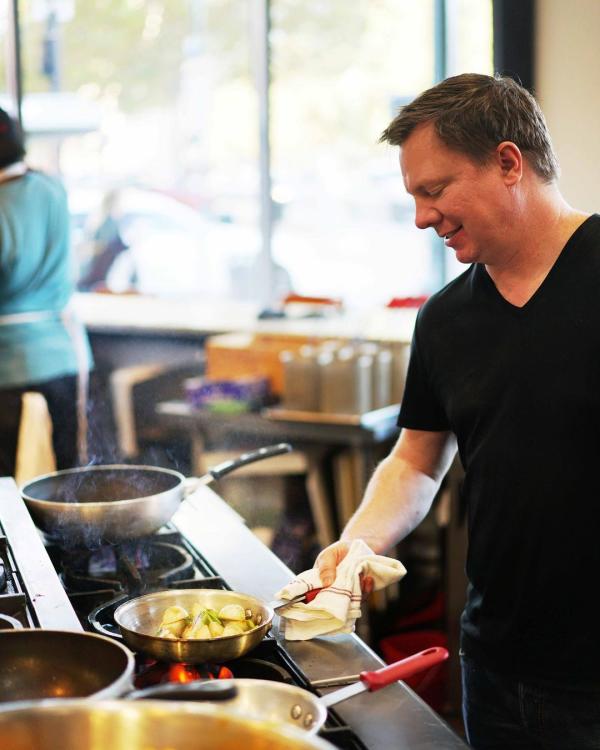 Courtesy of BOH Pasta & Pizza 
I am no stranger to BOH Pasta & Pizza since it was walking distance from when I lived Downtown and I've met the executive owner and chef Ben McPherson through mutual friends. Considered one of the best "Italian street food" in Houston, I can confirm this from inhaling their entrees. Perfectly cooked, homemade al dente pasta with sauces that seem so simple, but yet packs in tons of flavor and their pizzas carry a variety of toppings to choose from. Ben graduated from Johnson & Wales University in Charleston, SC, in Culinary Arts, then moved to Atlanta after college where he spent most of his career working in Italian and Spanish restaurants. He then made the move to Houston in 2012 to consult for Batanga and he instantly fell in love with our city. After Batanga, Ben was the culinary director for Prohibition and Conservatory downtown and that led him to start BOH Pasta & Pizza located in Bravery Chef Hall. Let us hear what Ben has to say about his marvelous creations.
DD: How does Houston compare to other cities you've worked in? 
Ben: Houston has the most amazing restaurant industry that is full of professionals who support and build up each other.  
DD: How did BOH Pasta & Pizza come to materialize? 
Ben: BOH was a lifelong dream of mine. Even though I am from the south, Italian cuisine has spoken to my soul. I have spent most of my career in Italian restaurants, so making fresh pasta is love and comes naturally to me. Originally, I was going to have Neapolitan pizza until a trip to Rome 4 years ago changed all of that. After trying the pizza at Pizzarium, I knew I had to learn to make the focaccia style and bring it to Houston.   
DD: Can you tell us what BOH stands for? 
Ben: It means "pfft, whatever".  When I was in college, my little sister and my dad lived in Naples, Italy. When I would visit her and her friends, they would take me out and they kept using the word "boh". So it stuck with me. She actually helped me name the restaurant. I liked it because it resonates with our food philosophy where we try to not take ourselves too seriously and just have fun doing what we do. 
DD: What makes BOH's food stand out from other Italian restaurants?  
Ben: I definitely don't say we are traditional Italian in any way. We just have fun. While we have a traditional carbonara on the menu, we will also create dishes like a uni carbonara with nori pasta or a Big Mac pizza. I try to keep it about the ingredients though. No more than 4 things on a plate.  
DD: How does your day look like and how do you prepare your food? 
Ben: With two restaurants currently opened, I mostly oversee everything at this point. The first thing is usually checking emails and messages. Figuring out financials and setting up meetings with staff for the day. My day is usually spent solving issues or helping foresee things. It could be anything from rewiring a pasta machine, refitting plumbing, tasting new menu items with the staff, running all of the social media platforms, and working with purveyors on new products, etc.
DD: What item(s) is your best-selling? 
Ben: Pepperoni pizza and pappardelle bolognese. 
DD: Do you have any exciting future projects in the works? 
Ben: Chris Zettlemoyer (my business partner), and I have created a fun concept called BOH Slice. It is a build your own pizza concept using our Roman-style pizza crust. The toppings are what set us apart though. We have everything from fresh mozzarella to Brie cheese, thick-cut cupping pepperoni to Roegels bbq smoked chicken, roasted piquillo peppers to onion jam. There are 40 different ingredients to choose from. That's almost 900 million different ways you can create a pizza. As we say "we have 900 million problems but a pizza ain't one." We also have salad and toasted farro bowls for a healthier approach. 
DD: I hear your meme game is strong, how has that helped with your personal life? 
Ben: Ha! It has helped me keep my sanity, that's for sure!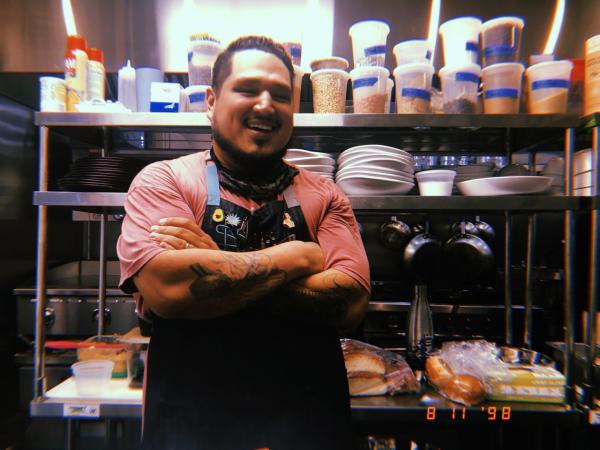 Courtesy of Night Shift Bar
Night Shift Bar
I accidentally walked into Night Shift Bar while it was still under construction during a market pop-up in the East End this summer, so I had my eye on this place ever since. Once it was finally completed, a friend of mine invited me out for cocktails and this was the place we visited. The décor is very industrial but yet futuristic and the accent live plants give it a comfortable, loungy feel. But my draw here every time is the noteworthy service and the chef's menu. My go-to is the chicharrones with the homemade salsa, paired with the gas station burrito that is both filling and shareable with friends. Another contender is the enchiladas potosinas that are reminiscing from the drunken nights eating Jack and the Box tacos, and I mean that with the utmost commendation. Now it is time to meet the man behind the kitchen, executive chef Daniel Leal. Growing up, Daniel was influenced by his family's Mexican culture of Monterrey Nuevo León Mexico. He formed an early appreciation for the food his parents introduced him to during his visits to Monterrey every summer and Christmas, and that is where he developed his passion for cooking.
DD: How did you get started in the Houston food scene? 
Daniel: I began helping and working in kitchens and bakeries at the age of 15. As a child, I would spend my weekends at two locally owned franchises Shipley Donuts where my parents and family would work. A few years into college I realized my true calling remained in the kitchen and I decided to attend culinary school at Houston Community College. As the soul of my cooking lies in my city's cultural cuisine, I spent time working for some of Houston's notable chefs such as Bryan Caswell, Jim Mills, and my great mentor Fernando Rios. I always draw my inspiration for my cooking from the diverse city of Houston. 
DD: How did you get involved with Night Shift Bar?
Daniel: Justin and I met at Johnny's and we worked many times together. Through Justin, I met Patrick and the three of us became family. They both had a vision of what they wanted the bar to be. Through that vision, I was able to see myself working alongside them and making it come to life through the food aspect. What also helped was my familiarity with the neighborhood. For many years I was just down the street at Shipley Do-nuts working with my family. Growing up my dad would bring my brother and me to the East End for breakfast tacos at Brothers Taco House or Barbacoa from La Casita.  
DD: What makes your chicharrones and the gas station burrito so popular?  
Daniel: The nostalgia that comes with, we've all had a gas station burrito at some point in our lives whether it was on a road trip or a late-night stop to get gas on the way home. As for the chicharrones, we've all been to a flea market at some point as well. So when I'm creating dishes, I try my best to connect the consumer (including myself) to a memory of an enjoyable moment. 
DD: Can you give us a rundown of your day and how you prepare your food? 
Daniel: Shake hands and kiss babies, I'm kidding. I foresee the kitchen operations, create dishes, and make sure the food quality is always at its best. I also help out the FOH staff in whatever they need in order for us to give our guests the best experience possible. 
DD: What cocktail and food are the best sellers? 
Daniel: Cocktails, that's a hard one. Everyone has different drink preferences. I do see many people order our Tropical Cooler because they see it as the Adult Caprisun and the Paloma.  As for food, the Enchiladas Potosinas and the Churros Meletti sell the most.
DD: During your time off, what is your go-to for some grub and drinks?
Daniel: My favorite go-to spots for food and drinks are Weights & Measures, Toasted Coconut, Winnie's, Grand Prize Bar, Johnny's Gold Brick, Two-Headed Dog, and Ninety-Three Til'
DD: Is there anything else do you want to add to this conversation?
Daniel: I am grateful for everyone who has come out to support us. I love all the feedback we get, and I can't thank the staff enough for all of their hard work as well. FOH and BOH, all work really hard to give all of our guests the best experiences possible.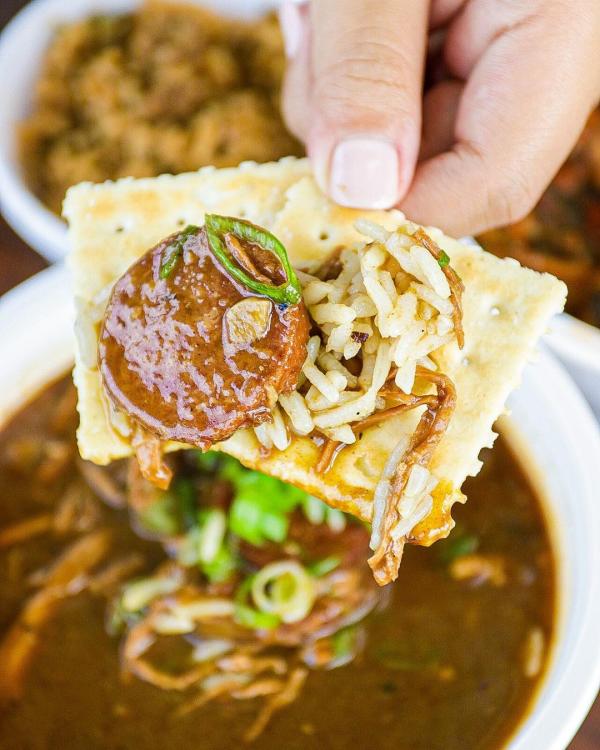 Courtesy of Heads & Tails
Heads & Tails
One of the newest food destinations has emerged on Washington Avenue called Railway Heights Market. It is home to some of the newest palatable concepts including a farmers market, beer garden, art gallery, and food stalls where Heads & Tails currently resides. Southern comfort food is what best describes their dishes, which range from gumbo to fried shrimp, boudin balls, and shellfish. No stranger to the scene, owner, and operator chef Roy Burks is a familiar face in Houston who stems from Stafford, TX. I've met Roy through the inner circles and he has been in the industry game for a good minute. When I heard that he transitioned over from the bar setting into the restaurant business, I got eager to hear about his new experience in the culinary realm.  
DD: When and how did you decide to venture over to the seafood business? 
Roy: It was really friends that pushed me to open a restaurant. For many years I pride myself in cooking for friends and family.  I've always heard "you should open a restaurant" but I always said it wasn't for me. The reason I would say "no" is that I felt my love for cooking would change and therefore, affect how my food came out. After watching several friends successfully open up restaurants and getting advice on things, I decided it was finally my time.  
DD: Give us a quick background about your culinary experiences and your involvement with Heads & Tails. 
Roy: The funny thing is I have no true culinary experience.  I am just a guy that loves to make people happy and food was my main tool to accomplish that. A friendly crawfish competition actually is what started it all.  I was embarrassed that I lost and didn't take the competition seriously. It made me never want to perform that way again. So I worked hard on a crawfish recipe that I am proud of.   Doing research and development to reach that goal led me to enjoy recipe building and having friends to test with.  
DD: What makes your food stand out from other vast seafood restaurants?  
Roy: Quality of products. Many seafood restaurants take the cheap route when ordering seafood. We use fresh fish and shrimp in our kitchen. Our catfish comes fresh from Louisiana and our shrimp are fresh from various locations in the Gulf. Thanks to places like Lafitte Seafood, I am able to get a lot of my quality products delivered daily.
DD: Can you give us a glimpse of your daily operations and how you prepare for your menu? 
Roy: On a daily, my chef and I have the task of hand-making a lot of the items that many restaurants tend to skip. Gumbo is made fresh every morning.  Then we have a team that hand rolls all of our boudin balls and also whip up our homemade sauces that pair with all of our items.  Then we set up the line for the day and make sure we are prepared for service. Once service starts, I love to be in the kitchen cooking with my guys and you will find me behind the fryer. I'll often turn it over to members of my team so that I can go out and greet customers.  After dinner service is over, it is time for a quick evaluation of the night, then to clean in preparation for the next day. 
DD: What is the restaurant's best-seller(s)? 
Roy: That's definitely a tough question. It is a toss-up between Boudin Balls and the Gumbo for sure. Then it would have to be the Fried shrimp platter or Po'boys.
DD: During your downtime, what type of food is comforting for you? 
Roy: I'm a pretty simple guy. The best foods to me are simple dishes made right. I love a nice plate of spaghetti that has the perfect amount of freshness to it and the right amount of flavor combinations.  Also, a nice street taco is very satisfying to me. 
DD: Is there anything else I've missed that you would like to share? 
Roy: I'm currently working on a future project potentially in the Austin area. We are working on the concept and menu right now.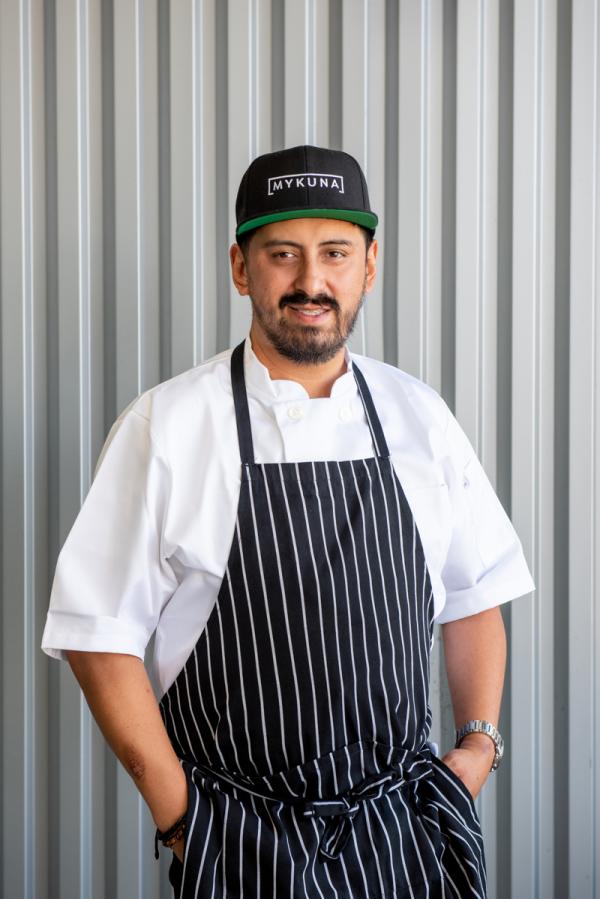 Courtesy of Mykuna
Mykuna
Another eatery has also emerged inside the Railway Heights Market establishment. Mykuna is the newest brainchild by chef and owner David Guerrero. David describes his creations as Latin and Asian fusion with a hint of love and hard work. From pork ribs to bun bao, ramen, and steak tips with rice, the array of dishes on the menu will make you dig deep in your gut in deciding on what to order. David moved to Houston permanently in 2004 after returning from NJ and New York City, and that is when he decided to stay in Houston to pursue his dreams of being a great, young cook. David is the chief operator and partner with the sole duty to create the concepts and implement the development.
DD: Give us a quick background about your culinary experiences and your involvement with Mykuna.
David: I went to the Culinary School program in Galveston TX and I have worked in several restaurants in Texas, NJ, and NY. In 2017 I had the opportunity to do an internship in Maido and during that year, it was recognized as one of the 5 best restaurants in the world. That is the place where I learned Nikkei cuisine and where my inspiration came from for MYKUNA. After I came back from Peru, I wanted to open a concept the involves Nikkei cuisine, Peruvian, Chifas, and Ecuadorian food altogether.
DD: How did the Mykuna name come about? 
David: I wanted to put a word that represented my culture. I am from Ecuador and in my country, we have a dialect used by the indigenous people which I do not speak, that is called "kichwa" and "mikuna" means food but I wanted to make a small change to make it sound more Asian lol.
DD: How did you decide to fuse Latin and Asian flavors together? 
David: The most important secret of Mykuna is the respect for the food and for the commitment of my staff to learn and to serve only the best. The number one rule here is if it is not perfect, don't serve it. As a chef after having worked in Maido and having visited Peru 7 times, I fell in love with Peruvian gastronomy and I wanted to try to represent that in a fun way paired with Asian influences that exist today in South America.
DD: Can you give us an insight into your day and how you prepare for your menu? 
David: Here in Mykuna, we have an excellent group of young cooks who are committed to bringing only the best product to the customers. We make sure that we are ready for each service and we have enough preparation to tackle the volume concept. My job is to teach them cooking techniques, respect the product we handle, and as we say in my country" amor a la camiseta", which means to love our restaurant with hard work and a lot of effort with a lot of attention to detail.
DD: What is the restaurant's bestseller? 
David: My best seller comes from the wok section of the menu and it is either lomo saltado or the pork belly fried rice.
DD: Do you have any exciting future projects in the works? 
David: Yes, the reopening of my old restaurant Andes Café, a South American kitchen that will be open at the end of this year.