It only makes sense that National Chocolate Lovers Month is February. After a month of devotion to clean eating and healthy living, we firmly believe in February as the month to treat yourself. From artisanal chocolatiers to European-style chocolate shops, we've rounded up Houston's best bets for chocoholics.
Uncle Darryl's chocolate cake is a favorite at this Montrose institution with fans claiming it has a perfect frosting to cake ratio. The toffee bits are a big bonus, too. But don't stop there! It also has some of the best hot chocolate in Houston to warm your bones. Try their classic European Hot Chocolate made with European Sipping Chocolate and topped with marshmallows and whipping cream. While hot chocolate in the United States is made with cocoa and tends to be thinner, the European Sipping Chocolate in this drink is richer, thicker and creamier. On a hot day, this mixture is chilled and blended with ice to create the brain-freeze worthy Chocolatta.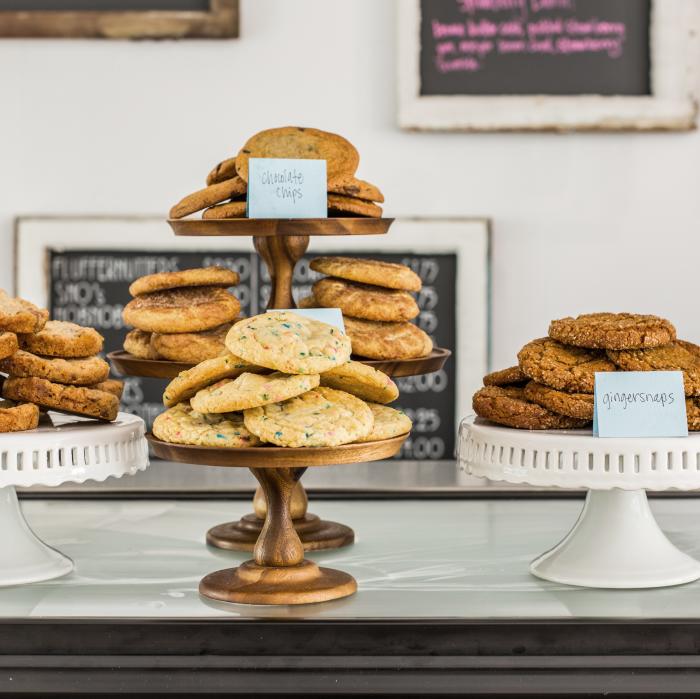 Chef Rebecca Masson's nickname is "The Sugar Fairy" and her bakery lives up to its owner's moniker. There's nothing at Fluff Bake Bar we wouldn't recommend, but the Veruca Salt devil's food cake is a birthday staple for many Houstonians. With salted caramel buttercream, pretzel crunch and milk chocolate crumbles, it's aptly named after one of Willy Wonka's gluttonous patrons. Rebecca's not shy about her love for chocolate – if you want to see some of her suggestions for satisfying your sweet tooth, check out her curated Chocolate Lovers Guide to Houston.
Baron Doke spent 3 months obsessing over the perfect chocolate chip cookie before coming up with the signature recipe at Tiny Boxwoods. Today, Tiny's Milk and Cookies has an obsessive following all its own. With perfectly crunchy edges and ooey-gooey middles, one cookie is rich enough to satisfy your craving, but that shouldn't stop you from taking some dough home for later. Frozen cookie dough is available at the bakery which also serves coffee and ice cream.


Cacao & Cardamom
This chocolate shop is anything but one note thanks to the chef's diverse background and love of travel. Annie Rupani's gorgeous, hand-crafted chocolates are tiny pieces of edible art whose flavors draw from her South Asian background and world travels. You'll find flavors such as mango-caramel, cardamom-rose and black sesame-ginger, and more traditional options such as dulce de leche, hazelnut or s'mores. 
Chocolat Du Monde
Chocolate Du Monde is a luxurious European-style shop specializing in imported chocolate. Price friendly imports from around the world have Houstonians buzzing about high-end chocolate brands like Neuhaus, Michel Cluizel and Leonidas. While most everything sold at the store is brought in, Chocolat Du Monde's patrons have a soft spot for the housemade fudge, caramel apples and chocolate-covered strawberries. Don't miss the creamy and rich Belgian hot chocolate, made with melted bar chocolate, heavy cream and milk.
Scott Moore and Michelle Holland started making chocolate as a hobby in 2011 and that soon turned into a business with a little barbecue thrown into the mix. You'll have to stand in line for this restaurant due to its status as one of the top barbecue spots in the state and its international acclaim for dark chocolate and milk chocolate, which were both finalists in the 2013 International Chocolate Awards. Tejas Chocolate Craftory in Tomball specializes in bean-to-bar chocolate making. Cocoa beans sourced from around the world are roasted "low and slow" in a clay brick oven, then stone ground and allowed to age so the chocolate develops its flavors before it's turned into chocolate bars.