Enjoy Turkey Day To Go! 
This Thanksgiving, save some time cooking and spend more time with friends and family by ordering your favorite holiday dishes from a local restaurant. Whether you only need dinner sides, only the turkey or a complete Thanksgiving meal, we've got you covered with these Thanksgiving to-go meals options from 15 Houston restaurants. Read on for traditional Thanksgiving menus to menus with a modern twist!
---
The holiday catering menu at Hungry's will be available from November 1st through December 31st. Whether you're looking for hors d'oeuvres for a few guests, show-stopping sides for your Friendsgiving, or a seated feast for a crowd, Hungry's has you covered.
The family feasts are offered in serving sizes of four or ten and include seasonal favorites such as Oven Roasted Turkey, Honey Glazed Ham, several sides including plant-based offerings and seasonal pies. Sides include cornbread stuffing, green bean casserole, cranberry sauce, beet "potato" salad and more.  'A La Carte dishes are available as well. They kindly request that all holiday orders be placed with a 24-hour notice. For Thanksgiving orders, the last pick-up is Wednesday, November 22nd at 3 p.m.
Deadline: A 24-hour notice for all holiday orders at both locations: Hungry's - Rice Village, 2356 Rice Boulevard Fl 2, Houston, TX 77005 (713) 523-8652. Hungry's - Memorial, 14714 Memorial Dr Houston, TX 77079 (281) 493-1520. Catering menu can be found at Hungryscafe.com 
---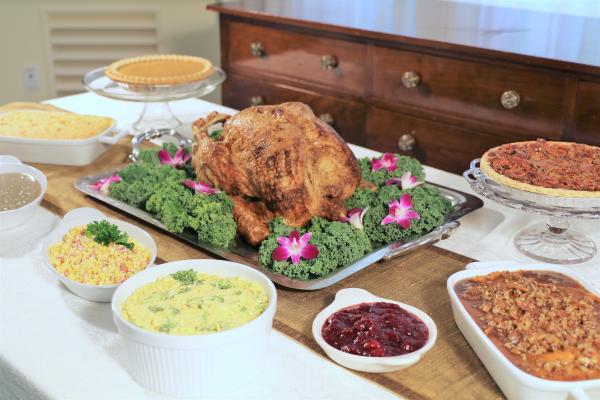 This year, order your Thanksgiving dinner to-go from The Junior League of Houston. The League is offering a complete Thanksgiving meal package or items à la carte (made in-house at The Pantry). For $300, your Thanksgiving meal will include a 22-lb. roasted turkey, cornbread dressing, one quart of giblet gravy, mashed sweet potatoes with brown sugar and pecans, corn casserole made with bacon and sour cream, cheesy broccoli rice casserole, one pint of cranberry-orange relish, two dozen signature dinner rolls, one pecan pie and one pumpkin pie (serves 12 people). Meals will be ready to heat up for you and your family to enjoy!
Deadline: Orders must be placed by Thursday, November 18th. Menu available at https://www.jlh.org/thanksgiving-2021 or call The Pantry at 713-622-5965. Orders can be picked up from 10 a.m. - 1p.m. on Wednesday, November 24th at The Junior League of Houston, 1811 Briar Oaks Lane, Houston, TX 77027.
---
Have a 'goodie Thanksgiving feast' when you order Goode Co. Barbecue's Thanksgiving to-go menu. You can order a Mesquite-smoked Whole Turkey (9-10 lbs.) feast for $200 or Mesquite-smoked Turkey Breast (3.5-4 lbs.) feast for $175 (both serve 6-8 people). Included in both feasts are sausage & pecan bread stuffing, potatoes au gratin, sweet potato gratin, old school green bean casserole, roasted cranberry sauce, dinner rolls with sea salt honey butter and of course, their famous Brazos Bottom Pecan Pie. À la carte items like meat, sides and desserts are also available to order. If you're only needing dessert to-go, take home a pie or two at their annual pie drive-thru (no pre order necessary)!
Deadline: Order online at www.goodethanksgiving.com now through November 16th. Pick up orders at drive-thru pie booths on November 23rd and 24th from 8 a.m. to 4 p.m.
---
Bring home authentic regional Mexican cuisine from Hugo's this Thanksgiving. Chef Hugo Ortega's award-winning restaurant in Montrose will be offering Thanksgiving feasts to-go with servings for 8-10 people ($295), 2 people ($110) and à la carte items. For the Family Feast that feeds 8-10 people, you can choose the meal with Whole Pineapple & Habanero Spiral Ham or with Roasted Turkey Breast. Sides included in feasts are sweet potato puree with condensed milk, corn pudding, charred brussels sprouts, sweet cranberry & spicy jalapeño relish and tamal Azteca tortilla casserole. Choose from desserts such as pumpkin cheesecake or tres leches cake (vanilla or chocolate) for a sweet holiday dinner. 
Deadline: Family Feast or a la carte item orders should be placed by Sunday, November 19th for pick-up on Wednesday, November 22nd from 11 a.m. to 8 p.m. (you will select your time). Hugo's is closed Thanksgiving Day. Order online at www.hugosrestaurant.net or call 713-524-7744.
Hugo's, 1602 Westheimer @ Mandell, 713-524-7744; www.hugosrestaurant.net 
---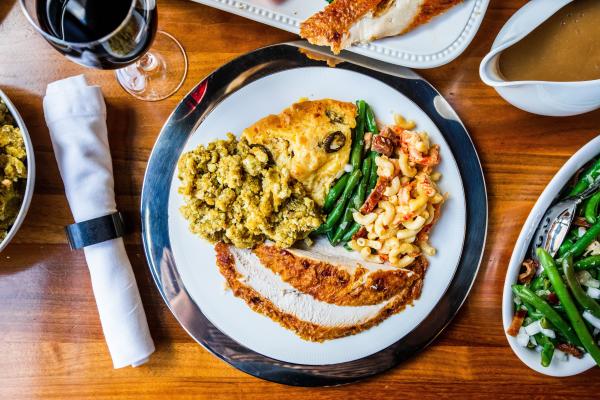 Photo by Becca Wright
Let Orleans Seafood Kitchen provide you and your family a delicious Cajun Thanksgiving feast! The Cajun Family Thanksgiving Feast with Cajun fried turkey, boudin stuffing, 3-cheese mac & cheese with smoked sausage, smothered green beans with bacon, jalapeño cornbread, turkey gravy and pecan pie or bread pudding for dessert serves 10-12 people for $250. À la carte menu items are also available. 
---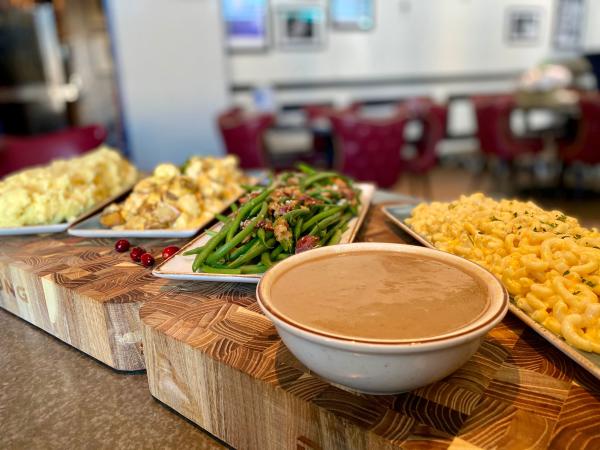 With Breakfast Kits + At Home Brunch and Thanksgiving Southern Style Packages to-go, it's never too early to have your Thanksgiving meal with State Fare Kitchen & Bar. For $250, Thanksgiving Southern Style Package includes deep fried carved turkey - brined, deep fried and carved (approximately half pound of Turkey per person - based on 6 people), bacony green beans, mashed potatoes, mac n cheese, cornbread stuffing, gallon of turkey gravy, and cranberry sauce and heating instructions will be provided. All sides can be purchased or added a la carte for $30. The dinner and a la carte sides serve 4 to 6 people. 
Deadline: Breakfast Kits + At Home Brunch orders need to be placed with a 24-hour notice. Credit Card info needed to place order and charged at pick-up. Guests can also add the Beverage to-go kits, frozen drinks and Mimosa gallons. Pick up Tuesday, November 21 Wednesday, November 22. Credit Card info needed to place order and charged at pick-up.THE PIT ROOM
---
Taste The Pit Room's Central Texas-style BBQ this Thanksgiving with your choice of meat and the 'fixins' to-go. Choose between a Whole Turkey ($85) 12lb average, brined for 48 hours in brown sugar, sage and apples, seasoned with house poultry rub, a Whole Brisket ($110) 6-8lb average, 1 Qt BBQ sauce or Smoked Ham ($60) honey glazed and smoked over post oak. Turkeys, Hams and Brisket are sold cold and unsliced with reheat instructions. Pair the meat with sides like 1751 Smoked Oyster Stuffing, Traditional Stuffing and Turkey Giblet Gravy. Complete your meal with a pumpkin or apple pie for dessert!
Deadline: All orders must be submitted before November 16. Call 281-888-1929 to place an order. https://thepitroombbq.com.
---